4 Common Medicinal Herbs and Plants for Healing and Cooking

See the
top 4 herbs and plants for healing and cooking.
These healing herbs for your health have anti-inflammatory properties, relief from digestive ailments and immunity boosting properties.
Healing herbs
existed long before modern medicine and were easily found in fields and on mountain tops.
Culinary herbs
have also been widely used across numerous cultures to help preserve foods, enhance their flavor and infuse them for fragrances.
Herbs such as
rosemary, sage, basil and thyme
, among others, offer a range of
health benefits
Have a look at the top 4 cooking and healing herbs for your health below and the uses for each herb.
Medicinal Herbs and Plants: Rosemary
This healing herb and culinary herb is used widely in European and Mediterranean Cooking. Rosemary has needle-shaped leaves that have a lovely fragrance and a pungent flavor. The botanical names of the herb Rosmarinus Officinalis is derived from the Latin word for 'dew of the sea', on account of its pretty pale blue flowers as well as the fact that it grows along the coast.
Medicinal Uses for Rosemary:
Traditionally, rosemary has been used as a
muscle relaxan
t. In fact, it is said to soothe the muscles of the uterus and digestive tract. It also has an
antiseptic
value. Due to the presence of rosmarinic acid, rosemary has
antioxidant
properties too.
Studies by the University of Illinois have found that rosemary greatly
reduces the incidence of breast cancer
in animals at high risk for developing the disease.
Medicinal Herbs and Plants: Sage


Ancient Greeks and Romans treasured
sage
for its many healing properties. Arab physicians in the 10 th century believed that it bestowed immortality. Its reputation for being blessed with ample medicinal properties is reflected in the fact that its botanical name, Salvia Officinalis is derived from the Latin word, slavere, which means to be saved.
Medicinal Uses for Sage:
Sage also contains rosmarinic acid, just as rosemary does. In addition to being an antioxidant, rosmarinic acid also has
anti-inflammatory properties
, which is why it is prescribed to people with
rheumatoid arthritis
and
bronchial asthma
.
Published research in the Pharmacological Biochemical Behavior Journal (June 2003), also lists the attributes of sage a a memory enhancing agent.
Medicinal Herbs and Plants: Thyme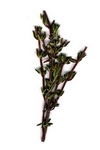 Known for its strong fragrance,
thyme
has been used in folk medicine to treat chest and respiratory disorders. Ancient Egyptians have also used it during their mummification process.
Medicinal Uses for Thyme:
The volatile oil components of thyme, such as carvacolo, borneol, geraniol and thymol, give the herb its powerful medicinal attributes. These components have been found to
inhibit bacterial activity
. Thyme contains a number of flavonoids including apigenin and narigenin, which give it
powerful antioxidant properties
.
Thyme is also very high in iron and manganese, calcium and dietary fiber.
Medicinal Herbs and Plants: Basil


Basil
gets its name from the old Greek word basilikohn, which means 'royal'. True to its name, the herb has been the object of reverence in cultures such as India and Greece because of its medicinal and mythical qualities.
Medicinal Uses for Basil:
Basil is a good source of vitamin A, especially carotenoids such as beta-carotene. Therefore, it has potent antioxidant properties that can prove helpful in
preventing free radical damage
, which is known to trigger conditions such as arteriosclerosis, asthma, osteoarthritis and rheumatoid arthritis. Basil is a medicinal herb that is also rich in iron, calcium, potassium, vitamin C and magnesium. Basil also has
anti-inflammatory properties
due to the presence of eugenol which inhibits an enzyme called cyclooxygenase (COX), which many over-the-counter inflammatory medications also do.
More Herbal Resources for You:

Benefits of Dandelion
Stinging Nettles
How to Grow Herbs
Growing Herbs Indoor
Growing Herbs as Companion Plants
Herbal Tea Recipes
Catmint
And if you are looking to plant your own herbs and would like some
growing kits
, visit our
Online Country Store
for more details. You will also find health products and herbs to buy through our
Naturally Organic section
.
Leave a Comment
Do you have anything that you would like to add after reading this page? We would love to hear your thoughts. If you can add additional information to what has been written here you will be adding value to the website! No need to have any special skills - just type and submit. We will do the rest!


Our Free Monthly Homesteading Newsletter
Please check back from time to time for new updates to our homesteading website or get our latest news via our free monthly homesteading newsletter. Sign up below. There is always new information being added, almost on a daily basis, just for you! We hope to see you again!
Don't miss out on our latest news and articles. Sign up for our free monthly e-zine!