Use Nasturtiums: Seeds for Mock Capers, Leaves for Salads, Natural Insect Repeller
Nasturtiums are
easy to grow
, and an extremely versatile little plant. Not only can you
pickle nasturtium buds
as you would capers, and put the peppery leaves in
salads
, but you can also plant the climbing varieties of colorful nasturtium flowers at the base of your apple trees to
eradicate codling moth
.
Other insects such as woolly aphids, aphids, mites and red spider are also repelled from plants if the nasturtiums are grow next to or under such plants.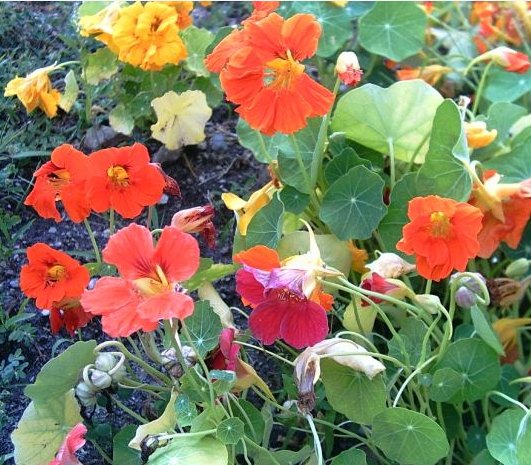 Easy to grow nasturtiums bring cheerful color to any garden
.
Growing Nasturtiums
Nasturtiums can be both a perennial or an annual in areas that experience frost. They come in a range of colors from deep oranges, sunny yellows, reds, creams and even a rare white. Nasturtium plants love a well-drained soil they are good for sunny positions in rockeries, will cover banks, grow up trees or cascade from hanging flower baskets.
When growing nasturtiums choose their site carefully. They like full sun or a semi-shaded position in frost-free areas. They will grow in any type of soil, but if the soil is too rich in nitrogen you will get all leaves and no flowers.
Sow the nasturtium seeds directly into the soil in the spring, once the fear of frost is over, or at any warm time of the year. However, usually you can sow seed in warm-temperate climates from spring through to early autumn. In cold areas, only plant these out in the spring. The nasturtium seeds will germinate in 2-3 weeks and flowers should appear 10-12 weeks after sowing.
They are best left along and neglected once they are established and the only problems you will experience with your nasturtiums are leaf miner which leaves a trail across the leaves. To get rid of leaf miner use a pyrethrum spray, soapy water spray, garlic spray or a white oil spray. See our section on natural pesticides for details.
Using Nasturtiums as a Natural Insect Repeller
Grow the trailing variety up the trunks of apple trees to help with codling moth. They will also help keep the grass down, as well as attract bees and other beneficial insects into your garden.
Using Nasturtiums in Salads
Nasturtiums also used to be called
Jesuit's Cress
, because they were known to use the leaves as an addition to their salads. The flowers too are edible and make a colorful display among the green salad leaves. However, remove the pistils of the flowers as they will be slightly bitter if you don't. The leaves can be sweated down and
used like spinach
, or make a great addition to soups.
Make Capers Using Nasturtiums
If you wish to make mock capers from nasturtiums pick the green buds, pour boiling spiced vinegar over them. Seal and leave for a month before using.
You can also make nasturtium butter. Thinly slice the leaves to taste, and mix with softened butter. Chill and use on bread or water biscuits.
Finally, take the seeds of the nasturtium flowers and use them in your pepper mill as a substitute for pepper.
Leave a Comment
Do you have anything that you would like to add after reading this page? We would love to hear your thoughts. If you can add additional information to what has been written here you will be adding value to the website! No need to have any special skills - just type and submit. We will do the rest!
---
Our Free Monthly Homesteading Newsletter
Please check back from time to time for new updates to our homesteading website or get our latest news via our free monthly homesteading newsletter. Sign up below. There is always new information being added, almost on a daily basis, just for you! We hope to see you again!
Don't miss out on our latest news and articles. Sign up for our free monthly e-zine!