6 Steps to Sprouting Seeds using a Sprouter Jar or a Sprouting Base

Sprouting seeds and sprouts
is really very simple when using a
sprouter jar
or or sprouting base. It is one way towards
self-sufficiency
and
self reliant living
and converts to a highly nutritious meal. You can grow them anywhere, even on an apartment window sill as long as you have a jar, your seeds and some water.
You can sprout just about any seeds and grains
including mung, alfalfa, lentil, sunflower seeds, as well as grains such as rice and wheat, among others.
SPROUTING SEEDS with a Homemade Sprouter Jar
1. Wash your seeds well, and place them in a homemade glass sprouter jar.
2. Cover the seeds in the jar with water.
3. Then taking a small piece of gauze place it on the top of the sprouter jar and secure with a rubber band.
4. Pour off the excess water leaving the seeds damp.
5. Rinse the seeds daily in fresh water to prevent them from spoiling. Always pour off the excess water.
6. Remove from sprouter jar after the seeds have sprouted. Depending on the type of seeds used this could take anything between 2-8 days.
SPROUTING SEEDS: Using a Sprouting Base
Some sprouting seeds, like mustard and cress seeds should be sprouted on a plate on a base of cotton wool. The seeds are placed on wet cotton wool and will grow larger then jar sprouted seeds as they will grow upwards on the dish.
1. Soak your seeds overnight in some water.
2. The next day drain the water off and place them in a single layer on some wet cotton wool.
3. Cover the seeds with an upturned bowl until they start to sprout.
4. Rinse seeds daily with gentle running water, making sure that the pressure of the water is not too great that you end up flushing the seeds away.
5. Pour off the excess water leaving the seeds damp.
6. Harvest your seeds by cutting the stalks from the base.
Seeds suitable for this method of sprouting are mustard and cress, mung beans, lentils and wheat.
SPROUTING SEEDS: Harvesting and Storing
A window sill over your kitchen sink is an ideal place to put your germinating sprouts. Once they are ready for harvesting, put them in a plastic bag in the fridge and they will keep fresh like that for at least a week.
---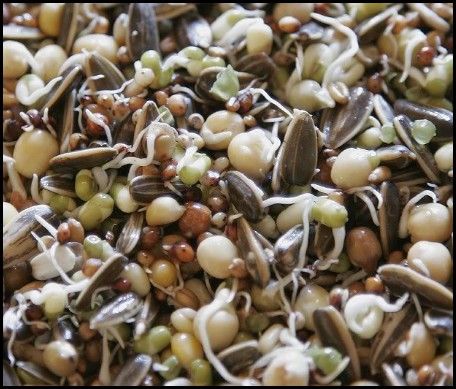 SPROUTING SEEDS: Which Seeds are Suitable for Sprouting?
Seeds Suitable for Sprouting
Alfalfa
2-3 days
Fenugreek
3-4 days
Clover
2-3 days
Lentils
3-4 days
Mung Beans
4-8 days
Lima Beans
4-5 days
Haricot Beans
4-5 days
Sunflower Seeds (Hulled)
1-2 days
Grains Suitable for Sprouting
Wheat
4-6 days
Brown Rice
3-5 days
Buckwheat
4-6 days
Barley
3-5 days
Brown Rice
4-6 days
Rye
3-5 days
Buckwheat
3-4 days
---
SPROUTING SEEDS: Some Types of Sprouts for Sprouting
Alfalfa:
These are tiny sprouts that are sweet and delicious. They are very delicious, don't take too long to sprout and are also nutritious. They contain vitamins C, D, E and K plus iron and phosphorous.
Azuki:
These are high-protein beans that are sometimes used as a substitute for mung beans. They contain vitamins B1, B2, and niacin, potassium, iron and calcium.
Cress:
Cress is a peppery sprout that is quick growing and better grown off a base. It contains Vitamins A, B6, C, E and K. It is also a good source of thiamin and niacin, calcium, iron, magnesium, phosphorus, potassium, copper and manganese.
Fenugreek:
A delicious tasting sprout. Eat it while it is still young as the older sprouts tend to taste slightly bitter. Contains vitamins A and C, and lots of iron.
Mung Beans:
One of the more popular sprouts, and certainly one of my favorites. It has a crunchy texture and is good eaten with a salad. It contains vitamins A, C, and E, plus chlorine, and lots of protein.
---
Do you have any additional tips, ideas or questions regarding sprouting seeds?
If you would like to add something to this page on sprouting seeds all you need to do is type and submit. We will do the rest!
Leave a Comment
Do you have anything that you would like to add after reading this page? We would love to hear your thoughts. If you can add additional information to what has been written here you will be adding value to the website! No need to have any special skills - just type and submit. We will do the rest!
Other Comments
Click below to see comments from other visitors to this page...

sprouting jars using canning jars Not rated yet
I have been growing sprouts for a little over a year now. I use 6 regular wide mouth canning jars, the wide mouth ring for the jars, and wire screen, …
---
Our Free Monthly Homesteading Newsletter
Please check back from time to time for new updates to our homesteading website or get our latest news via our free monthly homesteading newsletter. Sign up below. There is always new information being added, almost on a daily basis, just for you! We hope to see you again!
Don't miss out on our latest news and articles. Sign up for our free monthly e-zine!