Spring, Lamb Revival, Scours, Books
---
ISSUE 38
April, 2017
Spring is finally here! Well it is if you live in the northern hemisphere as I do. I love this time of year. The weather is beautiful. The new leaves are pushing through, fields are a brilliant green with new growth, the fruit blossom is out and my lambing season this year came early and was successful.
We had a lot of twins born this year, we lost one set, but all in all, managed to revive a number of kids and lambs that were one of a twin or a pair that were abandoned by their mothers. I have to say, Angora goats make terrible mothers! They always seem to favor one twin over the other. My Finn sheep are far better at mothering.
---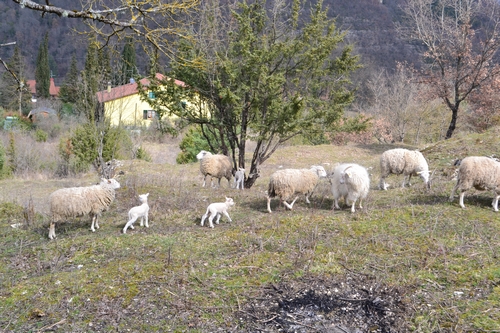 Reviving Cold Lambs and Kids Successfully
Nine times out of ten, when we find the abandoned lambs or kids they are close to death and ice cold. The most successful and only way I use to revive them, and haven't failed with this method, is to run some very warm water in the sink and for 20 – 40 minutes top it up and swish the warm water over the animal, holding its head out of the water so that you don't get water in its nose. Eventually, it will start kicking and come back to life. Only now can you dry it off, either with a hairdryer or a towel and have the fire going or a heater to keep the room warm, and feed it colostrum. If you feed it when the roof of the mouth is still cold to the touch, the animal will die as the body is unable to process the colostrum.
However, I have to warn you that if you go down this road, what you are doing is washing the placenta smell off the baby and the mother will not take it back. So be prepared for many months of bottle feeding!
100 % Effective Scours Treatment
Many of you may not know this, but I farm 30 acres in Italy. My farmhand is Sicilian where he grew up on a farm with 1000 head of Sarda sheep kept for milking. He certainly is very useful, and did a wonderful job last week of grafting some 50 olive trees for me.

He also comes with some great ideas and he passed on some old timer's knowledge about scours which sounds terribly unconventional but I have to say super-impressive in the way it works!

As soon as you see the babies have scours find some fresh goat or sheep droppings. Put 5 or 6 of the berries into the bottle, crush them with the handle of a wooden spoon mixed with a spoonful of boiling water to soften them up. Fill the bottle with the milk and feed as usual.

You will only have to do this once, and the scours will stop almost immediately. Don't use too many berries as this is a really strong method of treatment. However, it would appear that the flora and enzymes in the healthy gut, is then reintroduced into the troubled gut and the scours disappears.
---
Are you a Reader but find Books Expensive?
I have been rather busy besides farming. Last year I brought out a novel under the name of Kathryn McMaster, and one thing lead to another and I found myself involved with forming a new website where people could read and download free and discounted books and ebooks. So this is my sister company – One Stop Fiction.

We run book giveaways every month where you can also get immediate access to free books. I do hope you will support this new website if you are a reader. There is no joining fee. What do you have to lose? You don't need a Kindle either! You can download an ebook reader from any book sales page from Amazon.
---
Wishing you all a successful farming season. Start thinking about your vegetable planting and in the warmer climes, plant out your pretty window boxes and container gardens for a splash of color!

Kathryn Countryfarm Lifestyles
Country Living and Farm Lifestyles
//www.countryfarm-lifestyles.com
A practical, homesteading today site for the homesteader. We use organic farming methods based on back-to-basics principles and simple living, doing things the old-fashioned way and working towards self-reliance and backyard self-sufficiency. It's a site for those of you who either live on an American family homestead, an Australian homestead, practice urban homesteading in the suburbs or just enjoy country living so that all paths lead to sustainable living.
---