---
Country Living e-zine: How to Maintain a Beautiful Garden All Year Round
Issue 11
June 2009
---
This Month's Quote:




"Life on a farm is a school of patience; you can't hurry the crops or make an ox in two days. "

~ Henri Alain
---
Country Living e-zine Editorial :
It's our Birthday!!!
Well, we have just passed our 1st birthday, having turned 1 on the 17th June. And what an exciting year it has been!

When we first started this website, we entered the Alexa rankings at over 20 million. When it suddenly jumped to 8 million in a couple of months we were happy. Little did we know that after a year the site would be sitting in the 700s, which means we are in the top 1 % of all websites. We now get more than 8000 people through our site every month, and growing! With 407 pages on the site, there is loads of information. Our best 2 sections developed this month have been our farm directory and our craft forum. See details below.

As you signed in for this free e-zine we take it that you rather like what you see. Or perhaps there are things that you would like to see that we haven't thought of. You, the reader and your opinions are important to us. Please drop us a line at info@countryfarm-lifestyles.com and tell us what you like, or what you would like to see more of. We would love to hear from you.

And if you want to say something really nice, please use our guest book.
LATEST POSTINGS:
I decided that the web needed a niche directory just for farmers and those involved in farming in any way. As a result, our newest addition to the website is our Agricultural Directory. If you have a farm, farm shop, sell farming equipment, real estate, etc., please add your listing to our directory and be seen.

For all of you who are creative, we have a new Country Living Craft Forum. It's called "Inspiration" and we hope that you feel inspired after visiting it. It covers a wealth of crafts from needle crafts, paper crafts and wool crafts to basketry, woodwork and blacksmithing. Please come and sign up and participate. It's totally free, as is of course the farm forum we have too.

For novice chicken owners we have some FAQ on the subject of keeping and raising chickens. FAQ Raising Chickens

Last month we had Biodynamics - What does it Offer the Organic Farmer? Biodynamics. This month we were lucky to get an exclusive interview with Bernard Jarman, the director for a Biodynamics company in the UK. You can read his interview here: Biodynamics Interview.

What's Community Supported Agriculture (CSA)? The Pros and Cons of CSA Farming Community Supported Agriculture. We also have a FAQ page on the subject. FAQ on CSA Farming.

Last, but not least, we have a section of books which we recommend. These are best selling books on homesteading and farming and may be of interest to you. Best Selling Books.

---
This Month's Article: Maintaining a Beautiful and Healthy Garden
Achieving a beautiful and healthy garden can sometimes prove quite challenging, especially if you have two German shepherds like I do! Sometimes my garden resembles more of a moonscape than a landscape where they have dug a little hole for themselves to sleep in at night. Usually my favourite flower bed!


However, in order to achieve a beautiful garden, you have to focus on 5 things:

Planting
Watering
Feeding
Weeding
Pruning
All of these need to be done on a regular basis. Love your garden. Feel passionate about what you grow, let your garden be an inspiration to others, admired by many and best of all, enjoyed by you.

Spring

This is the time to fertilize the fruit trees, top up the mulch around them and give them a deep watering. Check and overhaul your hosepipes and sprinklers.

Attend to your compost heap making sure that it is kept wet to accelerate the decaying process. During the winter months decomposition will have slowed down considerably. Start a new heap with weeds and spent plants to provide you with plenty of fertilizer for the next summer.

Fork over your vegetable patch, add organic fertilizers and compost and plant seeds. In cooler areas, start your veggie seeds indoors in seed trays and pots. Plant seeds of annual herbs such as basil and parsley.

Take out perennial herb seedlings. Plant seeds or seedlings of annual flowers. Don't forget to take hardwood cuttings from plants and shrubs you wish to propagate. Finally, plant seedling fruit trees or ornamentals.

Summer

If you have mulched your garden sufficiently in the winter, then your war against weeds should be minimal. and the garden should be able to look after itself for a few weeks. In hot dry areas, water the garden regularly, particularly with newly planted trees and shrubs.

Apply extra mulch if needed at the beginning of summer, In sub-tropical areas, leave some veggie beds fallow during the hot, humid weather.

Check that plants are not over-crowded preventing air from moving freely and increasing humidity as this can encourage disease. De-head your spent flowers such as roses, and remove any spent of diseased plants from the garden.

Autumn

Lightly prune native shrubs after they have finished flowering. Remove spent crops from the veggie garden and add them to the compost heap.

Re-pot cuttings into individual pots. Fertilize your roses, using animal, and poultry manures and as much compost as can be spared. Make sure that the manure that you are using is not fresh, as it will burn your plants.

For those of you who live in cold climates where you experience snow and heavy frosts, this is the time to plant your spring bulbs. Mix into the soil five tablespoons of 10-10-10 soluble fertilizer (or equivalent bulb fertilizer) plus two cups of bonemeal per ten square foot area.

Winter

This is the time to prune your fruit trees and ornamentals. An easy way to carry a small amount of prunings is to use an empty feed bag or something similar. Lay it next to the tree that is being pruned and drop the section into the middle of the bag. Pick the bag up by both ends to drag it away.

Rose prunings are especially suited to being handled this way as they can be kept separate from other less prickly species.

Plant your winter herbs such as coriander and chives. Those of you who live in a temperate climate can plant your spring bulbs now. Lift and divide plants which have rhizomes and tubers.

Build trellises and work on garden projects. Choose any new shrubs or trees that you want to plant in the spring. Check seed supplies are not out of date and buy new seed if necessary.

Controlling the Weeds

Weeds can be hard to control organically without resorting to physically pulling each and every one up. And of course, making sure that you haven't left any roots behind, or scattered seeds. Pull them out before they get to the seeding or flowering stage.

For small clusters of weeds on pavements, and driveways, take boiling water mixed with a couple of tablespoons of vinegar and pour the mixture over the weeds. Within 3 days they will die, and you can then remove them quite easily. This also works for unwanted grass.

Of course, the best way to make a garden weed-free is to smother them with a mulch of some sort. This can be wood chips, stones, etc. Although some people put plastic sheeting down first, I don't advise this as it can make the soil sour and rob it of its nutrients.
---
Gardening Tips for the Month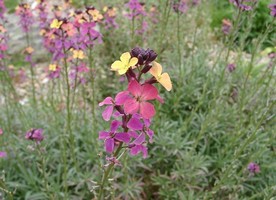 Some useful tips for your garden.
1. Try not to wear bright coloured, flowery clothes when you are farming or gardening. They tend to attract more insects, particularly bees and wasps.
2. Wear a pair of gloves to avoid blisters, scratches and splinters.
3. Change the type of work you are doing rather than battling on and finishing one task. Repetitive action can cause injuries, especially back and neck strain.
4. Choose plants that are appropriate for your soil and climate. This will minimize the risk of diseases, increase their growth rate and minimize the watering and fertilizing and other work.
5. Compost can be made compost tea, whereby the compost is now added to water and become liquid. Compost tea is a great addition to your garden fertilizer management programmme. It has beneficial nutrients and microbes, and it can be applied as a foliar spray or directly to the soil. People have seen phenomenal results from compost tea, both large and small growers alike.
---
Recipe for the Month: Compost and Manure Teas
Well, I know that I usually give a baking or food recipe in this place, but I thought I would give you some simple recipes for compost teas and manure teas.

I wonder how many times you have looked for these types of teas and become discouraged and confused due to the complicated processes. I have seen some using bags and others referring to the use of air stones. Life doesn't need to be that complicated, and I always like to think how would my great-grandparents have done it. Certainly not with all the modern technology that seems just to confuse.

Compost Tea

Fill a large barrel or garbage can with about 3 large shovelfuls of aged compost, then fill the barrel with water. Let the mix sit a week to ten days or so stirring occasionally. Place a portion of the mix into a watering can diluting with clear water until the tea is light brown and use.

Use it by watering the base of each plant and using it in a spray container to spray the foliage.

You can add 2 tablespoons of seaweed emulsion or fish emulsion to the compost tea water to give your flowers an additional boost. Apply once a month.

Manure Tea

Manure tea is brewed in the same way as the compost tea above. Use aged chicken, horse, cow, or rabbit manure. Because manure tea is more potent than compost tea use it more sparingly. Dilute manure teas so that the solution is light brown. Add manure tea to your compost tea or apply a cup of manure tea at the base of plants, but never as a foliage spray.


---
Book Review: Let it Rot!
Stu Campbell
Let it Rot!: The Gardener's Guide to Composting (Third Edition) (Storey's Down-to-Earth Guides)
This is a book that provides expert advice on the reasons to compost, differing approaches, how decomposition works, various methods, ingredients, and containers, how to speed decomposition, and how to use the end results. Campbell is an experienced gardener, and the book goes into great detail, but the text remains clear and interesting.

He includes real "recipes" and approaches to try, and he supplies a list of materials to compost as well as what not to use. Let It Rot! is a not-too-technical, well-written, easy-to-read guide that is perfect for beginners and a great refresher for the near-professional composter.


Contents:

-- Home Composting: Art or Science?
-- Why Compost?
-- How Decomposition Works
-- Compostable Materials Are All Around You.
-- Activators Get Things Cooking
-- Composting Methods to Stimulate your Imagination
-- Bins, Barrels and Tumblers
-- What to Consider Before Building a Compost Pile
-- Methods to Speed Decomposition

The only down side to this book is that there are no coloured or even black and white photos. He does, however, have some very nice line drawings and they are clear and well-laid out.

About the Author:

Stu Campbell unfortunately passed away from a 20 year battle with cancer late last year at the age of 65. A legendary ski instructor and highly respected in the skiing fraternity, he was also an avid gardener and wrote several books including how to improve the soil, mulching, and of course this book here.


For those of you who don't know, one of the first articles I wrote for our website was How to set up a Simple Worm Farm and Make Compost in 4 Months.
---



Well, we hope that you have enjoyed reading the eleventh issue of our e-zine, as much as we had fun writing it. We also hope that you will stay with us for a long time, visit our web site for updates, and feel free to contribute to the many forums we have created especially for you.


Until next time!
Philip & Kathryn Bax

---

Country Living and Farm Lifestyles
//www.countryfarm-lifestyles.com
Your Gateway to Rural Dreams! Visit us for Country Crafts, Country Decor, Country Cottages, Farm Shops, Farming & Gardening Articles and general issues dealing with Rural & Country Life.
---
New!

CommentsDo you have something of value to add? Leave me a comment in the box below.