---
Which Insects should you attract to your Garden?
Issue 8
MARCH 2009
---
Poem for the Month:




Yesterday the twig was brown and bare;

To-day the glint of green is there;

Tomorrow will be leaflets spare;

I know no thing so wondrous fair,

No miracle so strangely rare.

I wonder what will next be there!


~L.H. Bailey
---
Editorial :
Welcome to Country Living and Farm Lifestyles' e-zine #8
Well, who can believe that it is already March, and no sooner have we got Christmas out of the way, then we are thinking about Easter!
On our own front we have joined Twitter, a fairly new but growing social network and you can follow us and our developments, or just send us a message at @countryfarm
Competition:
We have had several new sections added to our website, one of which is our podcasting section where you can listen to podcasts on farming, organic gardening, living off the grid, among others.
As this is agricultural week in the USA, we ask all our subscribers, no matter where you live, to submit your best farm photos to our farm photo page. The best 3 photos will receive a free e-book on organic gardening tips. The competition ends at the end of June. Please do not submit more than one photo and please make sure that it is of your farm, and taken by you.
Country Corner Shop:
The country corner shop has been stocked and rebuilt bringing you a greater selection of books, magazines, country music, country decorating accessories, crafting supplies and kits for patchwork, cross stitch and quilting, country gourmet foods, camping and outdoor equipment, heirloom and organic seeds, gardening supplies and equipment, farming tools and tractors, children's farming toys and games and finally, country clothing.
Other New Sections:
So much gets built that it is hard to keep up. How to make moonshine, how to quilt, and how to patchwork are just some of our new sections. You will need to keep visiting to see what is new for the week.
---
Book Review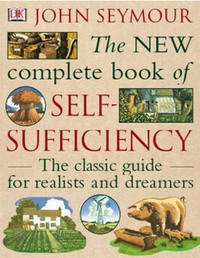 For those of you who are dabbling in self-sufficiency, or even thinking about being self-sufficient then John Seymour's book entitled " The NEW Complete Book of Self-Sufficiency - The Classic Guide for Realists and Dreamers" is for you.
It is one of those indispensable books one keeps coming back to again and again, and has proven to be a great resource, even for people who want to live off the grid, as there is information on alternative energy sources. The book covers a wealth of topics from how one can be self-sufficient on just one acre of land to setting out a 5 acre plot. Learn about getting food from your garden, what to plant when, the animals you need and their care, preparing your soil and harvesting, getting food from the wild, dairy farming and making cheese, cream and butter, preserving and bottling, brewing and making wine, crafts and skills such as spinning and weaving, curing and tanning and making a fish-pond, to name just a few.
You can purchase this wonderful book through our Country Corner Book Store. We have many other books on this subject, along with many others that may be of interest. So feel free to step inside and come and browse.
This Month's Articles: Attracting the Right Insects and Animals to your Garden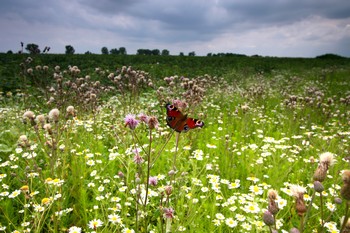 Nature, when in imbalance, can cause havoc with your garden. There are good insects and bad insects, and the good insects work for you in your garden, getting rid of those garden pests naturally, without the use of artificial insecticides and pesticides which will end up doing more harm than good, as they affect all insects indiscriminately.
Ladybugs: Also called lady beetles or ladybirds, these are probably your best friend in your garden and should be encouraged. They love aphids, and as you know aphids are extremely destructive and will kill plants within weeks if left unchecked. If you want to attract ladybugs to your garden then you should plant fennel, dill, cilantro, caraway, angelica, tansy, wild carrot & yarrow. Other plants that also attract ladybugs include cosmos, coreopsis, scented geraniums, and dandelions. If you don't have any ladybugs and wish to get some, plant your plants and then buy 1500 ladybugs or ladybirds from our Country Corner Store in the Gardening Online section.
Lacewing: These too love aphids, as do the hover fly, and the are often found near water. Lacewing are loved by trout too. Lacewings also eat mites, whiteflies and thrip. Plant borage, allysum, dill and elderberry to encourage them to stay.
Centipedes: Not to get mixed up with millipedes, the centipede moves a lot slower and also feeds on mites, bugs and even slugs. Having a few rotting logs lying around in shaded areas is an ideal habitat for these useful creatures.
Earthworms: When you have earthworms in your soil, then you know your soil is good. If you don't, you need to make sure that you do. They are so beneficial for your soil, and love soil rich in organic material. They are constantly aerating the soil and taking surface organic material deeper down below. You can easily start your own worm farm to have a constant supply of earthworms, which will also make your wonderful compost in around 4 months. Read our article section for more details.
Frogs: Now, if you can put up with the constant croaking at night frogs are to be encouraged as they are voracious eaters of insects, especially mosquitoes and their larvae, moths, beetles, flies, snails and cockroaches. Having a garden pond will encourage them to come, as will planting natives, mulching your gardens, having moist areas, areas of long grass and fallen logs will all provide habitats that frogs love.
Bees: Einstein said that if all the bees died on the planet, man would only survive another 4 years. Not only that, but it has now been proven that that the constant electromagnetic radiation coming from cell-phone towers has been the cause of the death of millions of bees, as it disorientates them, and causes them to lose their way back to their hives, which leads to ultimate death.
That is a sobering thought, and even more reason as to why we should be encouraging bees into our garden. They are vital for the pollination of your flowers, trees, fruit and vegetables. They love verbena, penstemon, shasta daisies, allysum, roses, lavender, rosemary, borage, hebe and coreopsis are just a few of the plants that bees like. They also like natives and wildflowers. We have a huge selection of wildflower seeds, and organic heirloom seeds that you can find through our Country Corner Store too.
Birds: Yes, there are some birds that will eat your fruit and crops, but there are many birds that will also come and eat your slugs, cutworms, grubs and caterpillars that are doing more harm in the long run. You should be encouraging thrushes, robins, tits, starlings and blackbirds, and you can do this, as was discussed in a previous issue of our e-zines, by proving seeds, and suet in winter, build nesting boxes, plant natives and have a source of water in your garden.
Hedgehogs: They are not just cute to look at, but they are great eaters of slugs, snails, bugs, beetles, earthworms and caterpillars. Grow hedgerows to encourage him to stay, leave overturned logs and piles of leaves lying around and put out a bowl of milk for him too of an evening time. They also like eating dog food, but a small amount of bread will also do.
---
Feature of the Month: Painting Easter Eggs

Easter is the time for hot-cross buns, chocolate eggs and of course dyed or painted eggs. Painting eggs has been a long-time custom that is enjoyed by adults and children alike. We hope that like the pictures above, and that they will inspire you to paint some eggs of your own with the simple instructions below.
1. First of all, make sure that your egg is not cracked. Place in a small bowl with some hot water with a teaspoon of bleach added, to kill any germs on the surface.
2. You will need to empty the egg of its contents, because if you don't the egg will go bad and start to smell, even if you decide to boil them instead. Take a small, sharp needle and make a small hole. Now take a bigger needle or toothpick and gently widen the hole big enough for you to be able to blow the contents out of. It should be about 1 mm in diameter. Place your mouth over the hole and blow gently until the egg is empty.
3. Now you will need some acrylic craft paints - about 3 - 4 different colours, and a couple of different brushes to get the different techniques.. These are really cheap and are readily available.
4. The trick is to paint the egg a strong background colour first, and then wait for that to dry before adding the next level. Do not place the newly painted egg on newspaper as the print will come off onto the egg. Rather place it on something that will have very little contact with the egg. Film canister lids are perfect for this.
5. You can also add glitz and glamour to your eggs as the acryllic paints also come in metallic colours and with glitter effects. If you want to create a stippled effect you can dip your acrylic into small sponges and dab it onto your eggs. If you are going to use this effect, apply the darker colour first and then finish off with a lighter colour.
---
Recipe of the Month: Hot Cross Buns
What would Easter be without Hot Cross Buns? The emphasis is on the word hot and if you need to re-heat your buns, place them in a brown paper bag in a moderate oven for 5 - 10 mins, or until warmed through. They won't dry out or loose their flavour - in fact they will taste as if they have just been baked!
1 lb flour
1/2 teaspoon salt
1 teaspoon mixed spice
1 teaspoon ground cinnamon
1/2 teaspoon ground nutmeg or mace
3 tablespoons butter
3 teaspoons dried yeast
1/4 - 1/2 pint milk, warmed
1 egg, lightly beaten
2 tablespoons sugar
2 tablespoons sultanas, currants or seedless raisins
a little candied peel
Heat the oven to 400 degrees F. Sift the flour, spices and salt in a warmed bowl and rub in the butter. In another bowl add the warmed milk, dissolve the sugar in the milk and then sprinkle the yeast over that with another sprinkling of extra flour. Cover with a plate and leave to act. Make a well in the center of the flour and pour in the warm milk, yeast and a lightly beaten egg. Mix the ingredients together to form a dough and knead for 5 minutes. Put in a cleaned, greased bowl, cover and leave in a warm place until double in size. When doubled knock down and add the fruit and candied peel. Divide the dough into 12 buns and place on a greased baking sheet and leave to prove.
Make the cross mixture:
1 1/3 cups icing or confectioner's sugar
1 1/2 teaspoons finely chopped lemon zest
1/2 teaspoon lemon juice
1 - 2 tablespoons milk
Just before placing buns in the oven, slash crosses on them with the back-end of a blunt knife. Dribble the cross mixture in the slashes you have made, using a teaspoon. Place buns in oven for 15 - 20 minutes until well browned and they sound hollow when tapped underneath. While they are cooking, make the sugar glaze of equal parts sugar and water. Brush the buns with this as soon as they come out of the oven. Happy Easter!
---



Well, we hope that you have enjoyed reading the eighth issue of our e-zine, as much as we had fun writing it. We also hope that you will stay with us for a long time, visit our web site for updates, and feel free to contribute to the many forums we have created especially for you.


Until next time!
Philip & Kathryn Bax

---

Country Living and Farm Lifestyles
//www.countryfarm-lifestyles.com
Your Gateway to Rural Dreams! Visit us for Country Crafts, Country Decor, Country Cottages, Farm Shops, Farming & Gardening Articles and general issues dealing with Rural & Country Life.
---
New!

CommentsDo you have something of value to add? Leave me a comment in the box below.