---
Country Living & Farm Lifestyles E-zine
Issue 5
DECEMBER 2008
---
Poem for the Month:
A Country Christmas
"Christmas was always a special time
In the country so long ago
Firelight danced on windowpanes
As hearts began to glow.
As a child, I yet remember
Gathering around the tree
Grandpa's old time stories
Filled every face with glee.

Savory smells drifted through the air
In a heavenly atmosphere
Voices cracked with happiness
As Christmas day drew near.
Homemade pies aligned the shelves
Made by Grandma's aging hands
And something spiritual touched us all
As the Yuletide swept the land.

T'was an ole fashioned country Christmas
Blessed with lots of Christmas snow
Sleigh rides for the young at heart
And hanging mistletoe.
Now my heart fills up with gladness
As the season brings its cheer
When these thoughts of mine go back in time
To recapture yesteryear.

Copyright 1987 Marilyn Ferguson
---
Editorial :
Welcome to Country Living and Farm Lifestyles' fifth e-zine.
Apologies to all of you who are signed up for this newsletter and are wondering why it is late. I normally manage to get it out on the 20th of every month, but I had a bit of a disruptive month. I went to Italy in the first week to see the progress on my farmhouse, well - non-progress, as it turned out to be, and then on my return injured my back in picking up a suitcase at the airport. Such was the extent of my injury that the following day I couldn't walk without excruciating pain, and was bedridden for a week. Anyway, the good news is that I am on the mend, and have managed to get this newsletter out after all.
If you managed to make a Christmas Wreath from last month's newsletter, we would love to see the final results. Don't forget too, that through the website you can send in any of your photos of crafts or farms.
As Christmas nears I wish our readers a joyous and happy Christmas day and may 2009 be everything that you wish for, and more.
---
This Month's Article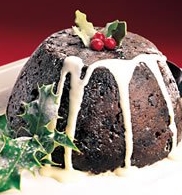 Christmas Around The World.
Think Christmas and you think a whole lot of cooking, eating and drinking. Traditions vary from country to country, but the common thread is that food prepared during this period must in someway be 'special', above and beyond the mundane and everyday.


In Italy, baking, particularly that characterized by candied fruit, spices, an abundance of eggs, honey, butter (often substituted with olive oil in the south) heralds the Christmas period. Torrone, pannetone, pandoro, panforte and cannoli are all delicacies of the festival. Most Italian Christmas baking also includes nuts, as according to peasant folklore, they aid in the fertility of the earth and people - increasing flocks and families.


In France, le reveillon commences after midnight mass on Christmas Eve and usually consists of oysters, snails, smoked salmon and roast goose and finishes with a Buche de Noel; a chocolate and sponge cake in the shape of a log, rolled and decorated.


In Germany, special baking evenings are often held to prepare spiced cakes, gingerbread houses and the cookies made to decorate the Christmas tree. Christmas Eve sees a feast of carp and potato salad and Christmas Day is spread of roast goose, white sausage and regional varients, followed by special Christmas pastries such as stollen, ginger spice bars and marzipan.


Scandinavian celebrations reach their peak on Christmas Eve with a smorgasbord of sausages, meatballs, potatoes and a multitude of different kinds of pickled herring, followed by rice pudding in which an almond is placed. Folklore has it that the person who finds the almond will marry in the New Year. Again, baking is a large part of the celebratory mood, including wreath cakes of almond meringues resembling a croquembouche, gingerbread, pepper snaps and crisp iced butter cookies.


Christmas in Greece sees bakery windows piled high with kourabiedes (butter biscuits) and melomacrona (New Year biscuits). Traditional roast lamb with potatoes and turkey stuffed with chestnuts and pine nuts are served on Christmas Day, followed by Christmas bread redolent with spices, nuts and sultanas.


What is considered traditional Christmas fare is very much related to our cultural heritage. What is clear though is the lingering imprint of a colonial past. Even stark differences in climate have not dampened the enthusiasm for traditional turkey and Christmas pudding. While retaining at least some of the dishes of Old England, a more modern sensibility seems to be the order of Christmas today. Seafood has become a firm favourite for Australians, as have salads and it is not too unusual to see the influence of many ethnicities on the Christmas table.
---
Feature of the Month: What to Do with Leftovers
Turkey Leftovers
* Serve thinly sliced turkey on sourdough with garlic mayonnaise and rocket (arugula).
* Serve thick slices of turkey with fennel remoulade and a green salad. The remoulade is an easy French classic sauce made by combining mayonnaise, mustard, capers, chopped gherkins, herbs and anchovies.
* Take 1 mango, puree half of it with 15 ml creme fraiche, 5 ml mango chutney, a generous squeeze of lime juice and seasoning. On a bed of salad leaves, arrange slices of cooked turkey and the rest of the fresh mango. Serve with a spoonful of the sauce.
* Mix 450 g cooked shell pasta with 340g cold turkey, 450 g tomatoes (peeled and roughly chopped), lots of chopped basil and a handful of black olives. Season well and mix with an Italian-style dressing.
* Whiz 4x15 ml mayonnaise with 1 chopped garlic clove, 2 anchovies, 15 ml grated Parmesan cheese and a squeeze of lemon. Add a little extra anchovy or olive oil to loosen. Serve with 340 g cold turkey mixed with Cos lettuce, 3 rashers of bacon and a handful of croutons.
* Make some pancakes and put aside. Make a thick white sauce and add 1 bunch of cooked asparagus in 2 inch lengths. Add 340g cold turkey. Fill pancakes and roll. Place in a baking dish and grate cheese over the top. Bake for 30 mins in a medium hot oven.
* Mix 450 g cold shredded turkey with 150 g watercress, 1 thinly sliced fennel bulb, and 2 oranges (peeled and sliced). Serve tossed with French dressing. If you find the fennel too strong, then slice and soak in water with a squeeze of lemon juice for an hour before mixing with the rest of the ingredients.
Ham Leftovers
* Traditionally, in our house, ham leftovers become Pea and Ham Soup.


---
Recipe of the Month: Cherry Christmas Cake with Fudge Frosting
For Cake:
1 cup chopped, dried cherries
½ cup dried currants
½ cup brandy
1½ cups sugar
1¼ cups all purpose flour
½ cup unsweetened cocoa powder
1½ teaspoons baking soda
¾ teaspoon baking powder
1 teaspoon ground cinnamon
¾ teaspoon ground allspice
½ teaspoon ground nutmeg
1 x 5½ ounce can prune juice (2/3 cup)
½ cup buttermilk
¼ cup unsalted butter, melted, cooled
2 large eggs
For Frosting:
¾ cup whipping cream
6 tablespoons unsalted butter, cut into pieces
500 g bittersweet or semisweet chocolate, coarsely chopped
1½ cups chilled sour cream
2 cups finely chopped toasted walnuts
10 walnut halves, toasted
Fresh cherries or dried apricots to garnish
Make Cake:
Mix chopped dried cherries, dried currants and brandy in medium bowl. Let stand for 1 hour.
Preheat oven to 180°C. Butter 15½ x 10½ x 1 inch Swiss roll pan. Line with parchment. Butter and flour parchment. Drain fruit mixture; reserve soaking liquid. Mix sugar, flour, cocoa, baking soda, baking powder, and spices in large bowl. Whisk prune juice, buttermilk, butter and eggs in medium bowl to blend. Add prune juice mixture to dry ingredients and whisk to blend. Fold in drained fruit.
Pour batter into prepared pan; smooth top. Bake until tester inserted into centre of cake comes out clean - about 25 mins. Cool in pan on rack.
Make Frosting:
Bring reserved fruit soaking liquid, cream and butter to simmer in large, heavy pan, whisking until butter melts. Remove from heat. Add chocolate and whisk until melted and smooth. Add sour cream and whisk to blend. Refrigerate frosting until thick enough to spread, stirring occasionally, about 30 mins.
Run sharp knife around pan sides to loosen cake. Turn out cake onto work surface. Peel off parchment. Using serrated knife, cut cake crosswise into three 5x10 inch rectangles. Place 1 cake piece on platter. Spread ½ cup frosting over cake. Sprinkle with ¼ cup chopped walnut pieces. Top with second cake piece. Spread ½ cup frosting over cake. Sprinkle with ¼ cup chopped walnut pieces. Top with third cake piece. Spread remaining frosting over top and sides of cake. Garnish with fruit of your choice, either fresh cherries and 10 walnut halves or dried apricots and 10 walnut halves. Top with glaze if desired.
Refrigerate for 1 hour to set frosting. Replace the brandy with apple juice for a non-alcoholic cake.
---
Spiced Hot Chocolate
2 cups whole milk
½ cup golden brown sugar, packed
½ cup whipping cream
¼ cup unsweetened cocoa powder
120 g chopped bittersweet or semi-sweet chocolate
½ teaspoon ground cinnamon
garnish with whipped cream and cinnamon sticks


Method:


Whisk milk, brown sugar and whipping cream in a large, heavy pan over medium heat until mixture begins to simmer. Reduce heat to medium-low; add cocoa powder, chocolate and cinnamon. Whisk chocolate until melted and smooth. Pour hot chocolate into 6 demitasse cups. Garnish each with whipped cream (optional) and a cinnamon stick.
---
Well, we hope that you have enjoyed reading the fifth issue of our e-zine, as much as we had fun writing it. We also hope that you will stay with us for a long time, visit our web site for updates, and feel free to contribute to the many forums we have created especially for you.



Until next time!
Philip & Kathryn Bax

---

Country Living and Farm Lifestyles
//www.countryfarm-lifestyles.com
Your Gateway to Rural Dreams! Visit us for Country Crafts, Country Decor, Country Cottages, Farm Shops, Farming & Gardening Articles and general issues dealing with Rural & Country Life.

---
New!

CommentsDo you have something of value to add? Leave me a comment in the box below.