Dorset Farm Shops, Farmers Markets, Farm Gate Sales, PYO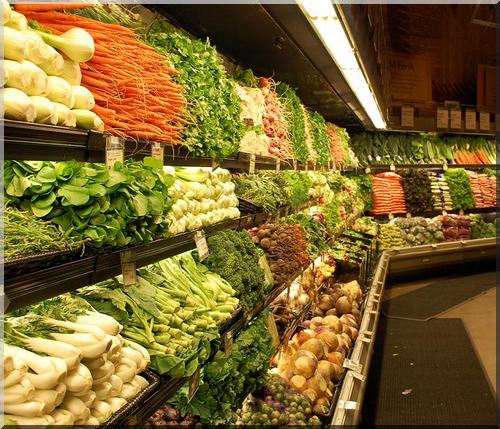 Advertise your Dorset farm shops here for just £25.00 per annum! Your farm shop could feature here, in place of the graphic above. Contact us for further details.

Find your Dorset farm shops and other farm food outlets where you can get farm produce direct from the farm. In the list below you will be able to find organic produce at farm shops, farm gate sales, farmers' markets, through vegetable box schemes and through the pick your own scheme.
Food today needs to be traceable. Where exactly is your food coming from when you buy it from your local supermarket? How many miles has it taken to get there, and is your local farmer in Dorset being ignored whilst more expensive food is being flown in from abroad? More importantly to your health, what insecticides, pesticides and farming practices have been used on what you are about to buy? Dorset farm shops need your support.
Take advantage of good, wholesome food, that hasn't been grown in a country that grows GM food, or from a country whose standards are suspect. Support your local Dorset farmer, and look for your nearest farm shop so that you can buy organically grown farm food, and healthy fresh food for your babies, children and families. Support Dorset farm shops and local Dorset farmers.
---
DORSET FARM SHOPS, FARM GATE SALES, PYO etc.
| | | | | |
| --- | --- | --- | --- | --- |
| Farm Shop | Category | Website | E-mail | Telephone |
| Becklands Farm Shop | Farm Shop & Beef Sales | NA | NA | +44(0)1297 560298 |
| | | | | |
| --- | --- | --- | --- | --- |
| Farm Shop | Category | Website | E-mail | Telephone |
| Modbury Farm Shop | Farm Shop & Dairy | NA | NA | +44(0)1308 897193 |
| | | | | |
| --- | --- | --- | --- | --- |
| Farm Shop | Category | Website | E-mail | Telephone |
| Tamarisk Farm Shop | Organic Farm Shop & Butchery | NA | NA | +44(0)1308 897784 |
| | | | | |
| --- | --- | --- | --- | --- |
| Farm Shop | Category | Website | E-mail | Telephone |
| Eweleaze Farm Shop | Farm Shop, Beef & Dairy | NA | NA | +44(0)1305 833690 |
| | | | | |
| --- | --- | --- | --- | --- |
| Farm Shop | Category | Website | E-mail | Telephone |
| Sturts Farm Shop | Organic Produce & Gift Shop | NA | NA | +44(0)1202 854762 |
| | | | | |
| --- | --- | --- | --- | --- |
| Farm Shop | Category | Website | E-mail | Telephone |
| Goldy's Farm Shop | Farm Shop, Butchery & Bakery | NA | NA | +44(0)1202 625777 |
| | | | | |
| --- | --- | --- | --- | --- |
| Farm Shop | Category | Website | E-mail | Telephone |
| Vines Close Farm Shop | Farm Shop | NA | NA | +44(0)1258 857909 |
| | | | | |
| --- | --- | --- | --- | --- |
| Farm Shop | Category | Website | E-mail | Telephone |
| Green Valley Organic Farm | Organic Farm Shop & Butchery | NA | NA | +44(0)1300 342164 |
| | | | | |
| --- | --- | --- | --- | --- |
| Farm Shop | Category | Website | E-mail | Telephone |
| Home Farm Shop | Farm Shop & Butchery | NA | NA | +44(0)1258 830083 |
| | | | | |
| --- | --- | --- | --- | --- |
| Farm Shop | Category | Website | E-mail | Telephone |
| Stevens Farm Shop | Farm Shop, Butchery, Deli & Cafe | NA | NA | +44(0)1305 889216 |
| | | | | |
| --- | --- | --- | --- | --- |
| Farm Shop | Category | Website | E-mail | Telephone |
| Washingpool Farm Shop | Farm Shop & Restaurant | NA | NA | +44(0)1308 459549 |
| | | | | |
| --- | --- | --- | --- | --- |
| Farm Shop | Category | Website | E-mail | Telephone |
| Norden Farm Shop | Farm Shop & PYO | NA | NA | +44(0)1929 480098 |
| | | | | |
| --- | --- | --- | --- | --- |
| Farm Shop | Category | Website | E-mail | Telephone |
| Lagan Farm Shop | Farm Shop, Florist & Cafe | NA | NA | +44(0)1747 835544 |
| | | | | |
| --- | --- | --- | --- | --- |
| Farm Shop | Category | Website | E-mail | Telephone |
| Cranborne Farms | Farm Butchery & Garden Centre | NA | NA | +44(0)1725 517168 |
| | | | | |
| --- | --- | --- | --- | --- |
| Farm Shop | Category | Website | E-mail | Telephone |
| Pamphill Dairy Farm | Farm Shop & Butchery | NA | NA | +44(0)1202 883924 |
| | | | | |
| --- | --- | --- | --- | --- |
| Farm Shop | Category | Website | E-mail | Telephone |
| Green Lane Farm Shop | Farm Shop & Organic Beef | NA | NA | +44(0)1308 863817 |
| | | | | |
| --- | --- | --- | --- | --- |
| Farm Shop | Category | Website | E-mail | Telephone |
| Pampered Pigs Pantry | Organic Farm Shop & Butchery | NA | NA | +44(0)1929 472327 |
| | | | | |
| --- | --- | --- | --- | --- |
| Farm Shop | Category | Website | E-mail | Telephone |
| Owls Barn Organic Farm Shop | Farm Shop & Butchery | NA | NA | +44(0)1425 672239 |
| | | | | |
| --- | --- | --- | --- | --- |
| Farm Shop | Category | Website | E-mail | Telephone |
| Cannings Court Organic Farm Shop and Box Scheme | Organic Produce | NA | NA | +44(0)1258 818035 |
| | | | | |
| --- | --- | --- | --- | --- |
| Farmers' Markets | Category | Website | E-mail | Telephone |
| Gold Hill Organic Farm | Organic Produce | NA | NA | +44(0)1258 861413 |
| | | | | |
| --- | --- | --- | --- | --- |
| Farmers' Markets | Category | Website | E-mail | Telephone |
| Mrs Pook's Kitchen | Jams, Preserves, Chutneys | NA | NA | +44(0)1258 881274 |
| | | | | |
| --- | --- | --- | --- | --- |
| Mail Order | Category | Website | E-mail | Telephone |
| Peppers by Post | Chillies and Peppers | NA | NA | +44(0)1308 897766 |
| | | | | |
| --- | --- | --- | --- | --- |
| Mail Order | Category | Website | E-mail | Telephone |
| Dorset Blue Cheese Co. | Blue Cheese | NA | NA | +44(0)1963 23216 |
| | | | | |
| --- | --- | --- | --- | --- |
| Vegetable Box Scheme | Category | Website | E-mail | Telephone |
| Bothen Hill Produce | Vegetable Box Scheme - Will Deliver | NA | NA | +44(0)1308 424271 |
| | | | | |
| --- | --- | --- | --- | --- |
| Vegetable Box Scheme | Category | Website | E-mail | Telephone |
| Long Crichel Organic Garden | Vegetables | NA | NA | +44(0)1258 830295 |

Go from Dorset Farm Shopsback to UK Farm Food