Farm Cookery Courses on Farms in the UK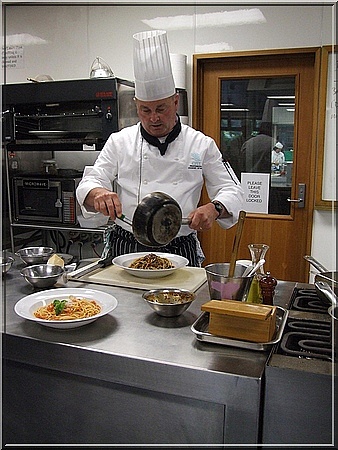 A chef demonstrating during a UK cookery course
Farm cookery courses can be found throughout the UK. Why don't you try one of our farm cookery schools? Listed below are cookery courses and cookery schools on farms set in tranquil pockets of the English countryside offering practical lessons and cooking tips. Come and learn some new cooking skills and fabulous new recipes to stun your friends and family.
Many of the ingredients used in your cookery lessons will be organic produce straight from their farms. You will use the very best local, seasonal produce to cook delicious, well presented recipes.
The cookery lessons on offer at these cooking schools are for all levels of expertise and culinary prowess. If you are a reluctant or novice cook just wanting to learn how to cook, or you are already a competent cook looking to extend your cooking skills then this is the place for you. If you are looking for just a half-day course or a more extensive diploma course, with or without accommodation, the cooking schools listed below offer a variety of choices, some at very reasonable cost.
You will find farm cookery courses here that meet both your level of interest and skills, whether it be vegetarian, Asian, Italian or French cooking or something more specialized such as desserts, patisserie, dinner parties or chocolates. Some of these farm cooking schools also offer cooking holidays where you have the perfect combination of a farm stay vacation with cookery lessons over a short weekend break, or perhaps a little longer, which is a perfect combination of having a holiday and doing something that you love - cooking!
Have fun in the kitchen and meet new friends during your gourmet cooking experience, and emerge with new skills that you didn't have before!
If you would like to contribute to our recipes page, visit the Craft & Recipes Forum you can find recipes and also leave a recipe.
---
Find Farm Cookery Courses in England:
BUCKINGHAMSHIRE: