A Tuscan Farmhouse : Come and Share the Journey
A Tuscan Farmhouse is a bloglet that will lead down paths that even we don't know where they will be leading to at this stage! Therefore, I am inviting you to share our unknown journey with us as we go from purchasing property in Italy, renovating the farmhouse, moving to Italy and finally living in Italy. And the journey won't stop there, because I will continue to share my life and experiences with you from our farmhouse in Tuscany as it unfolds, warts and all!
So either RSS this page or bookmark it and come back again and again to find out the latest developments and stories that I will share with you in our quest to live the rural dream and change our busy lifestyles for something less hectic and more idyllic. Will the changes that we make be for the best or will it turn out to the biggest mistake in this huge gamble? Only time will tell.
Feb, 2007
A Tuscan Farmhouse: Why?
We are finally the proud owners of a farmhouse in Tuscany! But don't let the photos fool you, because the house is in fact, far from well. Let's just say that it is literally falling apart at the seams and will need a good structural engineer to 'stitch' it back up again with some serious micro-piling and lots of concrete going up to 8 meters down!
"Why", I hear you ask, "did we even look at such a property?"
5 reasons:
1) Because we think it's beautiful and it is in the Casentino Valley, a truely exquisite and hidden valley off the main tourist trap.

2) Because it has potential.

3) Because it is in Tuscany, a place I always wanted to live in, after reading Frances Mayes' "Under the Tuscan Sun".

4) Because the Tuscan farmhouse more than fulfilled our dreams of changing our lifestyles, living in Tuscany and farming grapes and olives under the Tuscan sun!

5) It was actually quite reasonable after a LOT of hard bargaining.


View Larger Map
---
Feb, 2007
A Tuscan Farmhouse: First Rounds of Negotiations
It was February, 2007 that we signed the intention to purchase the house and owned some Tuscan real estate. In Italy they have a very long-winded approach of selling houses. First you sign an offer of intention. After that, there is a preliminary contract, and finally you go to contract. Which is a HUGE affair, but I'll tell you about that later on.
First searches are done to establish if the person is the sole-owner. In Italy, often several family members own the property in question and if one of them suddenly decides not to sell, the sale can get quite messy. When it is farming land the neighbouring property owners are given first option on the land of the purchase. Thankfully, none of our 3 neighbours wanted our land, except for the seller, that is.
I don't know where to begin, except to say that she was different. Very different! In a totally eccentric way, which was sometimes refreshing, and other times just darn frustrating! It was in the frustrating phase where we circled each others like gladiators in the Colosseum for over six months because she decided, after the offer was made, that she wanted to keep some of the land as a memento! The memento was an acre of land, to be precise. We only had 15 acres, of which 3 were made up of forest. It wasn't going to give us much land left for our plans to plant olive groves and vineyards.
Over the following months the land issue took on political proportions. And yet, just when we thought we were winning, when the request shrank to 1000 sqm, it just wasn't getting resolved. It had now becoming a matter of principle. We circled, weaved, dodged and ducked, and finally, in order to bring matters to a head, we played devil's advocate. We said that we weren't interested in the property any more. The gamble paid off. A little risky, but then I had done my homework. As an Internet sleuth I had discovered long before that, that the Tuscan farmhouse had been on the market since 2005. She really did want to sell.
And why had the house been on the market for so long? - Because on the outside the house looked a dream, on the inside it was a different story. The name of the house in Italian means; "The Place of Rocks", it should really be called, "The House of Cracks" and we were under no illusions that it would need a lot of renovating. Have a look at the pictures; you be the judge!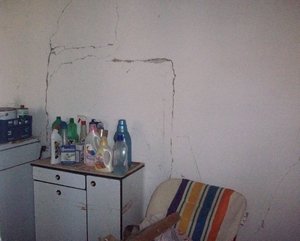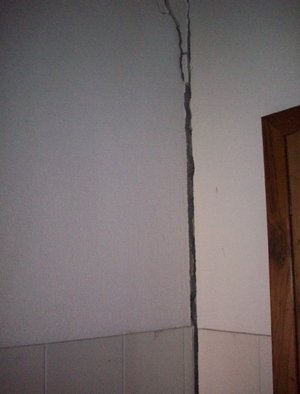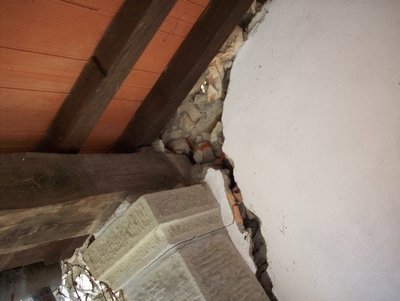 And yes, you can see daylight through the crack on the last picture!
When we looked at the Tuscan farmhouse, we looked beyond the cracks, and knew that one day it would be a beautiful house, both inside and out. It had potential. Beauty within, there is none. It is ugly inside. Every original feature of the 200 year-old house has been stripped away. There are no cotto floors, instead cheap and nasty ceramics are in their place. There are no fireplaces anywhere, only ghastly radiators adorn the walls. The only original features of the house to remain are the chestnut beams, only because they were out of reach, and then there is the stone pizza oven. However, even the pizza oven did not escape the over-zealous moves towards modernization. The oven itself is under the internal staircase and it backs onto the kitchen area. No problem, a hole was smashed through the back of the lovely oven to turn it into a serving hatch which now opens up through to the lounge on the other side! We have plans to restore the pizza oven to its former glory.
And here is the pizza oven conversion knocked through to the kitchen to provide the dreaded breakfast hatch! No comment! I apologise for all the rubbish in the photo; a gift from the previous owner. In fact we had lots of gifts to dump; winter coats, mattresses, sofa chairs...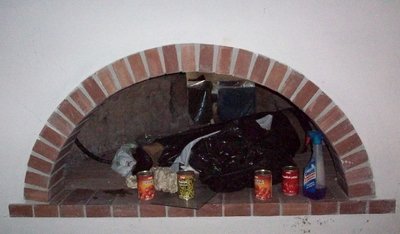 Well, now that I have shown you our Tuscan farmhouse warts and all, here are some pictures, taken from afar(!), which may give you some idea of the potential we saw.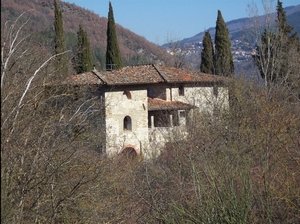 ---
---
Go from a Tuscan Farmhouse to Part 2: Tuscan Real Estate

Go to Part 3: Clearing of Land

Return to Countryfarm Lifestyles