Cumbria Farm Shops, Farm Gate Sales, Box Schemes and PYO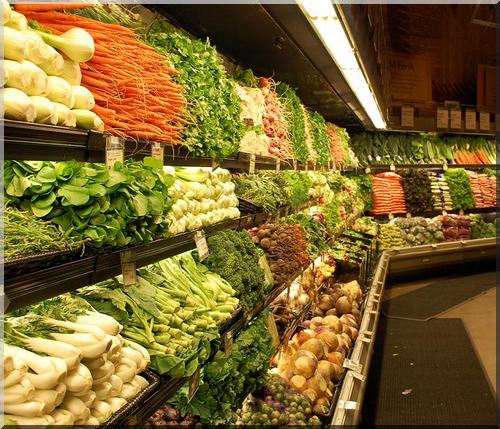 Advertise Cumbria farm shops here for just £25.00 per annum! Your farm shop could feature here, in place of the graphic above. Contact us for further details.
Cumbria farm shops can be found at local farmers' markets in the area. There are 2 main markets of note; one is the Penrith Farmers' Market which can be found in the market square on a Saturday, and the other is the Pooley Bridge Farmers' Market. The Pooley Bridge Farmers Market is located right in the middle of the center of the village, behind the Sun Inn.
Cumbria farm shops are filled with fresh farm fruit and vegetables for you to purchase, much of which has been organically grown. You will find listed below also farms that sell through farmers' markets, farm gate sales, pick your own and vegetable box schemes. Check with your local farmers to see when their shops are open and if they deliver. Some do, especially with regards to their vegetable box schemes.
Take advantage of good, wholesome farm food, that hasn't been grown in a country that grows GM food, or from a country whose standards are suspect. Support your local Cumbria farm shops, and buy organically grown farm food, and healthy fresh food for your babies, children and families.
---
CUMBRIA FARM SHOPS, FARM GATE SALES, PYO etc.
| | | | | |
| --- | --- | --- | --- | --- |
| Farm Shop | Category | Website | E-mail | Telephone |
| Yew Tree Farm | Butchery & Cafe | NA | NA | +44(0)1539 441433 |
| | | | | |
| --- | --- | --- | --- | --- |
| Farm Shop | Category | Website | E-mail | Telephone |
| Houghton Hall Farm Shop | Farm Shop and Garden Centre | NA | NA | +44(0)1228 400610 |
| | | | | |
| --- | --- | --- | --- | --- |
| Farm Shop | Category | Website | E-mail | Telephone |
| Low Sizergh Barn Farm Shop | Farm Shop and Cafe | NA | NA | +44(0)1539 560426 |
| | | | | |
| --- | --- | --- | --- | --- |
| Farm Shop | Category | Website | E-mail | Telephone |
| Plumgarth's Farm Shop | Farm Shop | NA | NA | +44(0)1539 552247 |
| | | | | |
| --- | --- | --- | --- | --- |
| Farm Shop | Category | Website | E-mail | Telephone |
| Carleton Farm Shop | Farm Shop | NA | NA | +44(0)1768 210027 |
| | | | | |
| --- | --- | --- | --- | --- |
| Farm Shop | Category | Website | E-mail | Telephone |
| Greystone House Farm Shop | Farm Shop, Butchery & Cafe | NA | NA | +44(0)1768 866952 |
| | | | | |
| --- | --- | --- | --- | --- |
| Farm Shop | Category | Website | E-mail | Telephone |
| Airey's Farm Shop | Farm Shop & Butchery | NA | NA | +44(0)1539 531327 |
| | | | | |
| --- | --- | --- | --- | --- |
| Farm Shop | Category | Website | E-mail | Telephone |
| Holker Food Hall | Farm Shop & Butchery | NA | NA | +44(0)1539 559084 |
| | | | | |
| --- | --- | --- | --- | --- |
| Farm Shop | Category | Website | E-mail | Telephone |
| Ivinson's Farm Shop | Farm Shop & Cafe | NA | NA | +44(0)1768 866979 |
| | | | | |
| --- | --- | --- | --- | --- |
| Farm Shop | Category | Website | E-mail | Telephone |
| The Farm & Flower Shop | Farm Shop & Gift Shop | NA | NA | +44(0)1228 711410 |
| | | | | |
| --- | --- | --- | --- | --- |
| Farm Shop | Category | Website | E-mail | Telephone |
| Sillfield Farm Products | Butchery & Cheese | NA | NA | +44(0)1539 567609 |
| | | | | |
| --- | --- | --- | --- | --- |
| Farm Shop | Category | Website | E-mail | Telephone |
| Millstones Barn | Farm Shop & Gift Shop | NA | NA | +44(0)1229 718775 |
| | | | | |
| --- | --- | --- | --- | --- |
| Farm Shop | Category | Website | E-mail | Telephone |
| Country Cuts Organic Meats | Farm Butchery | NA | NA | +44(0)1946 726256 |
| | | | | |
| --- | --- | --- | --- | --- |
| Farm Shop | Category | Website | E-mail | Telephone |
| Cranstons Cumbrian Food Hall | Farm Shop & Butchery | NA | NA | +44(0)1768 868680 |
| | | | | |
| --- | --- | --- | --- | --- |
| Farm Shop | Category | Website | E-mail | Telephone |
| Howbarrow Organic Farm Shop | Farm Shop, Butchery & Box Scheme | NA | NA | +44(0)1539 536330 |
| | | | | |
| --- | --- | --- | --- | --- |
| Farm Shop | Category | Website | E-mail | Telephone |
| The Watermill | Organic Flour Mill Shop & Cafe | NA | NA | +44(0)1768 881523 |
| | | | | |
| --- | --- | --- | --- | --- |
| Farm Shop | Category | Website | E-mail | Telephone |
| Kitridding Farm Shop | Farm Shop & Butchery | NA | NA | +44(0)1539 567484 |
| | | | | |
| --- | --- | --- | --- | --- |
| Farmers' Markets | Category | Website | E-mail | Telephone |
| Shaws Farm Produce | Meat & Meat Products | NA | NA | +44(0)1697 344328 |
| | | | | |
| --- | --- | --- | --- | --- |
| Farmers' Markets | Category | Website | E-mail | Telephone |
| Brow Top Farm | Pork & Game | NA | NA | +44(0)1768 484237 |
| | | | | |
| --- | --- | --- | --- | --- |
| Farm Gate Sales | Category | Website | E-mail | Telephone |
| Low Luckens and Whiteholme Farms | Organic Meat | NA | NA | +44(0)1697 748186 |
| | | | | |
| --- | --- | --- | --- | --- |
| Farm Gate Sales | Category | Website | E-mail | Telephone |
| Deer N' Dexter | Beef & Venison | NA | NA | +44(0)1768 480069 |
| | | | | |
| --- | --- | --- | --- | --- |
| Farm Gate Sales | Category | Website | E-mail | Telephone |
| Spotted Meats | Pork & Lamb | NA | NA | +44(0)1228 577467 |
| | | | | |
| --- | --- | --- | --- | --- |
| Farm Gate Sales | Category | Website | E-mail | Telephone |
| Pow Heads Farm Meat | Meat & Turkeys | NA | NA | +44(0)1697 371325 |
| | | | | |
| --- | --- | --- | --- | --- |
| Farm Gate Sales | Category | Website | E-mail | Telephone |
| Slacks | Pork Products | NA | NA | +44(0)1539 624667 |
| | | | | |
| --- | --- | --- | --- | --- |
| Farm Gate Sales | Category | Website | E-mail | Telephone |
| Croft Farm Meats | Lamb & Beef | NA | NA | +44(0)1228 549628 |
| | | | | |
| --- | --- | --- | --- | --- |
| Farm Gate Sales | Category | Website | E-mail | Telephone |
| Matson Ground Farm | Organic Beef & Lamb | NA | NA | +44(0)1539 445756 |
| | | | | |
| --- | --- | --- | --- | --- |
| Farm Gate Sales | Category | Website | E-mail | Telephone |
| Buckles Farm | Beef, Pork, Lamb | NA | NA | +44(0)1768 341917 |
| | | | | |
| --- | --- | --- | --- | --- |
| Farm Gate Sales | Category | Website | E-mail | Telephone |
| Barwise Aberdeen Angus | Beef | NA | NA | +44(0)1768 353430 |
| | | | | |
| --- | --- | --- | --- | --- |
| Farm Gate Sales | Category | Website | E-mail | Telephone |
| Askerton Castle Estate | Meat | NA | NA | +44(0)1697 73332 |
| | | | | |
| --- | --- | --- | --- | --- |
| Farm Gate Sales | Category | Website | E-mail | Telephone |
| SC Farming | Beef & Lamb | NA | NA | +44(0)1539 552585 |
| | | | | |
| --- | --- | --- | --- | --- |
| Farm Gate Sales | Category | Website | E-mail | Telephone |
| Savin Hill Farm | Beef & Pork | NA | NA | +44(0)1539 568410 |
| | | | | |
| --- | --- | --- | --- | --- |
| Farm Gate Sales | Category | Website | E-mail | Telephone |
| J & M Organics | Organic Meat & Produce | NA | NA | +44(0)1228 675252 |
| | | | | |
| --- | --- | --- | --- | --- |
| Mail Order | Category | Website | E-mail | Telephone |
| Hallsford Butchery Ltd. | Beef & Lamb | NA | NA | +44(0)1228 577329 |
| | | | | |
| --- | --- | --- | --- | --- |
| Mail Order | Category | Website | E-mail | Telephone |
| Border Country Foods | Pork & Pork Products | NA | NA | +44(0)1228 573500 |
---

Go from Cumbria Farm Shops back to UK Farm Food
Return to Countryfarm Lifestyles