Farm Food Herefordshire: Foods for Organic Produce, Farmers' Markets, Farm Shops, Farm Gates Sales & PYO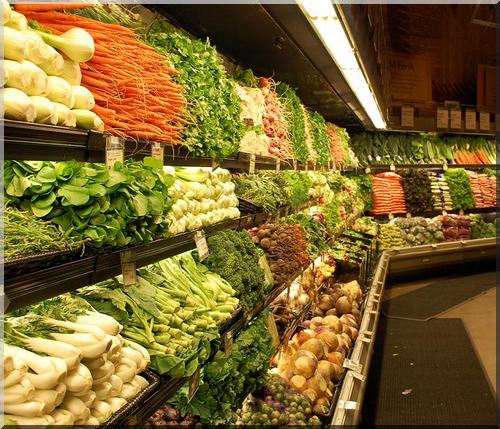 Advertise your farm food Herefordshire shop here for just £25.00 per annum! Your Herefordshire farm shop could feature here, in place of the graphic above. Contact us for further details.

Farm food Herefordshire outlets can be found at various places where you can get farm produce direct from the farms. These farms often sell foods such as organic produce, organic meats, free-range eggs and a lot more. They also sell their fruit and vegetables, and other farm produce through farmers' markets, farm gate sales, pick your own and vegetable box schemes. What you end up with is quality produce at a fraction of the cost you would have paid at the supermarket. This is good news for many who are trying to save money.
For those who are worried about pesticides and artificial fertilizers being used on your food, by buying organic produce or farm food that is traceable, this problem no longer exists. Much of the farm produce that is offered through farm food Herefordshire shops has been grown organically which is definitely a healthier option. The farm shops are well-stocked often so well-stocked that they are like mini-supermarkets where you can pick up your fruit, vegetables, meat, milk, cheese, eggs, flour and wine all under one roof.
Support your local farmers and buy at one of our farm food Herefordshire outlets below.
---
| | | | | |
| --- | --- | --- | --- | --- |
| Farm Gate Sales | Category | Website | E-mail | Telephone |
| Beaconhill Farm | Milk & Ice Cream | website | e-mail | +44(0)1531 640275 |
Beaconhill Farm sells organic Jersey milk and ice cream. The ice cream comes in a number of delicious and unusual flavours; green apple and cinnamon, Christmas pudding, cappucino and vanilla. You can purchase these dairy products directly from the farm and you can also buy them from Farmers' Markets at Cheltenham, Tewkesbury, and Winchcombe.
---
| | | | | |
| --- | --- | --- | --- | --- |
| Farm Shop | Category | Website | E-mail | Telephone |
| Llandinabo Farm Shop | Farm Butchery | NA | NA | +44(0)1531 632744 |
| | | | | |
| --- | --- | --- | --- | --- |
| Farm Shop | Category | Website | E-mail | Telephone |
| Butford Organics | Organic Farm Shop & Butchery | NA | NA | +44(0)1568 797195 |
| | | | | |
| --- | --- | --- | --- | --- |
| Farm Shop | Category | Website | E-mail | Telephone |
| Green Acre's Farm Shop | Organic Farm Shop | NA | NA | +44(0)1568 797045 |
| | | | | |
| --- | --- | --- | --- | --- |
| Farm Shop | Category | Website | E-mail | Telephone |
| Grove Farm Shop | Farm Shop & Tea Room | NA | NA | +44(0)1568 613425 |
| | | | | |
| --- | --- | --- | --- | --- |
| Farm Shop | Category | Website | E-mail | Telephone |
| Pengethley Farm Shop | Farm Shop & Deli | NA | NA | +44(0)1989 730430 |
| | | | | |
| --- | --- | --- | --- | --- |
| Farm Shop | Category | Website | E-mail | Telephone |
| Little Verzons Fruit Farm | Farm Shop, Cafe & Plants | NA | NA | +44(0)1531 670816 |
| | | | | |
| --- | --- | --- | --- | --- |
| Farm Shop | Category | Website | E-mail | Telephone |
| Quarry Farm Shop | Farm Shop & Butchery | NA | NA | +44(0)1568 613156 |
| | | | | |
| --- | --- | --- | --- | --- |
| Farm Shop | Category | Website | E-mail | Telephone |
| Townsend Farm Shop | Farm Shop & Butchery | NA | NA | +44(0)1544 388527 |
| | | | | |
| --- | --- | --- | --- | --- |
| Farm Shop | Category | Website | E-mail | Telephone |
| Court Farm | Farm Shop & PYO | NA | NA | +44(0)1432 760271 |
| | | | | |
| --- | --- | --- | --- | --- |
| Farmers' Markets | Category | Website | E-mail | Telephone |
| Siddington Farm Strawberries | Strawberries | NA | NA | +44(0)1531 632664 |
| | | | | |
| --- | --- | --- | --- | --- |
| Farm Gate Sales | Category | Website | E-mail | Telephone |
| Newton Organic Farm | Meat, Wool & Produce | NA | NA | +44(0)1497 831388 |
| | | | | |
| --- | --- | --- | --- | --- |
| Farm Gate Sales | Category | Website | E-mail | Telephone |
| Forty Farms | Pork Products | NA | NA | +44(0)1981 250329 |
| | | | | |
| --- | --- | --- | --- | --- |
| Farm Gate Sales | Category | Website | E-mail | Telephone |
| Clyro Hill Farm | Meat & Poultry | NA | NA | +44(0)1497 820520 |
| | | | | |
| --- | --- | --- | --- | --- |
| Farm Gate Sales | Category | Website | E-mail | Telephone |
| Dragon Orchard | Fruit | NA | NA | +44(0)1531 670071 |
| | | | | |
| --- | --- | --- | --- | --- |
| Mail Order | Category | Website | E-mail | Telephone |
| September Organic Dairy | Ice Cream | NA | NA | +44(0)1544 312910 |
| | | | | |
| --- | --- | --- | --- | --- |
| Mail Order | Category | Website | E-mail | Telephone |
| Monkland Cheese Dairy | Cheese | NA | NA | +44(0)1568 720307 |
---

Go from Farm Food Herefordshire to UK Farm Food

Return to Countryfarm Lifestyles