Farm Food in Lincolnshire for Farm Shops, Organic Produce, Farmers' Markets, Farm Gates Sales & PYO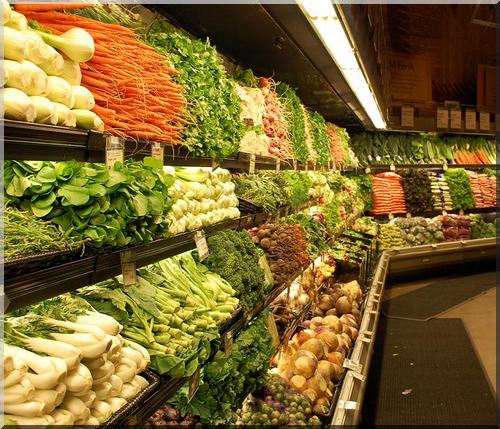 Advertise your farm food in Lincolnshire here for just £25.00 per annum! Your Lincolnshire farm shop could feature here, in place of the graphic above. Contact us for further details.

Farm food in Lincolnshire can be found in farm shops attached to the farms where they sell organic produce, or produce what has been grown without using chemical fertilizers and pesticides.
Thus they are selling healthy foods and selling them directly to you. This also saves you money, as there is no middle man, packaging or transportation costs or storage fees.
For those of you who enjoy healthy and frugal living, this is good news on both fronts. So have a look through our Country Living and Farm Lifestyles list of where to buy your farm food in Lincolnshire. Here you will find farm shops, farmers's markets, farm gate sales in Lincolnshire or farms where you can pick your own.
You will also find some farmers who sell vegetable boxes on a weekly basis. These are usually organic and can either be collected from the farm, or sometimes farmers have a delivery system where they will deliver to your door. Change your lifestyle and eat wholesome farm food. Eat a healthier diet of fruit and vegetables, and buy your farm food a lot cheaper directly from your Lincolnshire farmers rather than at your supermarkets.
---
| | | | | |
| --- | --- | --- | --- | --- |
| Farm Shop | Category | Website | E-mail | Telephone |
| Pinchins Family Farm Shop | Farm Shop & Butchery | NA | NA | +44(0)1205 460632 |
| | | | | |
| --- | --- | --- | --- | --- |
| Farm Shop | Category | Website | E-mail | Telephone |
| Spalding Farm Shop | Farm Shop | NA | NA | +44(0)1775 680101 |
| | | | | |
| --- | --- | --- | --- | --- |
| Farm Shop | Category | Website | E-mail | Telephone |
| Cobb & Son Farm Shop | Farm Shop & Nursery | NA | NA | +44(0)1522 792238 |
| | | | | |
| --- | --- | --- | --- | --- |
| Farm Shop | Category | Website | E-mail | Telephone |
| Mill Farm Shop | Farm Shop & Butchery | NA | NA | +44(0)1778 590263 |
| | | | | |
| --- | --- | --- | --- | --- |
| Farm Shop | Category | Website | E-mail | Telephone |
| Homefarm Shop | Farm Shop | NA | NA | +44(0)1400 273 988 |
| | | | | |
| --- | --- | --- | --- | --- |
| Farm Shop | Category | Website | E-mail | Telephone |
| Nicely Natural Farm Shop | Organcic Farm Shop & Crafts | NA | NA | +44(0)1476 561657 |
| | | | | |
| --- | --- | --- | --- | --- |
| Farm Shop | Category | Website | E-mail | Telephone |
| Sunny Side Up Farm Shop | Farm Shop & Butchery | NA | NA | +44(0)1673 843 840 |
| | | | | |
| --- | --- | --- | --- | --- |
| Farm Shop | Category | Website | E-mail | Telephone |
| Abbey Park Farm Shop | Farm Shop & Coffee Shop | NA | NA | +44(0)1205 821610 |
| | | | | |
| --- | --- | --- | --- | --- |
| Farm Shop | Category | Website | E-mail | Telephone |
| Grasmere Farm | Traditional Butchery | NA | NA | +44(0)1778 342239 |
| | | | | |
| --- | --- | --- | --- | --- |
| Farm Shop | Category | Website | E-mail | Telephone |
| Broxholme Farm Shop | Organic Farm Shop | NA | NA | +44(0)1522 704212 |
| | | | | |
| --- | --- | --- | --- | --- |
| Farm Shop | Category | Website | E-mail | Telephone |
| Lincolnshire Organics Farm Shop & Kitchen | Organic Farm Shop & Butchery | NA | NA | +44(0)1724 866493 |
| | | | | |
| --- | --- | --- | --- | --- |
| Farm Shop | Category | Website | E-mail | Telephone |
| Pink Pig Organic Farm Shop | Organic Farm Shop & Butchery | NA | NA | +44(0)1724 844466 |
| | | | | |
| --- | --- | --- | --- | --- |
| Farm Shop | Category | Website | E-mail | Telephone |
| Willows Farm Shop | Organic Farm Shop & Butchery & Restaurant | NA | NA | +44(0)8701 299718 |
| | | | | |
| --- | --- | --- | --- | --- |
| Farm Shop | Category | Website | E-mail | Telephone |
| Ortum Farm Shop | Farm Butchery for Beef & Lamb | NA | NA | +44(0)1507 522210 |
| | | | | |
| --- | --- | --- | --- | --- |
| Farm Shop | Category | Website | E-mail | Telephone |
| Alvingham Farm Shop | Farm Butchery & Deli | NA | NA | +44(0)1507 327205 |
| | | | | |
| --- | --- | --- | --- | --- |
| Farm Shop | Category | Website | E-mail | Telephone |
| The Farm Shop | Farm Shop | NA | NA | +44(0)1775 761699 |
| | | | | |
| --- | --- | --- | --- | --- |
| Farm Shop | Category | Website | E-mail | Telephone |
| Redhill Farm Free Range Pork | Farm Shop & Butchery | NA | NA | +44(0)1427 628270 |
| | | | | |
| --- | --- | --- | --- | --- |
| Farm Shop | Category | Website | E-mail | Telephone |
| Manor Farm Shop | Farm Shop | NA | NA | +44(0)1205 820123 |
| | | | | |
| --- | --- | --- | --- | --- |
| Farm Shop | Category | Website | E-mail | Telephone |
| Tastee Farm Shop | Farm Shop & Butchery | NA | NA | +44(0)1754 890250 |
| | | | | |
| --- | --- | --- | --- | --- |
| Farm Shop | Category | Website | E-mail | Telephone |
| Field Farm Organics | Organic Farm Shop & Butchery | NA | NA | +44(0)1507 523934 |
| | | | | |
| --- | --- | --- | --- | --- |
| Farm Shop | Category | Website | E-mail | Telephone |
| Minting Park Farm | Farm Butchery for Beef & Lamb | NA | NA | +44(0)1526 398373 |
| | | | | |
| --- | --- | --- | --- | --- |
| Farm Shop | Category | Website | E-mail | Telephone |
| Saxby Aberdeen Angus Beef Farm Shop | Farm Shop & Butchery | NA | NA | +44(0)1673 878515 |
| | | | | |
| --- | --- | --- | --- | --- |
| Farm Shop | Category | Website | E-mail | Telephone |
| Poplar Farm Shop | Farm Butchery | NA | NA | +44(0)1469 540374 |
| | | | | |
| --- | --- | --- | --- | --- |
| Farm Shop | Category | Website | E-mail | Telephone |
| Rand Farm Shop | Farm Shop, Butchery & Toy Shop | NA | NA | +44(0)1673 858904 |
| | | | | |
| --- | --- | --- | --- | --- |
| Farm Shop | Category | Website | E-mail | Telephone |
| Uncle Henrys Farm Shop | Farm Shop, Butchery & Cafe | NA | NA | +44(0)1652 640308 |
| | | | | |
| --- | --- | --- | --- | --- |
| Farm Gate Sales | Category | Website | E-mail | Telephone |
| Three Kings Deer | Venison | NA | NA | +44(0)1529 240555 |
| | | | | |
| --- | --- | --- | --- | --- |
| Farm Gate Sales | Category | Website | E-mail | Telephone |
| Kingsthorpe Farm | Organic Eggs, Lamb & Pork | NA | NA | +44(0)1832 272034 |
| | | | | |
| --- | --- | --- | --- | --- |
| Farm Gate Sales | Category | Website | E-mail | Telephone |
| Vine House Farm Bird Foods | Wildbird Feed, Seed & Accessories | NA | NA | +44(0)1775 630208 |
| | | | | |
| --- | --- | --- | --- | --- |
| Farm Gate Sales | Category | Website | E-mail | Telephone |
| Birchwood Farm | Organic Produce | NA | NA | +44(0)1945 440388 |
| | | | | |
| --- | --- | --- | --- | --- |
| Farm Gate Sales | Category | Website | E-mail | Telephone |
| Little Hays Poultry | Ducks & Chickens | NA | NA | +44(0)1507 533202 |
| | | | | |
| --- | --- | --- | --- | --- |
| Farm Gate Sales | Category | Website | E-mail | Telephone |
| Abbey Farm | Beef, Pork & Lamb | NA | NA | +44(0)1526 351739 |
| | | | | |
| --- | --- | --- | --- | --- |
| Farm Gate Sales | Category | Website | E-mail | Telephone |
| Abbotts Garden | Organic Lamb & Produce | NA | NA | +44(0)1469 540230 |
| | | | | |
| --- | --- | --- | --- | --- |
| Farm Gate Sales | Category | Website | E-mail | Telephone |
| Galley Hill Farm | Fresh Produce | NA | NA | +44(0)1507 450351 |
| | | | | |
| --- | --- | --- | --- | --- |
| Farm Gate Sales | Category | Website | E-mail | Telephone |
| Pinchins Family Farm | Animal Feed | NA | NA | +44(0)1205 460632 |
| | | | | |
| --- | --- | --- | --- | --- |
| Farm Gate Sales | Category | Website | E-mail | Telephone |
| Priory Free Range Foods | Meat, Eggs & Produce | NA | NA | +44(0)1526 832574 |
| | | | | |
| --- | --- | --- | --- | --- |
| Farm PYO | Category | Website | E-mail | Telephone |
| New Cleatham House Farm | Pick Your Own | NA | NA | +44(0)1652 648662 |
| | | | | |
| --- | --- | --- | --- | --- |
| Farm PYO | Category | Website | E-mail | Telephone |
| Downend J N & Son | Fruit & Vegetables | NA | NA | +44(0)1673 885351 |
| | | | | |
| --- | --- | --- | --- | --- |
| Farm PYO | Category | Website | E-mail | Telephone |
| Syston Park Pick Your Own Fruit | Fruit | NA | NA | +44(0)1400 230437 |
| | | | | |
| --- | --- | --- | --- | --- |
| Vegetable Box Scheme | Category | Website | E-mail | Telephone |
| Eden Farms | Organic Vegetable Box Scheme | NA | NA | +44(0)1790 763582 |
| | | | | |
| --- | --- | --- | --- | --- |
| Vegetable Box Scheme | Category | Website | E-mail | Telephone |
| Fenella's Garden | Organic Vegetable Box Scheme | NA | NA | +44(0)1673 818491 |
| | | | | |
| --- | --- | --- | --- | --- |
| Vegetable Box Scheme | Category | Website | E-mail | Telephone |
| Woodlands Organic Farm | Organic Vegetable Box Scheme | NA | NA | +44(0)1205 724778 |
| | | | | |
| --- | --- | --- | --- | --- |
| Farmers' Markets | Category | Website | E-mail | Telephone |
| Thorpe Latimer Traditional Farm Meats | Beef, Lamb, Pork | NA | NA | +44(0)1529 421206 |
| | | | | |
| --- | --- | --- | --- | --- |
| Farmers' Markets | Category | Website | E-mail | Telephone |
| Heath Farm Preserves | Preserves | NA | NA | +44(0)1529 488409 |
| | | | | |
| --- | --- | --- | --- | --- |
| Farmers' Markets | Category | Website | E-mail | Telephone |
| Bridge Farm | Organic Produce | NA | NA | +44(0)7721 527694 |
| | | | | |
| --- | --- | --- | --- | --- |
| Farmers' Markets | Category | Website | E-mail | Telephone |
| Sycamore Farm | Beef and Lamb | NA | NA | +44(0)1476 585274 |
| | | | | |
| --- | --- | --- | --- | --- |
| Mail Order | Category | Website | E-mail | Telephone |
| Lincolnshire Poacher Cheese | Cheese | NA | NA | +44(0)1507 466987 |
| | | | | |
| --- | --- | --- | --- | --- |
| Mail Order | Category | Website | E-mail | Telephone |
| Fen Farm Venison | Vension | NA | NA | +44(0)1529 421272 |
| | | | | |
| --- | --- | --- | --- | --- |
| Mail Order | Category | Website | E-mail | Telephone |
| Woldsway Foods Ltd. | Farmed & Wild Rabbit | NA | NA | 800 298 5000 |
| | | | | |
| --- | --- | --- | --- | --- |
| Meat Boxes | Category | Website | E-mail | Telephone |
| Thorganby Beef | Beef | NA | NA | +44(0)1472 398304 |
---

Go from Farm Food Lincolnshire back to UK Farm Food

Return to Countryfarm Lifestyles