Farm Food in Cornwall for Farm Shops, Organic Produce, Farmers' Markets, Farm Gates Sales & PYO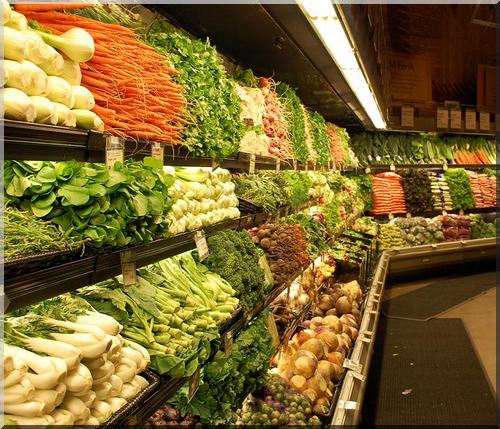 Advertise your farm food here for just £25.00 per annum! Your farm shop in Cornwall could feature here, in place of the graphic above. Contact us for further details.

Cornwall farm shops offer fresh farm produce from farm to fork at a fraction of the cost that you would purchase at your local supermarket. For those who enjoy frugal living, this is good news. Have a look through our listings and see where you can find farmers' markets, farm gate sales and pick your own fruit and vegetables in the area.
Food today needs to be traceable. Where exactly is your food coming from when you buy it from your local supermarket in Cornwall? How many miles has your food taken to get there, and is your local farmer being ignored with his farm food whilst more expensive food is being flown in from abroad? More importantly to your health, what insecticides, pesticides and farming practices have been used on what you are about to buy?
The sad tragedy of it all is that we really don't know the answers to these questions. However, many farmers in Cornwall have decided to either go organic, or farm less intensively to give you fresh, healthy farm food which you can purchase at either your local farm shops, farmers markets, or food direct from a farm through their farm gate sales.
Take advantage of good, wholesome farm food, that hasn't been grown in a country that grows GM food, or from a country whose standards are suspect. Support your local Cornish farmer, and look for your local farm shop in Cornwall so that you can buy organically grown farm food, and healthy fresh food for your babies, children and families.
---
| | | | | |
| --- | --- | --- | --- | --- |
| Farm Shop | Category | Website | E-mail | Telephone |
| The Grange Farm Shop | Farm Shop and Restaurant | NA | NA | +44(0)1326 221718 |
| | | | | |
| --- | --- | --- | --- | --- |
| Farm Shop | Category | Website | E-mail | Telephone |
| Padstow Farm Shop | Farm Shop and Butchery | NA | NA | +44(0)1841 533060 |
| | | | | |
| --- | --- | --- | --- | --- |
| Farm Shop | Category | Website | E-mail | Telephone |
| The Cornish Pig Company | Farm Shop and Cafe | NA | NA | +44(0)1872 870439 |
| | | | | |
| --- | --- | --- | --- | --- |
| Farm Shop | Category | Website | E-mail | Telephone |
| Vicarage Farm Shop | Farm Shop and Butchery | NA | NA | +44(0)1326 340484 |
| | | | | |
| --- | --- | --- | --- | --- |
| Farm Shop | Category | Website | E-mail | Telephone |
| Tredinnick Farm Shop | Farm Shop | NA | NA | +44(0)1503 240992 |
| | | | | |
| --- | --- | --- | --- | --- |
| Farm Shop | Category | Website | E-mail | Telephone |
| Callestick Farm Shop | Ice Cream Parlour & Cafe | NA | NA | +44(0)1872 573126 |
| | | | | |
| --- | --- | --- | --- | --- |
| Farm Shop | Category | Website | E-mail | Telephone |
| Cornish Cider Farm | Farm Shop, Restaurant& Museum | NA | NA | +44(0)1872 573356 |
| | | | | |
| --- | --- | --- | --- | --- |
| Farm Shop | Category | Website | E-mail | Telephone |
| Rosuick Organic Farm | Farm Shop & Butchery | NA | NA | +44(0)1326 231119 |
| | | | | |
| --- | --- | --- | --- | --- |
| Farm Shop | Category | Website | E-mail | Telephone |
| Roskilly's Organic Farm | Ice Cream Parlour | NA | NA | +44(0)1326 280479 |
| | | | | |
| --- | --- | --- | --- | --- |
| Farm Shop | Category | Website | E-mail | Telephone |
| Bosavern Farm | Organic Farm Shop & Butchery | NA | NA | +44(0)1736 786739 |
| | | | | |
| --- | --- | --- | --- | --- |
| Farm Shop | Category | Website | E-mail | Telephone |
| Gear Farm Shop | Organic Farm Shop & Butchery | NA | NA | +44(0)1326 221150 |
| | | | | |
| --- | --- | --- | --- | --- |
| Farm Shop | Category | Website | E-mail | Telephone |
| Cornish Organics Farm Shop | Organic Farm Shop & Restaurant | NA | NA | +44(0)1209 202579 |
| | | | | |
| --- | --- | --- | --- | --- |
| Farm Shop | Category | Website | E-mail | Telephone |
| Hale Archer Farm Shop | Yoghurts & Clotted Cream | NA | NA | +44(0)1326 290577 |
| | | | | |
| --- | --- | --- | --- | --- |
| Farm Shop | Category | Website | E-mail | Telephone |
| The Grange | Farm Shop & Butchery | NA | NA | +44(0)1326 221718 |
| | | | | |
| --- | --- | --- | --- | --- |
| Farm Shop | Category | Website | E-mail | Telephone |
| Jersey Cow Farm Shop | Farm Shop & Cafe | NA | NA | +44(0)1840 230568 |
| | | | | |
| --- | --- | --- | --- | --- |
| Farm Shop | Category | Website | E-mail | Telephone |
| Lansallos Barton Farm | Organic Meat & Cafe | NA | NA | +44(0)1840 230568 |
| | | | | |
| --- | --- | --- | --- | --- |
| Farm Shop | Category | Website | E-mail | Telephone |
| Higher Trenowin Farm | Farm Shop & Butchery | NA | NA | +44(0)1736 362439 |
| | | | | |
| --- | --- | --- | --- | --- |
| Farm Shop | Category | Website | E-mail | Telephone |
| Trudgian Farm Shop | Farm Shop & Butchery | NA | NA | +44(0)1726 883946 |
| | | | | |
| --- | --- | --- | --- | --- |
| Farm Shop | Category | Website | E-mail | Telephone |
| Lobbs Farm Shop Limited | Farm Shop & Butchery | NA | NA | +44(0)1726 844 411 |
| | | | | |
| --- | --- | --- | --- | --- |
| Farm Shop | Category | Website | E-mail | Telephone |
| Bre-Pen Farm Shop | Farm Shop & Butchery | NA | NA | +44(0)1637 860420 |
| | | | | |
| --- | --- | --- | --- | --- |
| Farm Shop | Category | Website | E-mail | Telephone |
| Happy Hen Farm Shop | Farm Shop & Butchery | NA | NA | +44(0)1579 363570 |
| | | | | |
| --- | --- | --- | --- | --- |
| Farm Shop | Category | Website | E-mail | Telephone |
| Trevaskis Farm Shop | Farm Shop & Restaurant | NA | NA | +44(0)1209 713931 |
| | | | | |
| --- | --- | --- | --- | --- |
| Farm Shop | Category | Website | E-mail | Telephone |
| Barwick Farm | Farm Shop & Restaurant | NA | NA | +44(0)1209 713931 |
| | | | | |
| --- | --- | --- | --- | --- |
| Farm Shop | Category | Website | E-mail | Telephone |
| Trevethan Farm Shop | Farm Shop & Cafe | NA | NA | +44(0)1208 880164 |
| | | | | |
| --- | --- | --- | --- | --- |
| Farm Shop | Category | Website | E-mail | Telephone |
| Chyreen Fruit Farm | Farm Shop,Cafe & PYO | NA | NA | +44(0)1872 862317 |
| | | | | |
| --- | --- | --- | --- | --- |
| Farm Shop | Category | Website | E-mail | Telephone |
| Humfreys Farm Shop | Farm Shop | NA | NA | +44(0)1872 530417 |
| | | | | |
| --- | --- | --- | --- | --- |
| Farm Shop | Category | Website | E-mail | Telephone |
| Trevilley Farm Shop | Farm Shop | NA | NA | +44(0)1637 872310 |
| | | | | |
| --- | --- | --- | --- | --- |
| Farm Shop | Category | Website | E-mail | Telephone |
| Carruan Farm Centre | Farm Shop | NA | NA | +44(0)1208 869584 |
| | | | | |
| --- | --- | --- | --- | --- |
| Farm Shop | Category | Website | E-mail | Telephone |
| Richards of Cornwall | Farm Shop | NA | NA | +44(0)1736 757888 |
| | | | | |
| --- | --- | --- | --- | --- |
| Mail Order | Category | Website | E-mail | Telephone |
| Pomeroy Rare Breed Farm | Pork & Lamb | NA | NA | +44(0)1566 781279 |
| | | | | |
| --- | --- | --- | --- | --- |
| Mail Order | Category | Website | E-mail | Telephone |
| Trewithen Farm Foods | Dairy Products | NA | NA | +44(0)1208 872214 |
| | | | | |
| --- | --- | --- | --- | --- |
| Mail Order | Category | Website | E-mail | Telephone |
| Cornish Orchards | Cider Products | NA | NA | +44(0)1503 269007 |
| | | | | |
| --- | --- | --- | --- | --- |
| Mail Order | Category | Website | E-mail | Telephone |
| Lynher Dairies | Dairy Products | NA | NA | +44(0)1872 870789 |
| | | | | |
| --- | --- | --- | --- | --- |
| Mail Order | Category | Website | E-mail | Telephone |
| Wooda Farm | Organic Meat & Produce | NA | NA | +44(0)1840 230140 |
| | | | | |
| --- | --- | --- | --- | --- |
| Meat Boxes | Category | Website | E-mail | Telephone |
| Cottage Farm | Organic Meat Boxes & Mail Order | NA | NA | +44(0)1840 230548 |
| | | | | |
| --- | --- | --- | --- | --- |
| Farm PYO | Category | Website | E-mail | Telephone |
| Boddington's Berries | PYO & Online Strawberries | NA | NA | +44(0)1726 842346 |
| | | | | |
| --- | --- | --- | --- | --- |
| Farmers' Markets | Category | Website | E-mail | Telephone |
| Nancarrow Farm | Organic Beef & Lamb | NA | NA | +44(0)1872 540343 |
| | | | | |
| --- | --- | --- | --- | --- |
| Farm PYO | Category | Website | E-mail | Telephone |
| Colebrook Vale PYO | PYO Fruit & Cut Flowers | NA | NA | +44(0)1288 353716 |
| | | | | |
| --- | --- | --- | --- | --- |
| Farm Gate Sales | Category | Website | E-mail | Telephone |
| Bodinnick Farm | Organic Beef & Lamb | NA | NA | +44(0)1726 882421 |
| | | | | |
| --- | --- | --- | --- | --- |
| Farm Gate Sales | Category | Website | E-mail | Telephone |
| Great Gargus Farm | Organic Lamb | NA | NA | +44(0)1872 530274 |
| | | | | |
| --- | --- | --- | --- | --- |
| Farm Gate Sales | Category | Website | E-mail | Telephone |
| Dupath Farm | Beef & Lamb | NA | NA | +44(0)1579 382197 |
| | | | | |
| --- | --- | --- | --- | --- |
| Farm Gate Sales | Category | Website | E-mail | Telephone |
| Lesquite Farm | Organic Beef | NA | NA | +44(0)1503 220315 |
| | | | | |
| --- | --- | --- | --- | --- |
| Farm Gate Sales | Category | Website | E-mail | Telephone |
| Cornish Farm Cheeses | Cheese | NA | NA | +44(0)1326 340333 |
| | | | | |
| --- | --- | --- | --- | --- |
| Farm Gate Sales | Category | Website | E-mail | Telephone |
| Stephen Gelly Farm | Meat, Honey, Eggs | NA | NA | +44(0)1208 832557 |
| | | | | |
| --- | --- | --- | --- | --- |
| Farm Gate Sales | Category | Website | E-mail | Telephone |
| South Torfrey Farm | Eggs and Beef | NA | NA | +44(0)1726 833126 |
| | | | | |
| --- | --- | --- | --- | --- |
| Farm Gate Sales | Category | Website | E-mail | Telephone |
| Coswinsawsen Farm | Pork, Lamb, Beef | NA | NA | +44(0)1209 711538 |
| | | | | |
| --- | --- | --- | --- | --- |
| Farm Gate Sales | Category | Website | E-mail | Telephone |
| East Penrest | Lamb & Chicken | NA | NA | +44(0)1822 833969 |
| | | | | |
| --- | --- | --- | --- | --- |
| Vegetable Box Scheme | Category | Website | E-mail | Telephone |
| Hendra Farm Organics | Organic Vegetables | NA | NA | +44(0)1872 572301 |
| | | | | |
| --- | --- | --- | --- | --- |
| Vegetable Box Scheme | Category | Website | E-mail | Telephone |
| Tree of Life Organics | Organic Vegetables Will Deliver | NA | NA | +44(0)1872 552661 |
| | | | | |
| --- | --- | --- | --- | --- |
| Vegetable Box Scheme | Category | Website | E-mail | Telephone |
| Cotna Organics | Organic Vegetables | NA | NA | +44(0)1726 844827 |
| | | | | |
| --- | --- | --- | --- | --- |
| Vegetable Box Scheme | Category | Website | E-mail | Telephone |
| Riverford Home Delivery West Cornwall | Organic Vegetables Will Deliver | NA | NA | +44(0)845 6002311 |
| | | | | |
| --- | --- | --- | --- | --- |
| Vegetable Box Scheme | Category | Website | E-mail | Telephone |
| Cusgarne Farm | Organic Vegetables & Meat | NA | NA | +44(0)1872 865922 |
| | | | | |
| --- | --- | --- | --- | --- |
| Vegetable Box Scheme | Category | Website | E-mail | Telephone |
| Keverall Organic Veggie Boxes | Organic Vegetables | NA | NA | +44(0)1503 250135 |
| | | | | |
| --- | --- | --- | --- | --- |
| Vegetable Box Scheme | Category | Website | E-mail | Telephone |
| Lamorna Fayre | Organic Vegetables | NA | NA | +44(0)1736 811285 |

Go from Farm Food Cornwall back to UK Farm Food

Return to Countryfarm Lifestyles