Farm Food in Devon for Farm Shops, Organic Produce, Farmers' Markets, Farm Gates Sales & PYO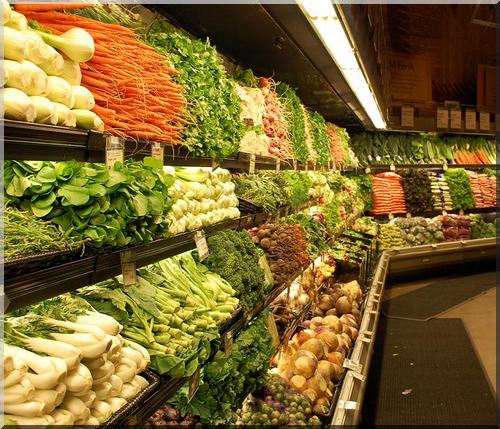 Advertise your farm food here for just £25.00 per annum! Your Devonshire farm shop could feature here, in place of the graphic above. Contact us for further details.

Welcome to Devon farm shops where you can get farm food direct from the farm. Not only will you be able to purchase your fresh fruit and vegetables from these farm shops, but there are also farmers who sell their produce at farmers' markets, farm gate sales, vegetable box schemes and pick your own farms.
Support your local farmer by buying direct and save yourself some money into the bargain. For those of you who practise frugal living, this is good news. And so why are vegetables and fruit cheaper if you are buying directly from farms in Devon? Well, just think how much everyone else gets in the food chain before it gets to you? There are transport fees, storage fees, packaging fees, retailers get a cut and then it finally gets to you. All those costs add up and you end up paying for it! However, not if you buy your farm food from farms in Devon.
So find farms in Devon below to buy your farm food today. You will see from the list below there are lots of farm in Devon selling their produce directly to the public, including several farms selling cider and there are several vineyards in Devon too. Many of these offer wine tours and tasting. You will also see farms in Devon that have restaurants attached for a cup of tea and a scone or two. You may even be tempted to stay for lunch! Visit Devon today and support your local farmer.
---


Langridge Organic Products Ltd., Langridge Farm, Yeoford, Crediton, Devon Bernard Govier
---
Red Ruby Devon Beef, Clannaborough Barton, Bow, Crediton, Peter, Sarah and Rob May
---
Ashford Inn Fruit Farm and Nursery, Braunton Road, Barnstaple EX31 4AU, Devon Jasmine Chesters
---
Ashprington Farm & Store, 1 Rose Cottage, Ashprington, Totnes TQ9 7UN, Stuart Greaves
---
Brimpts Farm, Yelverton PL20 6SG, Mr Andy Bradford or Ms Gabrielle Cross
---
Dartmoor Happy Hogs, Moorlands Farm Shop, Whiddon Down,, Okehampton EX20 2QL, Vicki Sargent
---
G T Orsman Ltd, 9/16 Fore Street, Shaldon TQ14 0DE, Philip Beatty
---
Langage Farm, Langage, Plympton, Plymouth PL7 5AW, Tim Donovan
---
Marshford Organic Produce, Churchill Way, Northam, Bideford EX39 1NS, Vanessa Ebdon
---
Middle Campscott Farm, * Cheesemakers Lee, Ilfracombe, EX34 8LS, Mrs Karen Wright
---
Philham Farm, Chulmleigh EX18 7EQ, Adam Westaway
---
Powderham Country Store, Kenton, Exeter EX6 8JE, Mr Tim Faulkner
---
Quickes Traditional Cheeses, Home Farm, Newton St Cyres, Exeter EX5 5AY, Mary Quicke
---
Quince Honey Farm, North Road, South Molton EX36 3AZ
---
Sharpham Partnership Ltd., * wine and cheese, Sharpham Estate, Ashprington, Totnes TQ9 7EG, Duncan Schwab
---
Ashridge Farm, Crediton EX17 4EN, Richard Burston
---
Great Cummins Organics, Tedburn St Mary, Exeter EX6 6BJ, Mr David Garaway
---
Holsworthy Organics, Ceridwen, Old Rectory Lane, Pyworthy, Holsworthy EX22 6SW, Ms Diana Lee
---
Lower Minchingdown Farm, Black Dog, Crediton EX17 4QX, Jim & Sarah Whitson
---
Organic Blueberry, Bedport Farm, Burrington, Umberleigh EX37 9LE, George
---
Paxstead Farmers, Lower Mackham Farm, Hemyock, Cullompton EX15 3QX, Mr David Palmer
---
Sack O Spuds Farmshop, Lakehead Farm, Chulmleigh EX18 7AG, Ms Jane Lucas
---
Woodlands Farm, Broadbury, Okehampton EX20 4NH, Mrs Sandra Higgins
---
Yearlstone Vineyard, Bickleigh, Tiverton, EX16 8RL, Roger White
---
Boyces Nursery, Farm Shop and Vineyard, New Barn Farm, Manstree Road, Shillingford St George, Exeter EX2 9QR, Mr Simon Boyce
---
Little Ash Farm, Whiddon Down, Okehampton EX20 2QG, Mr Russell Stevens
---
Mill Top Ciders and Apple Juice, Great Close, Combeteignhead, Newton Abbot TQ12 4RE, Mr Richard Merrin
---
Cheristow Lavender Farm, Hartland EX39 6DA, Michelle and Eric Heard
---
Clements Farm, 6 Linhay Close, Culmstock, Cullompton EX15 3LB, Mr Richard Edmond
---
Valley Farm, Shutes Lane, Sheldon, Honiton EX14 4QX, Ms Sue Furnival
---
Aller Farm, * Organic Dolton, Winkleigh EX19 8PP, Mr David Ursell
---
Brimblecombe's Ciders, Lowley Farm, Dunsford EX6 7BP, Ron Barter
---
Eversfield Manor Farm, Bratton Clovelly, Okehampton EX20 4JF, Mr Richard Parsons
---
Gibbett Moor Farm, Rackenford, Tiverton EX16 8DJ
---
Higher Fingle Farm, Crockernwell, Exeter EX6 6NP, Rona Amiss
---
EarthStar, Little East Lake Farm, East Chilla, Beaworthy EX21 5XF, Moyra Robley
---
Fine Farm, North Gate, Ingsdon, Newton Abbot TQ12 6NW, Vic Willmington
---
Lowmans Farm, Honiton EX14 9TS, Mr Giles Bamberger
---
Bonny Beef, Bonners Farm, Burrington EX37 9NF, Mrs Sarah Bonner
---
Court Barton Farm, Winkleigh, EX19 8HZ, Nicholas & Sarah Turner
---
Dartmoor Beef and Lamb, Runnage Farm, Postbridge, Yelverton PL20 6TN, Mr Philip Coaker
---
Eastwood Farm Beef, Shillingford, Tiverton, EX16 9BX, Mr Neil Gamlin
---
Farmer Phil Bond, * meat Collaton Down Farm, Blackawton, Totnes TQ9 7DW, Mr Phil Bond
---
Fortescue Farm, * Meat Thorverton, Exeter EX5 5JN, Mrs Jilly Greed
---
Gay's Farm, * Meat Branscombe, Seaton EX12 3BU, Jenny Lonnberg
---
Gibbings Down Farm, * meat Gibbings Down, Yarnscombe, Barnstaple EX31 3LJ, Mr Patrick Adams
---
Lovaton Farm, * meat South Tawton, Okehampton EX20 2RA, Mrs Jane Barber
---
Frenchbeer Farm, * meat Chagford TQ13 8EX, Mike or Christine Malseed
---
Park Farm, Membury, Axminster EX13 7TB, Mrs Claudia Pearse
---
Sherberton Beef and Lamb, Sherberton Farm, Princetown PL20 6SF, Mr Anton Coaker
---
Smallicombe Farm, * meat Northleigh, Colyton EX24 6BU, Mrs Maggie Todd
---
South Ham Lamb, Welland Down Farm, Sandford, Crediton EX17 4EN, Mrs Dodie Huxter
---
South West Snails, North Nevercleave Farm, Umberleigh EX37 9AD, David and Maura Bailie-Bellew
---
Stanton Produce,* meat Stanton Cottage, Loddiswell, Kingsbridge TQ7 4EF, Carole Constable
---
Little Comfort Farm, Braunton, Roger and Jackie Milsom
---
The Devon Goat Company, Westcott Farm Oakford Tiverton, Tiverton EX16 9EZ, Lesley and Roger Prior
---
The Meat Joint, Hillsborough Farm, Loxhore, Barnstaple EX31 4SU, Mrs Kim Seggons
---
West Country Ostrich, Pyworthy, Holsworthy, EX22 6LJ, Mr Mark Stuart
---
Westgate Angus, Westgate, Muddiford, Barnstaple EX31 4EY, Mr Ray Thomas
---
Widecombe Bred and Fed, Lizwell Farm, Widecombe in the Moor TQ13 7PN, Mr Lloyd Mortimore
---
Little Holmead Farm, Rackenford, Tiverton EX16 8BU, John Forest-Mitchell
---
Orchard Farm Christmas Poultry, Chapel Hill, Cheriton Fitzpaine, Crediton EX17 4HG, Jason Milton
---
Northwood Farm, Christow, Exeter, Tim Deane
---
Westcountry Organics, Oak Farm, Tedburn St Mary, Exeter,
---
Moorlands Farm Shop, * Also online shopping, Fishleigh Estate Organic Farm, Whiddon Down, Okehampton, Suzie
---
Occombe Farm, Preston Down Road, Paignton, Suz Ley (manager)
---
Kenniford Farm Shop, Kenniford Farm, Clyst St. Mary, Andrew Freemantle
---
Vincent's Farm Shop, Lower Collard Farm, Wotter, Plymouth, Joanne Vincent
---
Kitley Pick Your Own, Church Cottage Fore St, Yealmpton, Mr Denis Killen
---
Riverford Farm Shop, Kitley Estate Office, Yealmpton, Ben Watson
---
Lifton Strawberry Field Farm Shop, Lifton, Devon PL16 0DE, The Mounce Family
---
Royal Oak Farm, Cotleigh, Nr. Honiton,
---
The Farm Shop, West Yeo Moor Farm, Witheridge, Ted Bath
---
Westlake Farm, Chilla, Beaworthy EX21 5XF, Mr George Travis
---
Woodbrooke Farm, Woodbrooke, Drewsteignton, Exeter EX6 6PZ, Mr Glyn Martin
---
Lizzy's Larder, Blackberry Farm, Milton Damerel, Holsworthy, Mike & Lizzy
---
Fowlescombe Farm, Ugborough, Ivybridge, Richard Barker
---
Providence Farm, Crosspark Cross, Holsworthy, Ritchie & Pammy Riggs
---
Leigh Farm, Roborough, Plymouth, Jon Eggins
---
The Well Hung Meat Company, Tordean Farm, Dean Prior,
---
RealGrub Local Food Centre, Stokeley Barton, Stokenham, Kingsbridge, Mike and Laura Tompkins
---
Poole Farm Pork, Torbryan, Newton Abbot, Torquay, David Thomas
---
Churston Traditional Farm Shop, Dartmouth Rd, Churston Ferrers, Brixham,
---
Wallaces Farm Shop & Restaurant, Wallace's of Hemyock,, Hill Farm Hemyock Cullompton, Graeme Wallace
---
Hancocks Devon Cider, Clapworthy Mill, South Molton,
---
Downtown Farm, * Also self–contained accommodation, Lydford, Okehampton, Ellie & Guy Leigh-Tyrer
---
Stokeley Farm Shop, Stokeley Barton, Stokenham, Kingsbridge, Mr Brooking
---
West Hill Farm, West Down, Ilfracombe EX34 8NF , Chris and Susi Batstone
---
Ullacombe Farm Shop, Bovey Tracey, Newton Abbot, Hilary Pilkington & Victoria Down
---
Joshua's Harvest Store, Gosford Rd, Ottery, St. Mary,
---
Beeches Farm, Chipshop, Tavistock, Siw Wysome
---
Buckland Filleigh Organic Produce, Bramley Wood, Buckland Filleigh, Beaworthy EX21 5JD, Mrs Jane Bartlett
---
Barton Farm Shop, South Stroxworthy Farm, Woolsery, Bideford,
---
Proper Pork, Colston Farm, Colston Rd, Buckfastleigh,
---
Orchards Farm Shop, St. Johns Lane, Barnstaple,
---
Dave & Val Taylor, Willanson, Blackberry Lane, Lapford, Crediton,
---
Highfield Harvest, Clyst Road, Topsham, Exeter, Ian Shears
---
Darts Farm Shopping Village, Clyst St. George, Exeter,
---
Four Elms Fruit Farm, Harpford, Sidmouth, Mr Richard Smedley
---
Red Earth, 1 Home Farm Cottages, Exeter EX4 0AY, Ms Carole Shaw
---
Royal Oak Farm, Cotleigh, Honiton, Julia Williams
---
Netherton Fruit Farm, Hackney Lane, Netherton, Mr Tim Colston
---
Lower Chitterley Farm, * organic beef, lamb, poultry, eggs, Silverton, Exeter, D. Elder
---
West Forde Organics, * meat sales The Barton, Poughill, Crediton, Anne Wander
---
J G Quicke & Partners, Home Farm, Newton St Cyres, Exeter, Tom Langdon-Davies
---
Rose Cottage Organic Produce, Rose Cottage, Tuckermarsh, Bere Alston,
---
Rod and Ben's Food From the Soil, Bickham Farm, Kenn, Exeter, Rodney Hall
---
Deer Force 10, Mardle Cottage, Higher Combe, Buckfastleigh, Philippa Baker
---
Hog Hampers, Higher Pirzwell, Kentisbeare, Cullompton, David Webber
---
Little Pirzwell Natural Meats, Little Pirzwell Farm, Kentisbeare, Cullompton,
---
Hot Smoke, * Smokery Sheldon Grange, Dunkeswell, Honiton, Walter Burrough
---
Lashbrook Unique Country Pork, Lashbrook Farm, Talaton, Exeter, John Carter
---
Mid Devon Fallow, *Specialist producers of prime fallow venison, Keyethern Farm, Hatherleigh, Okehampton, Peter and Susan Kent
---
Nadder Valley Farm Foods, Upper Old Wheatley Farm, Pocombe Bridge, Exeter, Tom & Elizabeth Turner
---
North Nethercleave Farm, * pork & Snail farm Umberleigh, Maura Bailie-Bellew or Mr David Bailie-Bellew
---
Westmoor Quality Foods, Westmoor House, Unit 1A North Road Industrial Estate, Oakehampton, Jane Wickens or Sarah Clifton
---
Lyme Bay Cider Co. Ltd.,* A full range of quality ciders, cider vinegars, country wines and traditional liqueurs, Manor Farm, Seaton Nigel Howard / Jacqui Barker
---
Sharpham Partnership Ltd., * Selection of fine red and white wines, Sharpham Estate, Totnes, Duncan Schwab/Mark Sharman
---
Dittisham Farm, Capton, Dartmouth, Susan
---
Linscombe Farm Organic Vegetables, New Buildings, Sandford, Crediton EX17 4PS, Philip Thomas
---
Blacklake Farm, * Art farm too, East Hill, Ottery St Mary, Catherine & Nick Broomfield
---
The Berry Farm, Four Elms Hill, Harpford, Sidmouth EX10 0FE, Sue Dodd
---
MC Bragg, The Gatehouse, Shillingford Abbot, Exeter,
---
Orange Elephant Farm Shop and Ice Cream Parlour, Taverners Farm, Lower Brenton, Kennford EX6 7YL
---
North Down Farm, Yeoford, Crediton, Judith Killen & James Vine
---
Down St. Mary Vineyard, The Old Mill, Down St Mary, Crediton EX17 6EE, Penelope or Bernard Doe
---
Semper Virens, Southey Farm, Sampford Courtenay, Okehampton, Peter Townsend Green
---
Black Dog Press, Lewdon Farm, Black Dog, Crediton, Jane Schofield
---
Larkworthy Farm, * Poultry, eggs and vegies Petrockstowe, William & Gillian Douglas-Mann
---
Landecol Husbandry, * Husbandry Educational Farm, Mapleton, 30 West Street, Ashburton, Jonty and Carole Williams
---
Middle Whitecleave, Burrington, Umberleigh EX37 9JN, Mr John Burns
---
Killerton Estate, * Cider Broadclyst, Exeter EX5 3LE, Mr Edward Nicholson
---
Winkleigh Cider Company, Western Barn, Hatherleigh Road, Winkleigh EX19 8AP, Margaret and David Bridgman
---
Head Mill Trout Farm, Head Mill, Umberleigh EX37 9HA, Mr Robin Boa
---
Higher Campscott Farm, * meat, Ilfracombe EX34 8LS, Mrs Jan Purdy
---
Hollies Trout Farm, Slade Lane, Sheldon, Honiton EX14 4QS, Eric or Fiona Downer
---
Tracey Mill Trout Farm, Tracey Road, Honiton EX14 3SL, Mr Clive Gammon
---
Higher Hall Farm, Brayford, Barnstaple EX32 7QN, Peter or Samantha Boyles
---
Highlands Hogs, * also online shopping Highlands Farm, Chulmleigh EX18 7AF, Sarah Thatcher
---
Snout and Trotter, Lower Cadham Farm, Jacobstowe, Exbourne EX203RB
---
Bowden Farm, Buckfastleigh, Russell Ashford
---

Go from Farm Food Devon back to UK Farm Food

Return to Countryfarm Lifestyles