Farm Food on the Isle of Wight for Farm Shops, Organic Produce, Farmers' Markets, Farm Gates Sales & PYO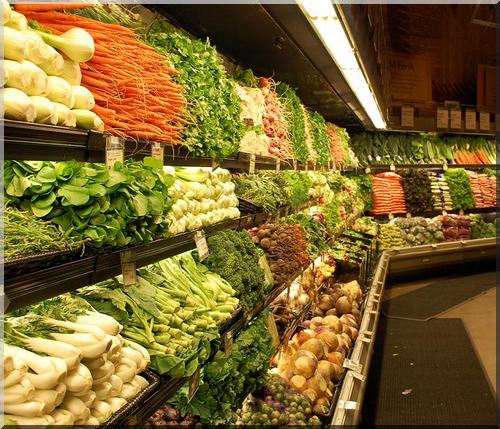 Advertise your farm food here for just £25.00 per annum! Your Isle of Wight farm shop could feature here, in place of the graphic above. Contact us for further details.

Although the Isle of Wight is a relatively small island, it has a number of farms that offer excellent produce for sale directly through their farms. Many of which are organically run, and also offer their produce through farmers' markets, farm gate sales and pick your own. Some of them also offer weekly vegetable box schemes which are either delivered or collected from the farms. By supporting your local farmers and buying their farm food you are ensuring a continued supply of fresh fruit and vegetables at reasonable prices. You also know where your food is coming from and how it has been grown. Therefore, there is an element of trust and respect for produce well grown.
Support your local Isle of Wight farmers by looking through our list of farms and visit them soon. Fruit, vegetables, free-range eggs, dairy products and meat can all be bought through these outlets. There is nothing better than a good piece of organic lamb or a free-range egg. I defy anyone who says that they cannot taste the difference! Where I live, everything is flown in and has been in cold storage for days on end. When I go back to my farm in Italy and taste the tomatoes fresh out of the ground, they just burst with flavor. When you buy produce straight from the farm rather than taking it off shelves in supermarkets, you too can have the same experience. It really is about taste and cost, because by buying your farm food from farm outlets you are definitely saving money, which is great news for those who are trying to stretch the budget and live frugally.
---


Godshill Organics, Newport Road, Godshill, Lee Illman
---
Mersley Farm, Newchurch,
---
Macketts Farm, Macketts Lane, Arreton,
---
Glebe Farm, Calbourne, Newport, David & Pauline Hopkins
---
Farmer Jack's Farm Shop, Arreton Barn , Arreton ,
---
Godshill Cider Barn, High Street, Godshill,
---
Island Fresh Lamb, Parkwater Farm House, Forest Road, Newport,
---
Calbourne Classics, * Dairy Products, Three Gates Farm, Shalfleet PO30 4NA
---
Garlic Farm Shop, * Also self-contained accommodation, Mersley Farm, Mersley Lane, Newchurch, Colin Boswell
---
Colemans Farm Park, Colemans Lane, Porchfield,
---
Isle of Wight Bacon Company, Moor Farm, Godshill, Hampshire PO38 3JG Mr. Stuart Pierce
---
Briddlesford Lodge Farm, Briddlesford Lodge Farm, Briddlesford Road, Wootton Bridge,
---

Go from Farm Food Isle of Wight back to UK Farm Food

Return to Countryfarm Lifestyles