Somerset Farm Holidays: Country Cottages and Farmhouse B&Bs for Holiday Rentals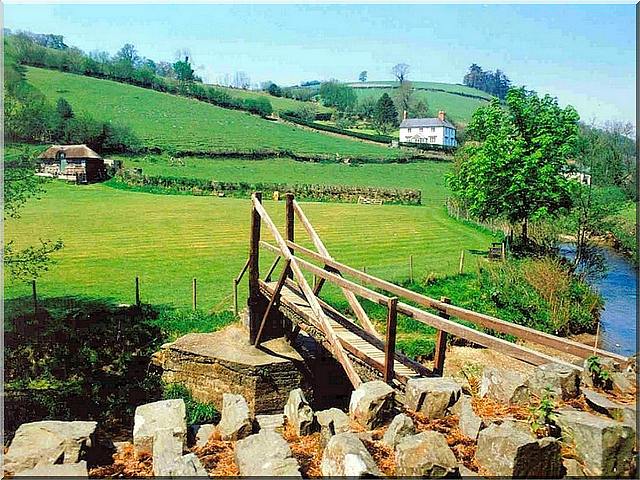 A Farmhouse in Somerset, UK


Somerset Farm Holidays offer you a variety of places to choose from! Find a wealth of farm accommodation in our listings of self-contained country cottages and farmhouse Bed and Breakfasts. All farm accommodation on offer is quality accommodation, at reasonable rates. If you are looking for cheap accommodation in a rural setting within the heart of the English countryside then look no further. You are sure to find holiday rentals and holiday lets here that suit your needs.
Somerset farm holidays mean that you can stay on a working farm with your family, and escape the city. Find your ideal rural retreat here for a little bit of quiet and relaxation. Farm holidays are idyllic; suddenly the noise of the city life is replaced with bird song and chirping crickets. It is here that you will find that perfect place for your Somerset holiday; Country Hotels, Bed and Breakfast, Country Cottages and Camping Sites that are mostly on working farms in beautiful pockets of the English countryside, where Somerset is considered a jewel.
With regards to some travel information, the county is part of the West Country and within this area you will also find the city of Bristol. Bristol has long been connected with sea travel, and many 1820 Settlers leaving Britain's shores left from Bristol to travel to the Cape Colony. It is also home to a vibrant music scene and one of the country's best theatre companies.
While on your Somerset farm holidays take a trip to nearby Bath with its grand, golden-yellow stone buildings and crescents, smart shops and bars. See the Royal Crescent; Pulteney Bridge; and the Circus. Bath takes its name from the Roman baths that still bubble in its centre and is a fascinating place to visit if you are interested in Roman history and archaeology. However, here you can only look. If you actually want to bathe in warm thermal waters, head for the luxurious Thermae Bath Spa.
The region has beautiful countryside with villages and walks around nearby Bath, the Mendips in Somerset, or the exquisite Cotswolds all within easy reach for day trips. Head for the seaside resort of Weston-Super-Mare and let the kids have a ride on the donkeys that have been there for decades, or try the Poet's Walk near Clevedon. Poet's Walk is a footpath around Wains Hill and Church Hill, to the south west of the seafront, and the upper part of the town contains many other footpaths through parks and wooded areas which were laid out in the nineteenth century.
Discover the ancient villages of Churchill and Chew Magna or the peace and serenity of the Chew Valley Lake. Wells is an ancient city that seems little changed since medieval times, and the Cheddar Gorge is a spectacular sight that conceals a convoluted network of caves for you and your family to explore.
This is King Arthur country where mystique and legends abound with the imposing Glastonbury Tor and the ruins of Glastonbury Abbey where it is said King Arthur and Queen Guinivere are buried.
There are a lot of holiday rentals here and many country farmhouses can be found in this gorgeous area. Contacting details have been provided for your Somerset Farm Holidays so that you can contact the farm owners directly without having to go through an agent and paying extra booking fees. Enjoy your next holiday in the county of Somerset! That holiday cottage, farmhouse Bed and Breakfast, or romantic country cottage is waiting just for you!
If you have a farm in Somerset that you would like to showcase visit our Farm Forum. You can upload a picture and brag a little. We don't mind! Share a farming story, tell us about your best or worst farm holiday and lots more. There are other individual farming discussion boards to contribute to through this forum, as well as a Craft Forum where you can get some crafting ideas for various arts & crafts.
---
SOMERSET FARM HOLIDAYS: BED AND BREAKFAST:
| | | | | |
| --- | --- | --- | --- | --- |
| Farm Accommodation | Category | Website | E-mail | Telephone |
| Toghill House Farm | Bed and Breakfast | NA | NA | +44 (0)1225 891261 |
| | | | | |
| --- | --- | --- | --- | --- |
| Farm Accommodation | Category | Website | E-mail | Telephone |
| Gants Mill & Garden | Bed and Breakfast & Wedding Venue | NA | NA | +44 (0)1749 812393 |
| | | | | |
| --- | --- | --- | --- | --- |
| Farm Accommodation | Category | Website | E-mail | Telephone |
| The Model Farm | Bed and Breakfast | NA | NA | +44 (0)1275 832144 |
| | | | | |
| --- | --- | --- | --- | --- |
| Farm Accommodation | Category | Website | E-mail | Telephone |
| Roylands Farm Cottage | Bed and Breakfast | NA | NA | +44 (0)7791 221102 |
| | | | | |
| --- | --- | --- | --- | --- |
| Farm Accommodation | Category | Website | E-mail | Telephone |
| Old Gloucester Road Farm | Bed and Breakfast | NA | NA | +44 (0)1454 775039 |
| | | | | |
| --- | --- | --- | --- | --- |
| Farm Accommodation | Category | Website | E-mail | Telephone |
| Valley Farm | Bed and Breakfast | NA | NA | +44 (0)1275 332723 |
| | | | | |
| --- | --- | --- | --- | --- |
| Farm Accommodation | Category | Website | E-mail | Telephone |
| Ashcroft House B&B | Bed and Breakfast | NA | NA | +44 (0)1761 463356 |
| | | | | |
| --- | --- | --- | --- | --- |
| Farm Accommodation | Category | Website | E-mail | Telephone |
| Binham Grange | Bed and Breakfast | NA | NA | +44 (0)1984 640056 |
| | | | | |
| --- | --- | --- | --- | --- |
| Farm Accommodation | Category | Website | E-mail | Telephone |
| Thorne Manor | Bed and Breakfast | NA | NA | +44 (0)1823 672264 |
| | | | | |
| --- | --- | --- | --- | --- |
| Farm Accommodation | Category | Website | E-mail | Telephone |
| Corston Fields Farm | Bed and Breakfast | NA | NA | +44 (0)1225 873305 |
| | | | | |
| --- | --- | --- | --- | --- |
| Farm Accommodation | Category | Website | E-mail | Telephone |
| Pennsylvania Farm | Bed and Breakfast & Self-Catering Cottages | NA | NA | +44 (0)1225 314912 |
| | | | | |
| --- | --- | --- | --- | --- |
| Farm Accommodation | Category | Website | E-mail | Telephone |
| Lower Row Farm Bed & Breakfast | Bed and Breakfast | NA | NA | +44 (0)1373 834329 |
| | | | | |
| --- | --- | --- | --- | --- |
| Farm Accommodation | Category | Website | E-mail | Telephone |
| Wood Advent Farm | Bed and Breakfast | NA | NA | +44 (0)1984 640920 |
| | | | | |
| --- | --- | --- | --- | --- |
| Farm Accommodation | Category | Website | E-mail | Telephone |
| Woodbarn Farm Cottages | Bed and Breakfast & Self-Catering Cottages | NA | NA | +44 (0)1984 640920 |
| | | | | |
| --- | --- | --- | --- | --- |
| Farm Accommodation | Category | Website | E-mail | Telephone |
| Rooksbridge House | B&B and Self-Catering Cottages | NA | NA | +44 (0)1934 750630 |
| | | | | |
| --- | --- | --- | --- | --- |
| Farm Accommodation | Category | Website | E-mail | Telephone |
| Poplar Farm | Bed and Breakfast | NA | NA | +44 (0)1934 712087 |
| | | | | |
| --- | --- | --- | --- | --- |
| Farm Accommodation | Category | Website | E-mail | Telephone |
| Cricklake Farm | Bed and Breakfast | NA | NA | +44 (0)1934 712736 |
| | | | | |
| --- | --- | --- | --- | --- |
| Farm Accommodation | Category | Website | E-mail | Telephone |
| Lower Marsh Farm | Bed and Breakfast | NA | NA | +44 (0)1823 451331 |
| | | | | |
| --- | --- | --- | --- | --- |
| Farm Accommodation | Category | Website | E-mail | Telephone |
| Beaconsfield Farm | Bed and Breakfast | NA | NA | +44 (0)1749 870308 |
| | | | | |
| --- | --- | --- | --- | --- |
| Farm Accommodation | Category | Website | E-mail | Telephone |
| Little Brendon Hill Farm | Bed and Breakfast | NA | NA | +44 (0)1643 841556 |
| | | | | |
| --- | --- | --- | --- | --- |
| Farm Accommodation | Category | Website | E-mail | Telephone |
| Lime Kiln Farm | Bed and Breakfast | NA | NA | +44 (0)1373 834305 |
| | | | | |
| --- | --- | --- | --- | --- |
| Farm Accommodation | Category | Website | E-mail | Telephone |
| Yallands Farmhouse | Bed and Breakfast | NA | NA | +44 (0)1823 278979 |
| | | | | |
| --- | --- | --- | --- | --- |
| Farm Accommodation | Category | Website | E-mail | Telephone |
| Roses Farm Bed & Breakfast | Bed and Breakfast | NA | NA | +44 (0)1749 860261 |
| | | | | |
| --- | --- | --- | --- | --- |
| Farm Accommodation | Category | Website | E-mail | Telephone |
| Hagley Bridge Farm | Bed and Breakfast | NA | NA | +44 (0)1984 629026 |
| | | | | |
| --- | --- | --- | --- | --- |
| Farm Accommodation | Category | Website | E-mail | Telephone |
| Valley View Farm | Bed and Breakfast | NA | NA | +44 (0)1749 850302 |
| | | | | |
| --- | --- | --- | --- | --- |
| Farm Accommodation | Category | Website | E-mail | Telephone |
| North Down Farm | Bed and Breakfast | NA | NA | +44 (0)1984 623730 |
| | | | | |
| --- | --- | --- | --- | --- |
| Farm Accommodation | Category | Website | E-mail | Telephone |
| Higher Langridge Farm | Bed and Breakfast | NA | NA | +44 (0)1398 323999 |
| | | | | |
| --- | --- | --- | --- | --- |
| Farm Accommodation | Category | Website | E-mail | Telephone |
| Eden Vale Farm | Bed and Breakfast | NA | NA | +44 (0)1373 830371 |
| | | | | |
| --- | --- | --- | --- | --- |
| Farm Accommodation | Category | Website | E-mail | Telephone |
| Wanneroo Farm | Bed and Breakfast | NA | NA | +44 (0)1643 841 493 |
| | | | | |
| --- | --- | --- | --- | --- |
| Farm Accommodation | Category | Website | E-mail | Telephone |
| Stratton Farm | Bed and Breakfast | NA | NA | +44 (0)1749 830830 |
| | | | | |
| --- | --- | --- | --- | --- |
| Farm Accommodation | Category | Website | E-mail | Telephone |
| Ash-Wembdon Farm | Bed and Breakfast | NA | NA | +44 (0)1278 453097 |
| | | | | |
| --- | --- | --- | --- | --- |
| Farm Accommodation | Category | Website | E-mail | Telephone |
| Bow Farm | Bed and Breakfast | NA | NA | +44 (0)1934 751175 |
| | | | | |
| --- | --- | --- | --- | --- |
| Farm Accommodation | Category | Website | E-mail | Telephone |
| Gurney Manor Mill | Bed and Breakfast | NA | NA | +44 (0) 01278 653582 |
| | | | | |
| --- | --- | --- | --- | --- |
| Farm Accommodation | Category | Website | E-mail | Telephone |
| The Cow Shed | Bed and Breakfast | NA | NA | +44(0)1935 426426 |
| | | | | |
| --- | --- | --- | --- | --- |
| Farm Accommodation | Category | Website | E-mail | Telephone |
| Highfield Lodge Farm | Bed and Breakfast | NA | NA | +44(0)1179 374270 |
| | | | | |
| --- | --- | --- | --- | --- |
| Farm Accommodation | Category | Website | E-mail | Telephone |
| Wambrook Farm | Bed and Breakfast | NA | NA | +44(0)1460 62371 |
| | | | | |
| --- | --- | --- | --- | --- |
| Farm Accommodation | Category | Website | E-mail | Telephone |
| Brocks View Farm | Bed and Breakfast | NA | NA | +44(0)1458 241737 |
---
SOMERSET FARM HOLIDAYS: SELF-CATERING COUNTRY COTTAGES:
| | | | | |
| --- | --- | --- | --- | --- |
| Farm Accommodation | Category | Website | E-mail | Telephone |
| Thorney Farm Holiday Cottages | Self-Catering Cottages | NA | NA | +44(0)1458 253886 |
| | | | | |
| --- | --- | --- | --- | --- |
| Farm Accommodation | Category | Website | E-mail | Telephone |
| Lower Wick Farm Cottages | Self-Catering Cottages | NA | NA | +44(0)1278 751333 |
| | | | | |
| --- | --- | --- | --- | --- |
| Farm Accommodation | Category | Website | E-mail | Telephone |
| Tamarack Lodge | Self-Catering Cottages | NA | NA | +44(0)1823 601270 |
| | | | | |
| --- | --- | --- | --- | --- |
| Farm Accommodation | Category | Website | E-mail | Telephone |
| Home Farm Cottages | Self-Catering Cottages | NA | NA | +44(0)1934 842078 |
| | | | | |
| --- | --- | --- | --- | --- |
| Farm Accommodation | Category | Website | E-mail | Telephone |
| Westermill Farm | Self-Catering Cottages | NA | NA | +44(0)1643 831216 |
---
Go from Somerset Farm Holidays to UK Farm Holidays

Return to UK Farms

Return to Countryfarm Lifestyles