Cheap Holidays in Suffolk: Country Cottages and Farmhouse B&Bs for Holiday Rentals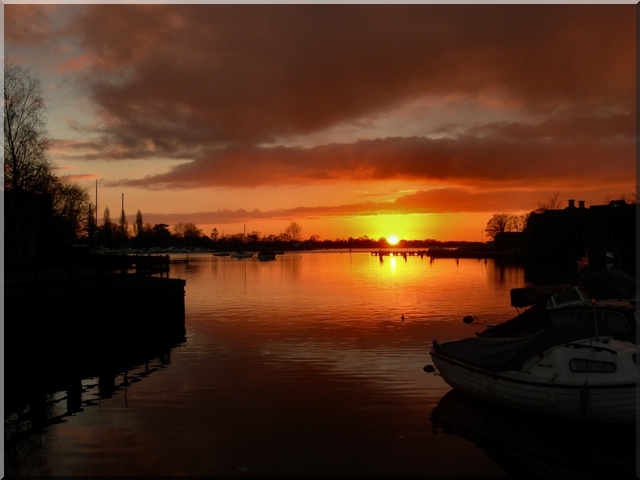 Sunset over Oulton Broads, Suffolk
Taken by Peggy Cannell Pictures of England
---
Book a Suffolk country cottage for cheap holiday rentals! Here you will find a wealth of farmhouse accommodation to choose from in our listings of self-contained country cottages and farmhouse Bed and Breakfasts. All our holiday cottages offer quality accommodation at reasonable rates. If you are looking for cheap accommodation in a rural setting within the heart of the English countryside then look no further. You are sure to find a holiday rental or holiday let that suits your needs.
Your farm holiday in Suffolk will take you on a myriad of journeys. Being a coastal county you can have the best of both worlds by staying on a farm while spending days at the beach with the family.
If you have a farm in Suffolk that you would like to showcase visit our Farm Forum. You can upload a picture and brag a little. We don't mind! Share a farming story, tell us about your best or worst farm holiday and lots more. There are other individual farming discussion boards to contribute to through this forum, as well as a Craft & Recipes Forum where you can share your favorite recipes and also get some crafting ideas for various arts and crafts.
There is a lot to see and do in this county as can be attested by this in-depth article on Suffolk by Will Averill.


---
Title: Great Days Out in Suffolk
Author: Will Averill
Now is the perfect time to plan Days Out with the family, and Suffolk is the perfect place to come for them! We have a huge choice of attractions and activities for the whole family and of course they are all set within the beautiful Suffolk countryside.
For less vigorous activities and attractions see Things to Do in Suffolk, but for full-on children's entertainment Days Out in Suffolk is the answer.
Jimmy's Farm provides a great day out for children and adults alike. The farm is full of things to do including a nature trail, an adventure playground, a woodland walk, a farm shop and a cafe. There are gardens galore including a herb garden, a vegetable garden and a butterfly house and garden. Entry into the farm is free, the only charges are for the nature trail which is £3.50 for adult and £2.50 for children.
Another lovely option is to head to Flatford, on the beautiful river Stour. From here you can visit 'Flatford Boats' where you can hire a rowing boat. This is one of the best ways to take in the countryside and views, a really leisurely way to spend the day and to meet the ducks and swans on their own territory!
Boats are available from half an hour hire but there is really no limit on how long you can stay on the river - people have booked boats for 8 hour slots before now! One of the most popular itineraries is to row up to Dedham. There is a dedicated landing stage here where you can moor the boat and head into Dedham for some lunch or maybe an ice cream. The river's gentle current will make your return trip easy as it helps you back to Flatford. If you have your dog travelling with you then don't worry - they are welcome on board the boats!
If you are looking for a day out to keep the children amused then you can never go wrong with trains. Younger family members are always enchanted by the engines. In Suffolk we're delighted to have several fantastic attractions that will keep everyone from the most ardent train enthusiast to the smallest child entertained. At Castle Hedingham you will find a gem of an attraction - Colne Valley Railway. Open at weekends andthroughout the school holidays, children and their parents willlove to see the old steam trains, the working signal box and thegarden railway. There is also a farm park on the site.
Thomas the Tank Engine pays regular visits to the railway and there are also special dining events organised (see their display for details). Whatever the programme, you are guaranteed a fantastic day.
Thomas the Tank also makes regular visits to Breesingham Steam and Gardens, near Diss. Also at Bressingham are the lovely gardens where world-renowned gardener and horticulturalist Alan Bloom combined his passion for plants and gardens with his love of steam, to create a truly unique experience for all the family! Another great reason to visit Bressingham is to visit the only official "Dad's Army" exhibition in existence! Great fun.
Hedingham Castle itself is another attraction well worth a visit. The castle itself is open to visitors, providing a wonderful glimpse into medieval life. There are four floors just waiting to be explored and the banqueting hall with its 28 foot arch is sure to take your breath away.
As well as the visit to the castle itself, you are invited into the grounds and gardens. They are a floral paradise and provide many picnic spots on which you can enjoy your lunch. During the year various events are held at the castle including jousting tournaments and visits by birds of prey. The site is open to visitors Sunday to Thursday with entrance costing £5 for adults and £3.50 for children.
For a thrill filled day out you can't beat a theme park and Pleasurewood Hills Theme Park is one of Suffolk's Top Attractions. There are plenty of rides with something for thewhole family. The new white knuckle ride, Wipeout, opened in2007 and is not one for the faint hearted, but there is also aminiature railway and the good old vintage cars for those whoprefer to travel in a more sedate style! Nestled in between therides you will also find the sea lion show and plenty ofentertainment.
The park is open throughout the school holidays and every Saturday and Sunday from March to September. Entrance charges are based on height with children under 1 metre being free of charge.
Clay pigeon shooting is an activity that children will love to have a go at and there are a number of places in the county that provide children's tuition. Lakenheath Clay Target Centre has safety as the number one priority and children will taught to respect and understand the equipment they use provides a shooting school. There is no lower age limit set, the only pre-requisite is that the child must be able to hold and support the shotgun safely. Lakenheath is set in beautiful countryside and it just twenty minutes from Bury St Edmunds. There is also a restaurant on site.
Junior shooters are also welcome for tuition at Fulton's Shooting which is also situated at Lakenheath. You can take part in a taster session for £40 per person with discounts available or families.
One option is a good one for the odd day when the weather doesn't play ball and is another sure fire family favourite - bowling. Mr G's Bowling Centre is on Market Hill in Brandon, Suffolk. It's more than just a bowling alley boasting a full restaurant on site as well.
At the weekends, the children will love the 'cosmic' bowling atmosphere with the lanes, balls and pins glowing brightly in the dark! It's a real experience! There are special offers for children on Saturday mornings and there is also a junior bowling league for those who really take to the sport. During the daytime, prices start at £8 for unlimited bowling.
About the author:Will Averill is a freelance writer for Suffolk Tourist Guide. The Suffolk Tourist Guide is the online guide for Suffolk Hotels, B&Bs, restaurants, pubs, attractions, days outand things to do in Suffolk.
So book your holiday rental today and come and see wonderful Suffolk.Stay in one of our holiday cottages, farmhouse cottages or farmhouse bed and breakfasts. Romantic English country cottages are waiting just for you.
---
SUFFOLK FARM BED AND BREAKFAST
| | | | | |
| --- | --- | --- | --- | --- |
| Farm Accommodation | Category | Website | E-mail | Telephone |
| Apple Mount Farmhouse | Bed and Breakfast | website | e-mail | 0800 583 2 583 |
| | | | | |
| --- | --- | --- | --- | --- |
| Farm Accommodation | Category | Website | E-mail | Telephone |
| High House Farm | Bed and Breakfast | website | e-mail | +44 1728 663461 |
| | | | | |
| --- | --- | --- | --- | --- |
| Farm Accommodation | Category | Website | E-mail | Telephone |
| Boundary Farm | Bed and Breakfast | website | e-mail | +44 1728 723401 |
| | | | | |
| --- | --- | --- | --- | --- |
| Farm Accommodation | Category | Website | E-mail | Telephone |
| The Firs Farmhouse | Bed and Breakfast | website | e-mail | +44 1728 627969 |
| | | | | |
| --- | --- | --- | --- | --- |
| Farm Accommodation | Category | Website | E-mail | Telephone |
| Gladwins Farm | Bed and Breakfast | website | e-mail | +44 1206 262261 |
| | | | | |
| --- | --- | --- | --- | --- |
| Farm Accommodation | Category | Website | E-mail | Telephone |
| Preston Manor | Bed and Breakfast | website | e-mail | +44 1787 247216 |
---
An English Forest
Go From Suffolk Farm Holidays to UK Farm Holidays

Go to UK Farm Holidays

Go to UK Farms

Return to Countryfarm Lifestyles