Quick and Easy French Food Recipes
French food recipes are not as complicated as they are made out to be. You can make those classic French dishes just as easily as you have seen demonstrated on cookery shows and in foody magazines. Below we have started with some delicious classic dishes from Provence. Just follow these instructions and your kitchen will soon emanate lovely smells that could only come from a Provençal country kitchen. Visit our Provence food. To learn more about regional french cooking and food visit our French food page for more details.
---
FRENCH FOOD RECIPES: Aioli

4 cloves of garlic
1 cup extra virgin olive oil
2 egg yolks
salt to taste
1/2 teaspoon cold water
1 teaspoon lemon juice
Peel the garlic cloves and add with salt to a processor or in a pestle and mortar. Transfer back to processor if using pestle and mortar. Add egg yolks and mix together quickly. Add half the oil very slowly in a very thin stream until a smooth paste is achieved. Add cold water and lemon juice. Add the rest of the oil in a slow, steady stream. Aioli can be used as an accompaniment to meat, fish or vegetables or served on toasted bread.
If your aioli splits add an extra egg yolk (room temperature)to a bowl and and whisk the separated aioli into it.
---
FRENCH FOOD RECIPES: Tapenade

250 g Kalamata, pitted olives
>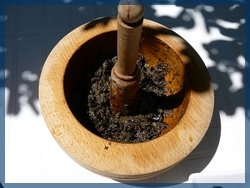 3 tablespoons capers
6 anchovy fillets, drained
2 cloves garlic
Juice of half a lemon
2 - 4 tablespoons olive oil
salt to taste
Puree all the ingredients in a food processor except the olive oil first. Then add the olive oil in a thin stream until a spreadable paste is achieved. Other additions to the tapenade include sun-dried tomatoes and various herbs like parsley. Like aioli, it is served with meat, fish, vegetables, or on toasted bread.
---
FRENCH FOOD RECIPES: Ratatouille (6)

3 eggplants, cubed
salt
1/2 cup olive oil
2 onions, thinly sliced
2 cloves garlic, sliced
3 red peppers, seeded and cubed
1/2 cup red wine
6 small zucchini, cubed
4 large tomatoes, roughly chopped
1/2 cup kalamata olives, pitted
freshly ground pepper
freshly chopped parsley
Salt and drain eggplant in a colander for 20 minutes. Rinse and pat dry with kitchen paper. Heat oil and saute onion until tender. Add garlic, peppers, eggplant and red wine. Cover and simmer for 40 minutes. Add zucchini, tomato, olives and freshly ground pepper and cook for a further 20 minutes until vegetables are tender. Transfer to a serving dish. Stir in parsley and season to taste. Serve.
---
FRENCH FOOD RECIPES: Easy Bouillabaisse (6)

2 lbs fresh, closed mussels, rinsed
2 lbs firm fish fillets, skinned and cut into 1 inch pieces
1 lb medium peeled and de-veined shrimp
1/2 cup extra virgin olive oil
1 1/2 tablespoons fresh garlic, finely chopped
2 cups onions, chopped
2 cups canned whole Italian tomatoes, coarsely chopped
1 teaspoon fennel seeds
1/3 teaspoon saffron
1 teaspoon kosher salt
2 teaspoons black pepper
1/2 cup dry white wine
8 cups fish stock (can use chicken stock cubes if preferred)
Heat olive oil in a large pan, saute garlic and onions over medium heat for 2 to 3 minutes. Add tomatoes, fennel seeds, saffron, salt, pepper, and wine. Simmer 5 minutes. Add fish stock and bring to a boil, add fish, lower heat to a slow boil. Gently boil for 5 minutes. Add shrimp and mussels, cover with a lid and gently boil for 6 to 8 minutes. Lower flame, remove lid and taste for seasoning adjustments. Remove and discard any unopened mussel shells. Serve with a good crusty bread.
---
FRENCH FOOD RECIPES: Pistou

1 tablespoon crushed garlic
1 teaspoon kosher salt
4 1/2 cups basil leaves, torn into pieces
1/4 cup coarsely grated plum tomatoes
1/4 cup extra-virgin olive oil
1 cup finely grated Gouda
In a large mortar, crush the garlic with the salt to a paste. Add the basil by the handful and grind the leaves in the mortar until almost smooth. Stir in the tomatoes, then gradually stir in the olive oil until it's well mixed. Stir in the cheese and refrigerate until ready to serve.
---
Go from French Food Recipes to Italian Recipes

Go to Easy Appetizer Recipes

Go to Soup Recipes

Go to Fish Recipes

Go to Chicken Recipes

Go to Pork Recipes

Go to Baking Recipes

Go to Jam Recipes

Go to Jelly Recipes

Go to Thanksgiving and Christmas Recipes

Return to Countryfarm Lifestyles