Easy Fish Recipes for all Occasions; Dinner Parties, Picnics and Family Meals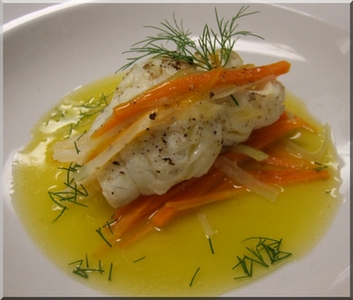 Fish recipes needn't be complicated. Our recipes for fish are quick and and can be prepared in minutes for either dinner parties, picnic food, or family meals. Enjoy our easy fish recipes and please share some of your own in our form below.

FISH RECIPES: Creamy Fish Pie
(Serves 6)
This is a nice creamy fish pie; packed with flavor and very simple to make.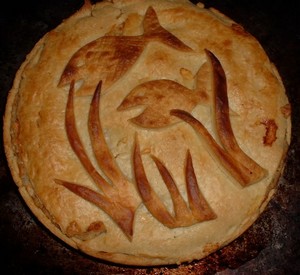 225 g frozen cod fillets or similar fish
225 g smoked haddock fillets
283 g can of condensed celery soup
368g frozen puff pastry
1 T chopped parsley
milk
Poach the fish gently in a pan of shallow milk until cooked. Then drain the milk and flake the fish with a fork. Remove any skin and bones. Place in a bowl and stir in the tinned soup.
Roll out the pastry on a floured board and cut 2 rounds that will be big enough to cover a shallow, oven-proof dish.
Butter the dish and line it with the one pastry round. Spoon the fish mixture onto the pastry and making sure that the other pastry round will fit, place it on the top.
Moisten the edges with water and press with a fork to seal. Use left-over pastry to decorate pie.
Brush the top with a beaten egg, and make slits in the top for the steam to escape. Bake in a hot oven at 220°C, 425°F, Gas Mark 7) for 30 minutes or until well-risen and golden brown.
---
FISH RECIPES: Lemon Crumbed Oven-Baked Sole (Serves 4 - 5)
Don't you love fish recipes that need no fuss? This is one of them. First of all make a lemon mayonnaise which you will cover the fish with.
Lemon Mayonnaise
1 egg
25 ml fresh lemon juice
10 ml brown sugar
2 ml salt
25 ml oil
Put all the ingredients into a blender and pour in, in a slow steady stream, 200 ml oil, finger on the button all the time. Spoon into bowl and stir in:
1 clove of crushed garlic,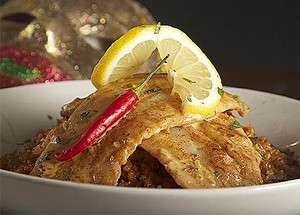 and finely grated rind of 1/2 medium lemon.
Cover and let stand for several hours. Now take:
500 g sole fillets
250 ml bread crumbs
2 ml salt
First dip the fillets in the mayonnaise, coating both sides. Thin the mayonnaise with a little milk or cream, if necessary. Then coat with the breadcrumbs, mixed with the salt. Chill.
To bake, cover a large baking sheet with tin foil, shiny side up, and smear liberally with oil. Heat a few minutes at 180°C. Then arrange fillets, turning once in the oil. Bake at 180°C for 10 - 12 minutes and serve with lemon slices, whole chilis (optional), some lettuce and tartare sauce.
---
FISH RECIPES: Self-Crusting Smoked Salmon Pie
(Serves 4)
Why spend time slaving away in the kitchen making pastry when you can have an easy recipe that does it for you? This fish recipe is great for family picnics, as it can be served cold.
1/2 cup flour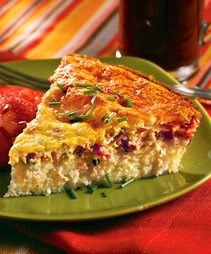 5 eggs
60 g butter
200 g smoked salmon pieces
1 onion, diced
salt and ground black pepper to taste
1 cup grated cheddar cheese
Place the flour, eggs, dill and butter in a food processor to combine. Pour egg mixture into a well-buttered pie dish. Top with salmon, onion and season to taste. 
Sprinkle with cheese. Bake at 180°C for 35 - 40 minutes or until mixture is set and top is golden brown.
Note: You could ring the changes with this pie by using bacon and leeks instead.
Follow Us: Facebook, Twitter, Google+, Pinterest, RSS
---
---
Add your Own Fish Recipes Here!
We have lots of pages where you can contribute to throughout this website, as you can see from the links below. We love hearing from our readers, and hope you will be one of those we hear from too. Please share your favorite fish recipes here, so that other may enjoy eating them too! Just type in the form below, we will do the rest.
Share your Best Recipes with us
Do you have a great recipe? Share it! We hope that you will share your favourite family recipes with all of us, so we can build a great recipe online resource of tried and trusted recipes.
Don't miss out on our latest news and articles. Sign up for our free monthly e-zine!