Easy Xmas Recipes for Christmas Dinners: Starters, Roast Turkey, Ham...
Easy holiday recipes and menus for a country Christmas. Find recipes here for starters, turkey, ham, Christmas cakes and puddings and a lot more.
Xmas recipes found here reflect the traditions of various countries around the world. While many in colder climates traditionally sit down to roast turkey and glazed hams, others, like Australia prefer a Seafood Christmas. So trawl through these recipes we have here for you, as you are sure you will be able to put together a Christmas menu that you will want to try.
However, don't forget, there are some things that you will need to make in advance. One of those things is mincemeat for your Christmas mince pies.
By going through the holiday recipes below you will soon realize that these recipes are dead easy, and can be put together at no time at all. Which is good news for most! Why slave over a hot stove on a day like Christmas? All the best using our easy Christmas food recipes below and a very happy Christmas season to you and your families!
And don't forget that bird in the fridge.
There are lots that you can make with turkey leftovers
.
---
Xmas Recipes for Starters and Appetizers
Classic Prawn Cocktail Recipe (4)
50ml mayonnaise
30 ml cream, whipped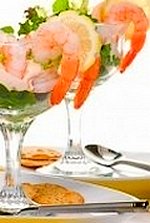 12,5 ml tomato sauce
12,5 ml onion, finely chopped
2 ml Worcestershire sauce
5 ml brandy
1 ml castor sugar
24 medium-sized cooked, shelled prawns
4 extra cooked prawns for garnishing
1/2 small lettuce, shredded
1 lemon, for garnish
Method:
Take shredded lettuce and place in bottom of serving glasses. Mix sauce ingredients together in a bowl. Add prawns to sauce mixture and coat well. Place prawns in glasses on top of lettuce. Top with a cooked prawn and a slice of lemon.
---
Recipe for Crab Stuffed Prawns (8)
16 large prawns, cooked and shelled
1 cup crab meat
2 tablespoons mayonnaise
1 teaspoon lemon juice
2 teaspoons snipped chives
salt and pepper to taste
Method:
Carefully remove the back veins from the prawns. Open up the prawn in butterfly-style without cutting through to the other side.
Combine crab meat, mayonnaise, lemon juice, chives and season to taste. Place mixture on top of opened prawn. Chill well.
Serve on a bed of lettuce with cherry tomatoes.
---
Don't you just love simple recipes for Xmas? Especially for starters when you need to concentrate of getting the roast turkey cooked as well as the baked ham, which is time consuming. Forget about the Hollandaise sauce. A plain cheese sauce does the trick, and is quick and easy to throw together just before everyone sits down.
Recipe for Asparagus Cheese (4)
1 419g tin white or green asparagus
3 tablespoons butter
3 tablespoons flour
1/2 teaspoon salt
1/8 teaspoon ground black or white pepper
1 1/2 cups milk
1 cup grated sharp Cheddar
Method:
Melt butter taking care not to burn and remove from heat. Stir in flour and seasonings. Gradually add milk, stirring until well mixed. Put back on stove over low heat, stirring constantly, until thick and smooth. Cook for 5 minutes longer and add cheese.
Stir until smooth and well blended. If you have lumps at this stage, don't panic, just bring over the electric beater and give it a whirl. Gently heat asparagus up in a saucepan. Place on individual plates, poor over cheese. Serve. If you want to get really fancy, you can slice up a small packet of smoked salmon. Place salmon pieces on the top to finish. A simple Xmas recipe!
---
Recipe for Classic Avocado Ritz (4)
2 ripe avocado pears
120 grams cooked shrimps, shelled
juice of a lemon
1 ml salt
1 ml pepper
black caviar, garnish (optional)
seafood dressing * See recipe below
Method:
Open up pears length-ways and discard pip. Sprinkle pear halves with lemon juice to prevent pears from going black. Combine shrimps with seafood dressing. Season to taste. Spoon mixture back into pears and serve straight away.
Seafood Dressing:
300 ml mayonnaise
37,5 ml tomato sauce
37,5 ml cream
12,5 ml brandy
juice of half a small lemon
Mix mayonnaise and lemon juice together. Add tomato sauce and stir. Add cream and last of all, add brandy. Chill for one hour before use. Add shrimps to dressing and fill the avocado pears. Garnish with black caviar, if chosen.
---
This is one of my favorite Xmas recipes for starters. It tastes divine, and it's so easy to make.
Deep Fried Camembert with Cranberry Sauce (4)
2 Camembert cheese rounds
2 eggs, lightly beaten
1 1/2 cups breadcrumbs
1 jar cranberry sauce, warmed
sunflower oil for deep frying
Method:
Cut Camembert cheeses into 8 equal parts. Dip into egg and dip into breadcrumbs. I like using the herbed breadcrumbs that comes out of a box. Place in refrigerator for 30 minutes. Repeat the process so that you have a good coating of breadcrumbs. Place back in the fridge for at least 30 minutes before deep-frying.
When firm and just before serving, deep fry until golden brown. Place on four plates, heat cranberry sauce and pour over Camembert wedges.
---
Stilton Cheese with Port Recipe
150 g Stilton Cheese
65 ml thick cream
30 ml port
freshly ground black pepper
4 walnut halves
Method:
Mash cheese with a fork and add cream and port until well blended, but still rough-textured. Season to taste and pack into 4 individual ramekin dishes. Top each with walnut halves. Serve with Melba toast.
---
Xmas Soup Recipes
Roasted Tomato Soup with Sour Cream (8)
2 kg tomatoes, quartered
700 g red onions, peeled and quartered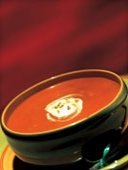 8 garlic cloves, peeled only
6 rosemary sprigs, bruised
4 red peppers, de-seeded and quartered
8 tablespoons olive oil
600 ml chicken stock
2 tablespoons red wine vinegar
4 dashes Tabasco
8 dashes Worcestershire sauce
8 tablespoons sour cream
2 tablespoons vodka
(optional)
8 teaspoons of black caviar
(optional)
Preheat oven to 220°C and put tomatoes, red onions, garlic, rosemary and peppers on a baking tray and drizzle with the olive oil. Season well. Place in oven and roast for about 1 1/2 hours.
Remove the rosemary sprigs and place vegetables that are left over into a food processor. Whiz until smooth. Strain further if you want a smooth soup.
Place back into large saucepan and add the stock, vinegar, Tabasco and Worcestershire sauce. Warm over low heat and add the vodka. Place into bowls and serve with a tablespoon of cream and a sprinkling of caviar.
---
Sweet Potato and Pear Soup Recipe (4)
25 g butter
1 small onion, chopped
750 g orange sweet potatoes (kumera), peeled, and diced.
2 firm pears, peeled, cored and diced
3 cups hot chicken stock
1 cup cream
chopped mint to garnish
Method:
Melt butter in large saucepan over medium heat. Add onion and cook until transparent. Do not burn. Add diced sweet potatoes and pear and cook, stirring for a few minutes. Add the hot stock and bring to boil. Cook for 20 minutes or until soft.
Cool slightly and then whiz in a blender or food processor. Blend in batches until smooth.
Return to large saucepan and heat through gently without boiling. Add cream and season to taste. Pour into individual bowls and garnish with ground black pepper and chopped mint.
---
Chilled Avocado Soup Recipe (4-6)
2 large, ripe avocados
3 3/4 cups hot chicken stock
2 teaspoons lemon juice
salt and pepper to taste
150 ml cream
extra thick cream for garnish
nutmeg
Method:
Peel the avocados, remove stones and mash the flesh. Put into a saucepan and add chicken stock and lemon juice. Heat gently, stirring. Cool slightly and place in blender or a food processor. Return to saucepan and reheat without boiling. Season to taste.
Cool, stir in cream and chill well. To serve, pour into bowls, top with a tablespoon of thick cream and an pinch of nutmeg.

---
Cold Melon Soup Recipe
1/2 large cantaloupe, cubed
1 small honeydew melon, cut into 1 inch balls
2 1/2 cups orange juice
1/4 teaspoon ground cinnamon
3 tbsp fresh lime juice
fresh mint leaves for garnish
Place the cantaloupe cubes, cinnamon, and 1/2 cup orange juice into a blender. Blitz until you have a puree. Combine remaining orange juice and lime juice, and stir into puree. Pour the mixture into soup bowls. Refrigerate for at least 1 hour before serving. Garnish with the honeydew balls and sprigs of mint.
---
Holiday Recipes for a Christmas Lunch
 Festive Lamb Roast(6-8)
1 corned leg lamb
1 small orange, sliced
3-4 bacon bones
2 tablespoons brown sugar
2 tablespoons vinegar
1/2 onion, studded with 4 cloves
4 whole all spice
melted butter
hot orange juice
breadcrumbs
whole cloves
Method:
Rinse meat in cold water, and place in a large saucepan or dutch oven. Add orange slices, bacon bones, brown sugar, vinegar, clove-studded onion, allspice and warm water to cover.
Cover and bring to a simmer over a medium heat. Cook gently for 2 hours. Remove from heat and cool in the liquid for 30 minutes. Remove meat and place in a baking dish.
Score a diamond pattern on the lamb and brush with melted butter and hot orange juice. Cover with breadcrumbs, and place a clove in the center of each diamond.
Put into a moderately hot oven and bake for 20 minutes until crumbs are crisp. Remove from oven, cool and place in fridge overnight before carving.
How to Cook your Christmas Ham
If you don't prepare your ham properly it will be too salty and will be almost inedible.
Wash and scrub your ham the day before Christmas or Thanksgiving in warm water and then soak the ham in the water overnight.
Whether you have a whole ham or a half a ham, place the joint in a large pot and cover with cold water. Bring to the boil and cook over a medium heat until cooked and tender.
Let it cool in the water it has been boiled in, and then remove the skin carefully. Don't take off the fat, you just want to remove the skin. Now score the fat into diamonds by slicing the fat at 1 inch angles one way, and then the other.  
At this stage you want to stud the fat with either just cloves or cloves and glace cherries, or if you come to my festive table you will have ham studded with cloves, glace cherries and pineapple pieces cut up small enough to fit into the 1 inch diamond. The cloves can be placed directly into the fat. If you are using the cherries or the pineapple pieces then you will need to secure them with toothpicks. Just remember to warn your family and guests that they are there!
Take a cup or so of brown sugar and sprinkle liberally over the meat and put it in a baking dish filled with 2 cups of cider. Place the ham in a hot oven at 450 degrees F. for 45 - 50 minutes. Baste often. If you are using the cherries make sure that they don't burn due to their high sugar content.
Recipe for Xmas Dinner Turkey
I am a Jamie Oliver fan and have all his cook books as I like his easy style of cooking. So this is one of his Xmas recipes and it really is one of the best Xmas dinner recipes going. It came from his magazine:
http://www.jamieoliver.com/magazine/
Serves 10-14
Ingredients

6.5-8kg turkey
2-4 clementines
Rosemary, bay or thyme sprigs
Flavored butter
2-3 carrots
3 onions, peeled
2 celery sticks
Method: How to make the best turkey in the world        

1.
This year I am using a flavored butter to give a bit of extra love to my turkey, and this is a job you can do the day before. Get your turkey and use a spoon to work your way between the skin and the meat. Start at the side of the cavity just above the leg and work gently up towards the breastbone and towards the back so you create a large cavity.
Pick up half of your butter and push it into the cavity you have created. Use your hands to push it through the skin right to the back so it coats the breast meat as evenly as possible. Do the same on the other side then rub any leftover butter all over the outside of the bird to use it up.
If you have got any herb stalks left over, put them in the cavity of the turkey for added flavor as it cooks. Cover the turkey in cling film and keep in the fridge until you need it.
2. Take your turkey out of the fridge a few hours before you are ready to put it in the oven so it has time to come up to room temperature. That flavored butter will already be under the skin so you will only need a few tweaks to finish it off. 
Halve 2 to 4 clementines and pop them in the cavity with a few more sprigs of fresh herbs like rosemary, bay and thyme. The fruit will steam and flavor the birds in a really lovely way. 
Take a sprig of fresh rosemary, pull off the leaves at the bottom then spear that through the loose skin around the cavity to hold it together and keep it from shrinking back as the turkey cooks.
3. Open up the neck cavity and pack as much stuffing as possible in there, then carefully pull the skin back over the cavity, tuck it under the bird and pop it in the roasting tray. 
If you have already made your gravy like I have done, you will not need a vegetable trivet, if not, do that now by roughly chopping 2 or 3 carrots, 3 peeled onions and 2 celery sticks. 
Preheat your oven to full whack and get the turkey in the roasting tray. As soon as it goes in the oven, immediately turn the heat down to 180ºC/350ºF/gas 4.
4. As a rough guide, you want to cook the turkey for about 35 to 40 minutes per kilogram, so a 7kg turkey will want about 4 to 4½ hours in the oven. But there are so many variables such as the sort of oven you have and the quality of your bird. 
Check on your turkey every 30 minutes or so and keep it from drying out by basting it with the lovely juices from the bottom of the pan. After 3½ hours, remove the foil so the skin gets golden and crispy. 
If you are at all worried just stick a meat thermometer in the thickest part of the breast. When the internal temperature has reached 65ºC for a good quality bird, and about 82ºC for a cheaper bird, it's ready to come out.
5. Carefully put a metal skewer in the cavity and use it to lift the bird and angle it over the roasting tray so all of the juices from the cavity run out. Move the turkey to a platter then cover it with a double layer of tinfoil and 2 tea towels to keep it warm while it rests for at least 30 minutes.
---
Turkey Stuffing Recipe
3 cups cooked rice
3 cups water
2 teaspoons salt
1 small onion, sliced
1/4 cup butter
1 teaspoon chicken seasoning
1/8th teaspoon pepper
4 cups chopped tart apples, granny smith are perfect
1 cup celery, chopped
2 1/2 cups raisins
1/4 cup walnuts, chopped
Combine rice, water and salt in a large saucepan. Mix together and bring to the boil. Fluff rice once or twice with a fork, but do not stir.  Remove from heat and allow to stand for 10 minutes. Add butter, chopped onion, seasoning and pepper. Mix well. Add the other ingredients.
Now stuff the turkey with the mixture. If you have any over, loosen the skin over the turkey breast. Now stuff the mixture in this area, spreading it all around.
* Changes:
You can use this recipe with a couple of differences. Instead of rice,  use
pork sausage meat
. As a result you don't need the water.  You can leave out the raisins too.  Instead use chopped sage leaves. Bind the whole lot with a beaten egg in the mixture.
---
Christmas Holiday Dessert Recipes
Steamed Christmas Pudding Recipe (12-16) Cooking time: 7 hours
375 g suet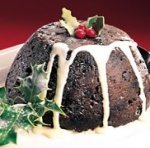 6 cups fine fresh breadcrumbs
4 1/2 cups raisins
1 2/3 cups currants
1 1/2 cups chopped mixed peel
8 eggs, lightly beaten
2/3 cup brandy

Extra brandy for lighting.
Method:
Grease a 2 liter pudding bowl with melted butter. Place a round of greaseproof baking paper in the bottom of the bowl.
Remove the membrane from the suet and discard. Grate the suet finely. Transfer to a very large mixing bowl. Add the breadcrumbs, raisins, currants and mixed peel. Mix until thoroughly combined.
Add the eggs to the fruit mixture and mix well. Gradually add the brandy and combine thoroughly. Spoon the mixture into the bowl.
Place the bowl onto a large sheet of aluminum foil and seal and wrap tightly to prevent water from entering. Double wrap to make sure.
Place a trivet or an unturned saucer into a large pot and place the bowl on top. Gently add boiling water to the pot along the sides. Make sure that you do not pour water onto the aluminum covered bowl.
Cover with a tight fitting lid and simmer for 7 hours. Check the level of water often and top up where necessary. Leave for 10 minutes before turning out onto a shallow flameproof serving dish. Remove baking paper circle.
Pudding can be made the day before. To preheat, steam as above for 2 further hours. To serve, pour a little brandy over the pudding, light carefully. Serve with cream, brandy butter or custard.
---
Easy Christmas Steamed Pudding
1 cup raisins
1 cup sultanas
1 cup currants
Brandy
1 cup suet
1 cup fine bread crumbs
1 cup flour 
1/2 cup brown sugar
1/4 cup mixed peel
1 teaspoon vanilla essence
1 teaspoon lemon essence
1 teaspoon mixed spice
4 eggs
1/4 teaspoon salt
Take the dried fruit, place in a bowl and pour a generous amount of brandy over the lot. Cover with a tea towel and leave to soak overnight.
The next day add the suet, the breadcrumbs, the flour the sugar, the mixed peel, the vanilla and lemon essence and the mixed spice.  Beat the eggs, with the salt and add to the mixture. Stirring well.
Place in a buttered pudding basin and then cover with buttered paper, and then cover it with a scalded and floured clean tea towel.
In total this dessert needs to be boiled for 10 hours. However, I always find that it is better to split the boiling time over 2 days as I am always worrying about forgetting to check to see if there is enough water in the pot as it boils away, and being always so busy, I really don't have time to put a whole day aside to watch a pot boil!
Once cooked, remove from the pot. Allow to cool and then store in your pantry for a week or so before using. If you want to serve it hot, you can place it back in the bowl, cover with tin foil and boil it for about an hour until it is warmed through. You can also use this dessert straight away without storing it in  your pantry.
---
Eggless Christmas Pudding
250 g plain flour
500 g mixed fruit
125 g brown sugar
1 large potatoes, cooked and mashed
1 large carrot, cooked and mashed
1 tbsp treacle
spice and salt to taste
Mix all ingredients together thoroughly, and leave to stand overnight. Don't add any liquid. The following day place in a buttered pudding bowl, cover with brown or greased proof paper and secure with string to prevent steam from entering batter while cooking. Place an saucer upside-down into the bottom of a large pot. Place covered pudding bowl on saucer, and fill half-way up with hot water. Cover with lid and boil for 6 hours. Top water up to keep water at half-way mark. Serve with custard.
---
Ice Cream Christmas Pudding Recipe (10)
1/3 cup almonds, toasted and chopped
1/4 cup mixed peel
1/2 cup raisins, chopped
1/2 cup sultanas, chopped
1/3 cup currants
1/3 cup rum
1/2 cup red and green glaced cherries, quartered
1 liter good quality vanilla ice cream
1 1/2 liters good quality chocolate ice cream
1 teaspoon mixed spice
1 teaspoon ground cinnamon
1/2 teaspoon ground nutmeg
Method:
Mix the almonds, peel, raisins, sultanas, currants and rum in a bowl. Cover with plastic wrap and leave overnight. Chill a 2 liter pudding basin in the freezer overnight.
So often the vanilla ice cream slightly and mix in the cherries. Press this ice cream around the inside of the chilled pudding basin. Return the basin to the freezer and leave overnight. Check on ice cream to see that it hasn't collapsed on itself. Correct if it has.
Soften the chocolate ice cream slightly and mix with the spices. Stir in the soaked fruit and nut mixture. Remove pudding basin from freezer and spoon chocolate mixture into the center of the pudding basin. Smooth the top.
Freeze overnight or until firm. Turn pudding out onto a plate. Serve cut into wedges.

---
Christmas Cakes and Cookies Recipes
The Best Ever Xmas Fruit Cake Recipe
1/2 lb (500 g) raisins
8 oz (250 g) pitted prunes, chopped
4 oz (125 g) sultanas
4 oz (125 g) currants
8 oz (250 g) pitted dates, chopped
7 oz (200 g) glace cherries
1 cup rum or brandy
8 oz (250 g) butter, cut into small pieces
1 1/2 cups dark brown sugar
1 tablespoon vanilla essence
4 eggs
7 oz (200g) dark chocolate
1/2 cup apricot nectar
1/2 cup apricot jam
2 cups plain flour
1/2 cup self raising flour
1 tablespoon cinnamon
1 tablespoon icing sugar
string for tying
Preheat oven to 320 degrees F (160 degrees C.)
Mix the dried fruit in a bowl and add the rum or brandy and allow to soak overnight.
Line a 9 inch deep (23 cm) round cake tin with a double layer of baking paper on the sides and base. Wrap the outside of the tin with a double layer of brown paper and tie the paper to the tin with string.
Beat butter, sugar and vanilla until creamy. Then beat in the eggs, one at a time, beating well between each one.
Add to the fruit and mix well.
Melt the chocolate in a small saucepan over simmering water, or in the microwave oven for about 2 minutes. Now stir in the apricot jam and nectar and pour over the fruit. Stir in.
Fold in the flours and cinnamon, and tip the cake mixture into the prepared tin. Smooth the top and tap the pan against the worktop to get rid of any air pockets.
Bake for 2 1/2 - 3 hours until a skewer test comes out clean. Remove from the oven and leave in the tin, wrap in clean tea towels and leave overnight.
Dust with icing sugar before serving.
Xmas Fruity Meringue Pies (Makes 24)
Filling:
4 oz (125 g) dried mixed fruit, chopped
2 tablespoons nuts, (walnuts, brazil etc.) chopped
2 tablespoons honey
1 teaspoon finely grated orange rind
1 teaspoon mixed spice
1/4 cup brandy
Pastry:
1 1/2 cups plain flour
2 tablespoons castor sugar
4 oz (125 g) butter, diced
1 egg yolk and 1 tablespoon water, lightly beaten
Meringue:
2 eggs whites
1/2 cup castor sugar
Preheat oven to 390 degrees F. (200 degrees C.)
To make the filling: Place all the filling ingredients, except for the nuts in a saucepan. Stir over a medium heat until simmering. Let cool, and then stir in nuts.
To make the pastry: Place flour, sugar and butter in a food processor and process until crumbly. Add egg yolk mixture and process until a ball forms. Wrap and refrigerate for 30 minutes. Take pastry mixture and form 24 balls. Place in holds of a mini muffin pan, press onto base and sides. Continue until all holes are filled. Bake at 350 degrees F. (180 degrees C.) for 15 minutes, or until edges are lightly brown. Cool in pan, then remove to a baking tray.
To make Meringues:
Place egg whites in a medium bowl. Beat with an electric mixer until peaks form. Gradually beat in castor sugar. Continue beating until thick and glossy.
To Assemble:
Fill cases with fruit mixture. Use a teaspoon to pile meringue onto each pie. Bake 5 minutes or until meringue has set.
---
Christmas Drinks Recipes

Mint Punch Xmas Recipe
1 cup lemon juice
1 cup water
honey to taste
2 dsps finely grated lemon peel
2 cups fresh mint leaves, finely chopped
5 cups soda water
In a pot place water, lemon rind, honey and mint leaves.  Bring to boil for 10 minutes. Add the lemon juice. Cool and then add soda water. To serve, place ice-blocks in tall glasses, fill with mint punch and decorate with a sprig of mint and a slice of lemon on the side of the glass.
---
Did you find this page helpful?
Sharing is a way of saying, "Thanks!"
Follow Us and Keep Up to Date
Add your own Xmas Recipes Here!
We have lots of pages where you can contribute to throughout this website, as you can see from the links below. We love hearing from our readers, and hope you will be one of those we hear from too. Please share your favorite Holiday and Xmas recipes here, so that other may enjoy eating them too! Just type in the form below, we will do the rest.
Share your Best Recipes with us
Do you have a great recipe? Share it! We hope that you will share your favourite family recipes with all of us, so we can build a great recipe online resource of tried and trusted recipes.