Mpumalanga Accommodation: Private Game Reserves , Lodge Accommodation & Farm Accommodation for your Holidays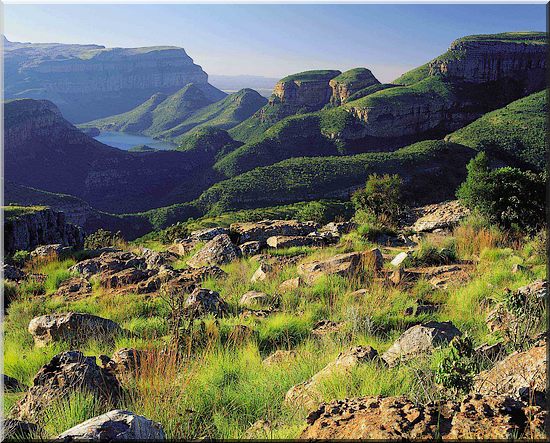 Blyde River Canyon Nature Reserve - Courtesy of South African Tourism
---
---
Mpumalanga accommodation provides a number of choices of where to stay in this beautiful corner of the country. This is an area rich in wildlife, and so therefore there are many private game reserves offering lodge accommodation and safari tours. There are also many guest farms in the area that offer farm bed and breakfast guest- houses, or farm self-catering accommodation. You will find lots to do for your holiday to this area.
For those of you who love the outdoors you won't be disappointed as there is something for everyone here. If you like walking and hiking, the area that should be visited first is the Blyde River Canyon Nature Reserve. See panoramic vistas at places like God's Window and see how millions of years have eroded stones to smooth pools at Burke's Luck Potholes. The area around here has a number of spectacular waterfalls to visit such as the Lisbon Waterfall, the Berlin Falls and the Mac Mac Falls to name just a few. Take a trip to the falls, have a swim in the clear water, and finish off with a picnic. What could be better than that? There are a number of guest farms in this area that area close to these sites. Mpumalanga accommodation offers guest farms in the area. See the link below.
One of my favourite little hamlets in Mpumalanga is Pilgrim's Rest, which is now a national monument. It's a quaint little village with old mining houses with corrugated roofs. Have a delicious meal at the Royal Hotel, which also provides comfortable accommodation, and try your hand at panning for gold. But before you go, take a trip to the graveyard on the hill and see the Robber's Grave. It is not difficult to spot as it faces the opposite way to all the rest and is clearly marked. However, no name is with the grave, but we can only image how unpopular he must have been with his fellow gold-diggers to have received such treatment as his final resting place.
When you book your Mpumalanga accommodation you be close to the Sudwala Caves that are the oldest caves in the world known to have been inhabited. These caves have been cleverly lit, and provide some spectacular stalactites and stalagmites. My favourite chamber is Fairy Glen, which I saw as a child, and 35 years later can remember it as if it were yesterday. Don't miss the amphitheatre of 70 meters in diameter that has amazing acoustics and has been used for concerts in the past.
For those of you who like trout fishing, this is trout fishing paradise, particularly around Waterval Boven, Dullstroom, Barberton and Machadodorp where you will find many guest farms and trout fishing farms and lodges offering accommodation for this purpose.
Finally, we save the best for last, for so many of you were wondering when I was going to mention the safari lodges and private game reserves some of the most luxurious Mpumalanga accommodation can be found here. This is the gateway to the biggest and best-known game reserve of all; the Kruger National Park. However, there are a number of private game reserves within the park that offer luxury safari accommodation and 5 star treatment with regards to meals and game viewing. Other guest farms in the area offer cheaper accommodation and allow you to take day-trips into the park instead. It really depends on what type of accommodation you are looking for. For a daily admission charge into Kruger all visitors are eligible, unless you are in possession of a Wild Card. The conservation fee for all International Visitors is ZAR 132.00/person (children under 12 pay ZAR 66.00) and South African Nationals pay ZAR 66.00 (children under 12 pay ZAR 33.00).
This is certainly only the tip of the iceberg of what to see and do here. However, I hope I have wet your appetite enough to book one of our Mpumalanga guest farm accommodation facilities. Stay on a private game farm and find your bed and breakfast farm, farm self-catering or lodge accommodation here. Book your Mpumalanga accommodation today!
If you have a farm in Mpumalanga that you would like to showcase visit our Farm Forum. You can upload a picture and brag a little. We don't mind! Share a farming story, tell us about your best or worst farm holiday and lots more. There are other individual farming discussion boards to contribute to through this forum, as well as a Craft & Recipes Forum where you can share your favourite recipes and also get some crafting ideas for various arts & crafts.
Go from Mpumalanga Accommodation back to South Africa Farm Holidays
Go to Limpopo Farm Accommodation
Go to Gauteng Farm Holidays
Go to KwaZulu Natal Farm Holidays
Go to Eastern Cape Farm Holidays
Go to Western Cape Farm Holidays
Go to Northern Cape Farm Accommodation
Return to Countryfarm Lifestyles