South Africa Farm Holidays: Guest Farms, Game Farms, Wine Estates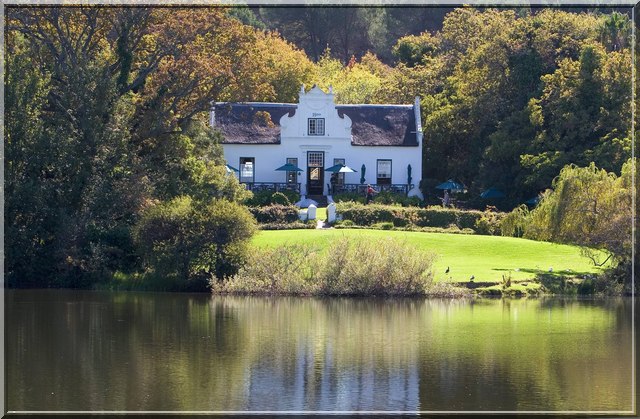 A Cape Wine Estate, by Monikavlatko, Webshots
Type of Accommodation found on South African Farms
South Africa farm holidays provide a wildlife & African experience. Stay on guest farms and private game farms for a holiday safari, or on a wine farm for wine tasting.  Come and see spectacular scenery in this beautiful country of diversity.
Your farm holidays will introduce you to guest farms, game farms and leisure farms with farm guest houses offering bed and breakfast, farm self-catering cottages, private game farms, wine farms and other types of farm accommodation throughout the country.
Why Visit South Africa?
Here you will find your African wildlife still roaming free in private wildlife reserves and on game farms. By taking a South Africa farm safari you are really spending an eco-holiday out into the bushveld. The quiet and the solitude, and bonding with nature on our South Africa farm holidays is one of the most relaxing holidays around. Some game farms and wildlife reserves will also offer private walking tours and game viewing trips.
This is a country of vast open spaces, beautiful sunsets, angry and vociferous electrical storms and panoramic beauty the length and breadth of the country that will take your breath away. It is also a country of many different cultures and languages. Despite this, you will find South African people very friendly, and they really enjoy being hosts to overseas visitors. There are nine provinces, each of which offers spectacular beauty.
What to See in Each South African Province
South Africa farm holidays are offered in the following provinces: Kwazulu Natal where the land consists of rolling hills and the imposing Drakensberg Range, The Eastern Cape where the 1820 British Settlers first made their home and which has some great coastal areas for fishing. The Wild Coast is particularly beautiful and unspoiled. The Northern Cape home to the Karoo and offers a stark beauty not found elsewhere. Gauteng is where you will find gold and diamond mines, sprawling Soweto and the fantastical Sun City with a game reserve right next door.
There are many such wildlife reserves in this area. As is in Mpumalanga, where you will find the Kruger National Park and many private game reserves in and around the park area. And then there is Limpopo, one of the untouched areas of the country teeming with wildlife and a perfect spot for that holiday safari.
However, arguably the most beautiful part of the country is found in the Western Cape , where there are many guest farms and leisure farms based on historical wine estates; a must for those who enjoy tasting fine wines and farm produce, especially homemade cheeses, jams and preserves, honey and a couple of bottles of Chardonnay or Cabernet which can be purchased on the wine estates themselves.
South Africa for Game Parks and Wine Estates
South Africa farm holidays will take you to a number of well advertised wine routes in the area for you to enjoy with many wine farms offering both accommodation and also venues where you can hold a very romantic country wedding. Some of the top wine farms are found in Stellenbosch, Franschoek and Paarl, among others found in the greater Cape Town area.
With all the wildlife in Africa, South Africa has its fair share, and it is famous for well organized travel safaris on private game farms for a great holiday safari. South Africa farm holidays wouldn't be complete without a night safari which gives you a different perspective altogether.
There is nothing more disconcerting, however, then when you are out at night and the jeep breaks down! It doesn't happen very often, but I have to admit that it happened to us one night, on one of our many safari forays. We were, however, perfectly safe and the situation added to the thrill realizing, as we were sitting in the dark surrounded by the glowing eyes of the many animals around us, that the tables had been turned. We were now the animals being watched! It was a very strange feeling, but memorable, nevertheless.
Wine farms, Game Farms, Guest Farms, Farm Bed and Breakfasts and Holiday Cottages can all be found on your South Africa farm holiday and in each location there will be something of interest to see. If, for example, you find accommodation in the northern part of the country, you will not be far away from the most famous game reserve of them all - the Kruger National Park, where you can see the big five; lion, elephant, rhino, buffalo and leopard on daily trips into the park.
There are many South African farms that have turned their lands into wildlife reserves that are professionally maintained and run by people who really love the bush and what they do. Knowledgeable guides will drive you in those open jeeps and take you to the animals that are hiding for those great photographic opportunities.
Best Times to Visit South Africa
Remember, for your South Africa farm holidays, that the best time to view wildlife in Africa is in the winter (June, July, August) when the grass is shorter. During the day the best times to view your wildlife is at dawn and dusk when the animals are on the move foraging for food and looking for waterholes.
This is a large country that is diverse in cultures, traditions and scenery. Agricultural practices cover the usual animal-rearing and crop-growing norms, but some also go in for the more unusual, and here you can visit crocodile and ostrich farms too.
Local Food and Delicacies
For those of you who are looking for farm produce and fruit and vegetables directly from the farmers there are many roadside farm stalls, farm shops, farm gate sales and farmers markets where you will find wholesome, quality produce. With some parts of the country experiencing a Mediterranean climate and other parts enjoying a Tropical climate there is always good fruit around. For those of you who enjoy trying local delicacies when you travel, try some South African biltong and dried wors, both are delicious and can often be found in the deep freezers of your country farmer or at the nearest butchery.
Advertise your Farm Accommodation
If you have a farm in South Africa that you would like to showcase in our South Africa Farm Holidays page visit our Farm Forum. You can upload a picture and brag a little. We don't mind! Share a farming story, tell us about your best or worst farm holiday and lots more. There are other individual farming discussion boards to contribute to through this forum, as well as a Craft Forum where you can share your favorite recipes and also get some crafting ideas for various arts & crafts.
We also host farms from the UK, the USA, Canada, South America, New Zealand, Australia ,Europe
For those of you who have a South African farm MBB farming accessories offer a range of affordable and durable Farm Tractors from Massey Ferguson, Challenger and Kubota, Farm Tractor parts, Massey Ferguson Combines, MF Planters, Material Handling Equipment from Manitou, Kubota Lawn tractors, Lawn tractor attachments, Lawn Tractor tires, Water Purifying systems, Packaging equipment, Tools, Spares and Services to the farming community in South Africa.
---
SOUTH AFRICA FARM HOLIDAYS - FARM ACCOMMODATION
Click on the links below to find farm accommodation on guest farms in your province of choice.
Kwa-Zulu Natal Farm Holidays
Eastern Cape Farm Holidays
Western Cape Farm Holidays
Gauteng Farm Holidays
Mpumalanga Farm Holidays
Limpopo Farm Holidays
---
Farm Produce
Click on the links below to find farm shops and farm produce in your province or while you are on your South Africa Farm Holidays.
THE WESTERN CAPE
SOUTH AFRICAN FARMERS' MARKETS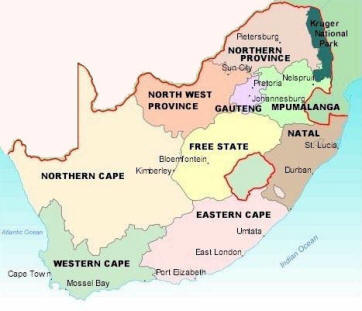 A map of South Africa showing the new provinces
---
Feel free to browse through the books below. You may find something of interest on your next trip to South Africa.


You can Add your Own Comments on South Africa here!
We have lots of pages where you can contribute to throughout this homesteading website. We love hearing from our readers, and hope you will be one of those we hear from too. Feel free to add your own comments and experiences about visiting farms in South Africa here.
Leave a Comment
Do you have anything that you would like to add after reading this page? We would love to hear your thoughts. If you can add additional information to what has been written here you will be adding value to the website! No need to have any special skills - just type and submit. We will do the rest!
Don't miss out on our latest news and articles. Sign up for our free monthly e-zine!