Virginia Farms and Farmlands: Holiday Accommodation & Farm Equipment & Suppliers
Virginia farms offer farm accommodation and farm services for your farm holidays and farm equipment. This is a state that has a lot to offer the traveler in rolling countryside, oceans and bays and mountains and caverns to explore.
Virginia really is a beautiful state with rolling hills, cornfields, vineyards offering 140 wineries for wine tasting and tours, patchwork fields of crops and those barns dotted about making an ideal destination to get that true, farm experience.
Not to be missed when visiting Virginia is 'Monticello'; Thomas Jefferson's house is the only house in America that is on the World Heritage List. Not far from the house you can visit the Jefferson Vineyards which is just one such vineyard of many that take up 2,500 acres of vines in this area.
If you are traveling with kids why don't you spend some time in the Shenandoah area and visit the caverns and caves that dot the area. The Luray Caverns are the largest caverns in the Eastern USA and a national landmark. The Shenandoah caverns are also spectacular, but there are 6 others to visit in the area besides these, so you really are spoilt for choice.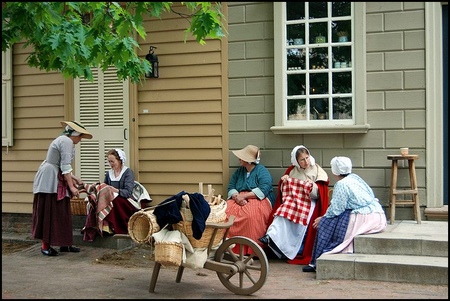 Taking a trip to historic Jamestown where the first English settlers settled in Virgina. This an experience that all ages can enjoy. You can visit the colonist's fort and also learn about the Virginia Indians, especially Pocahontas. Williamsburg is another historical town where you can visit to see reenactments of Colonial times.
Virginia is a state that has something for everyone. If you are not into countryside, head for the coast and visit famous Chesapeake Bay for a spot of sailing or fishing. There are also some wonderful tributaries to explore such as the Potomac, Photo by Harvey Barrison
the James, York and Rappahannock.
If you are into bike riding, hiking, camping and picnicking with your family then visit the Blue Ridge Parkway of 470 miles of scenic beauty and cultural attractions. It traverses the Blue Ridge Mountains and offers a wealth of exploring opportunities.
And if you are looking for all-year round skiing in Virginia head for Liberty Mountain's Snowflex center in Lynchburg. It is a synthetic slope that offers budget skiing for skiers and snowboarders alike. The 500 foot slope is open both day and night.
Virginia has a strong farming community and Virginia farms also have a wonderful program called the Farm to Schools Program where and effort is being made to get schools to offer fresh locally grown farm produce to their students and to promote opportunities for schools and local farmers to work together.
Virginia farms produce fresh produce which is sold at many farmers markets for you to visit such as the historic Roanoke City Market which is the oldest such market in continuous use in Virginia. There is also New Town Farmers Market, Williamsburg Farmers Market, Market Days at the River to name just a few.
Have a look at our Virginia farms and their farm accommodation for your holidays, and farm equipment suppliers for your farms and homesteads in the area. If you would like to advertise with us please visit our Advertise page for more details.
---
| | | | | |
| --- | --- | --- | --- | --- |
| Online Sales | Category | Website | E-mail | Telephone |
| Shenandaoh Homestead Supply | Online Sales for Milking Equipment | website | e-mail | +1(434)939-8270 |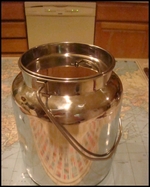 Welcome to Shenandoah Homestead Supply.
We are the East Coast's premier online supplier of stainless steel items for the small dairy.
Visit our website and purchase milk processing equipment, including glass milk jars, stainless steel milk cans, pails w/lid, strainers and other dairy supplies.
We ship all orders within two business days (usually sooner). If for some reason there is a delay we will contact you. We offer 100% satisfaction guaranteed on our quality products! Return within seven days for a full refund of purchase price. We can can also cancel any order by special request BEFORE the order is processed.
We are fully convinced that our prices are the best, however if you find a lower price on a similar item, contact us and we will match the price.
We ship worldwide, so if you aren't sure about shipping, contact us.
SPECIAL OFFER: Receive 5% OFF your entire order by using coupon code: countryfarm
---
Go from Virginia Farms back to USA Farms

Go back to Countryfarm Lifestyles