USA Farms for Farm Holidays, Farm Food and a Slice of Rural Paradise!

USA Farms and homesteads are dotted throughout this huge country, corn fields, wheat fields, dairy and cattle, cotton, eggs, chicken, pork and soybean being some of top agricultural products. All of these can be found in gate sales and farm stores around the countryside of America where you can buy your food direct.
If you are interested in CSA Farming see our article on Community Supported Agriculture.
While you are there, why not take a trip to Pennsylvania and see traditional farming practices being carried out in Amish areas. These people have always practiced non-intensive crop growing and natural methods that we support. With more and more crops being genetically modified and scientists playing God without knowing the long-term consequences, we feel that GM food is not the best option. Support your local farmer and buy fresh produce direct.
Ranch vacations in America can be fun and cheap and are a great idea for a family vacation for those who love rural living. Guest ranches can be found in our ranch vacation rentals section. For those weekend-breaks, romantic rural retreats or family ranch vacations have a look at our guest ranches for bed and breakfast farm stays, farm cabins and self-catering farm houses. You will find all of our ranch vacation rentals of a high standard and on working farms that will give the kids endless hours of fun and give you time to relax and enjoy the quiet countryside.
If you are homesteading there are several articles of interest on this subject on our Farming Articles section. You may also be interested in reading a very interesting interview we did with Joel Salatin, one of the most influential farmers in America at the moment.
For those of you who are just starting off farming or homesteading, or have moved from one state to another and are not sure of what vegetables to plant when in your area, why don't you have a look at the USDA Hardiness Zone map. It is highly interactive and will give you a good indication of whether you can go ahead and plant out those seedlings that you have been nurturing through early spring.

Calling all farmers! If you think it's time to take a holiday, but are not sure of who will look after your farm while you are away, or your would like to farm swap with someone either locally, or in another country, have a look at our Farm Exchange & Farm Sitting page. This is a free service to farmers and homesteaders worldwide.
Horse breaders who need to sell their stock, or if you are looking to buy some horses, see Equine Now : A website helping Farmers, Ranchers and Breeders sell their horses where bringing people together is important for the future!
---
Farm and Ranch Accommodation throughout America 
---
USA Farms for Food
For farmers markets throughout the USA see our Farmers Markets USA page.
---
Are you looking for a FREE farming magazine?
The following free magazine is offered by Living the Country Life to all US citizens. Take up their generous offer and read the many topics of interest to farmers throughout the States.
Why don't you visit their web site? If you need farming information about your acreage, then this is the site for you. It is an ideal site for farmers, homesteaders, ranch owners and those on small holdings. In fact, if you are a farmer of any description in the US, then this is your first stop.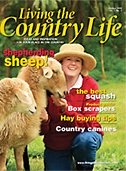 ---
---
For those of you who are living in the Hudson Valley and in the Westchester County then you will definitely be interested in learning about
Your Personal Online Farmers Market.
Farmers Market-fresh produce, local food delivery, Westchester, New York. So if you cannot get out and about, but still want to support those local farmers, give them a ring for your home delivery of fresh farmers' market produce.
---
Best Selling Books on American Farms and Farmers
---
Advertise your Farm!
If you would like to advertise your USA farms with regards to some particular service you can offer to those who are homesteading or living country then please check out our Advertise your Farm page for listing options.
You can Add your Own Comments and Pages!
We have lots of pages where you can contribute to throughout this website. We love hearing from our readers, and hope you will be one of those we hear from too. Look around our homesteading website. If you have any comments or questions, please feel free to contact us.
Don't miss out on our latest news and articles. Sign up for our free monthly e-zine!



Yes, sign me up to receive my

free e-Book

"Growing Vegetables Organically and Successfully"

When I sign up to receive the monthly homesteading newsletter. We do not spam you or give your e-mail address to others.





Email Address





First Name (optional)

Then