Williamsburg Farmers' Market (VIRGINIA)
by Libbey Oliver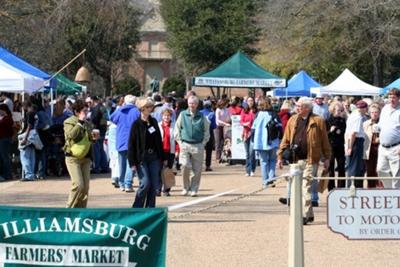 Williamsburg Farmers' Market
The Williamsburg Farmers Market is an open-air market located in Merchants Square on Duke of Gloucester Street in the heart of historic Williamsburg, Virginia.

The market has over 35 vendors offering a variety of local produce and products including mushrooms, berries, free-range chickens, pasture-raised meats including bison, beef and pork, seafood, eggs, cheese, organic vegetables and fruit, greens, herbs, cut and potted flowers, gardens, plants, spice rubs, peanuts, honey, jams and butters, homemade baked goods, confections, goats milk soap, handmade decor and more.

The market also has Music and Chef Demonstrations.

Open Saturdays, April-October 8 am - 12 pm. Check website for winter and holiday market schedule or call 757-259-3768.