Cheap Eco Holidays in Central America: Stay on a Ranch, Farm or Estate
A cheap eco holiday in Central America will introduce you to many wonderful ranches, estates and farms throughout the region that offer top accommodation. Staying on a ranch is a far cheaper option than staying in a hotel, and with what you will save you can spend on the many eco-adventures that each region offers.

With the Caribbean Islands and the 7 countries making up this region, you will be overwhelmed by the diversity of cultures and landscapes that exist here and there is just so much to see and do. Each country is unique in what they have to offer, and one could spend a lifetime traveling here, and still not see everything.
An eco farm holiday in Belize will take you to archaeological and national parks. You can visit nature reserves and wildlife sanctuaries to see the local fauna. Mayan temples tower above green, rain forest canopies hidden in jungle-like surroundings, Lamanai, is one such Mayan site that should not be missed. And for those of you who like marine like, an incredibly colorful display of marine wildlife finds protection in Belize's barrier reef, which is second longest to Australia's. It is a great destination to do some island hopping too.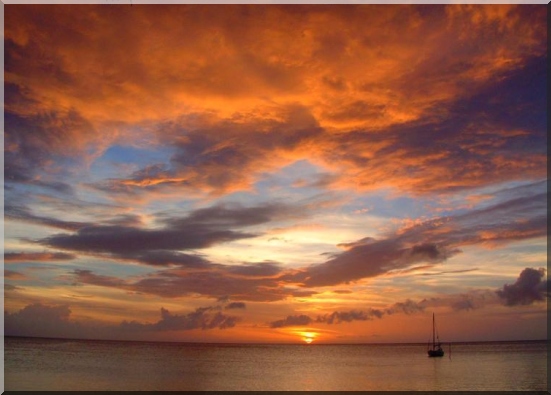 A Honduras Sunset - Have you ever seen something so spectacular?

Costa Rica
is another firm favorite with international tourists visiting Central America. It is a slice of paradise that is your original Garden of Eden and is a top-spot for those of you are are serious about taking a true eco holiday. From pristine beaches to rumbling volcanoes this is a country that has it all and the abundant wildlife will not disappoint you.
El Salvador is largely volcanic and has not been as lucky as some of its other neighbors in attracting a strong tourism trade. However, that is not to say that one should overlook this country. It has much to offer especially with regards to the Cerro Verde National Park, beaches, tropical nature reserves and some interesting archaeological sites from the Maya civilization.
Guatemala is the place to visit for those Mayan temples and architecture. Although the Mayans dominated much of Central America during their prime, it is in Guatemala that their legacy is still very much evident in their architecture and even within some of the local population in the highlands who still wear traditional weaving traced back to the Mayans. Beautiful orchids, birds and wildlife can be found in this land of volcanoes, lakes and subtropical forests and so an eco holiday here would not disappoint.
Honduras is more than just a country growing bananas. Its rich, fertile soil and valleys are testimony to this. The beaches go on forever, and the sunsets are spectacular. Bay Islands is a diver's paradise with a plethora a sea-life from whale sharks to seahorses. For birding you cannot beat Lago de Yojoa where bird life abounds. And finally, discover Central America's last pocket of untamed wilderness; Reserva de la Biosfera del Rio Platano.
Nicaragua is a place for eco-tourist to have an off-the-beaten- track travel experience. The travel industry is still in its infancy which gives the global traveler an opportunity to still travel cheaply and to visit sites without having to elbow one's way to the front with the hordes. With outstanding scenery and colonial architecture this is a destination that is well worth the effort.
Panama should not just be visited for its canal. It is a land of canopied jungles and palm-lined beaches and some of the finest birding for Tropical birds, snorkeling and hiking in the Americas can be found here. And while you are thinking about visiting this country, make sure you find out when one of their many colorful festivals are taking place. You don't want to miss one of those! With Panama's 5 UNESCO sites you will be enthralled by its storied past, teeming wildlife and indigenous cultures.
Come and explore Central America and spend some time on ranches, estates and farms for your next eco holiday. By staying on a ranch you will have nature on your doorstep. Look through our farm accommodation that we have to offer, as I am sure you will find something of interest.
If you have a farm in Central America that you would like to showcase visit our Farm Forum. You can upload a picture and brag a little. We don't mind! There are other individual farming discussion boards to contribute to through this forum, as well as a Craft & Recipes Forum where you can share your favorite recipes and also get some crafting ideas for various arts & crafts.

---
Did you find this page helpful?
Sharing is a way of saying, "Thanks!"
Follow Us and Keep Up to Date
SEE OUR ECO FARM ACCOMMODATION HERE
HOLIDAYS IN: COSTA RICA
---
---
---
Don't miss out on our latest news and articles. Sign up for our free monthly e-zine!