Easy Picnic Food Ideas and Summer Picnic Recipes

There is something special about having picnics and eating outdoors, whether it is having a barbecue in your own backyard or traveling some distance with your packed picnic baskets and hampers to eat your lunch beside a babbling stream under a large shady tree.
Of course the beach is always a favorite spot for some, however, I am not one for sand in my sandwiches and you will always get some "clever clog" who decides that it is the perfect time to shake that towel just as the hamper is being opened. No, with sand getting in every nook and cranny, I prefer the countryside, and it sets the scene for a relaxed and informal get together of sharing a memorable meal.

When thinking about picnic food ideas, really eating outdoors can be as complicated or as easy as you want them to be. If you don't have the time and you don't mind spending some cash, then it can be as easy as going to the shops and buying some ready-made treats. However, if will be a lot more expensive than if you had cooked the food at home.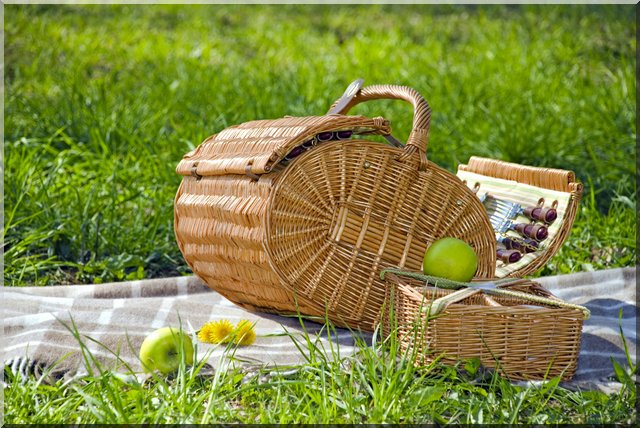 An Idyllic Country Picnic

PICNIC FOOD IDEAS - Keep to 4 Dishes
Never bring more than 4 dishes to a picnic. Keep it simple and stick to those. If you want something extra just in case someone may still be hungry then pack a hunk of cheese or an extra loaf of crusty bread. But 4 dishes, if well-planned, will feed the hungry hordes and will be easier to keep chilled if needed.
PICNIC FOOD IDEAS for Shop-Bought Treats
I am all for finding short-cuts to food preparation. You know what I mean? Life is too short to stuff mushrooms!
So buy some bits and pieces at your local store or deli for ready-made picnic food. Here are some ideas for you:
Prawns are delicious and versatile for a number of great picnic food ideas. When they have been pre-cooked and you can serve them up very simply with a jar of garlic mayonnaise and a couple of wedges of lemon. Wash them down with a lovely Chardonnay, a bottle of champagne or a couple of cold beers.
You can also bread them, or even buy them breaded. Pan fry before you leave and serve with mayonnaise.
Shop roasted chickens are easy too. No mess, no fuss. Carve the bird before you leave home to avoid having to bring extra knives and cutting boards.
If you are looking for picnic food ideas with an Asian twist ...
Finally, for the last of the bought picnic food ideas, some ready made dips or a tub of hummous or hummus, as it is sometimes spelt, can go a long way to making your outdoor picnic an easy affair.
PICNIC FOOD IDEAS for Quick and Easy Treats
Fruit is a great picnic food. For some quick picnic food ideas; If the weather is hot, and they are in season, there is nothing quite like a juicy watermelon to finish the meal.

ikkStrawberries are another and eat them just as they are. Peaches, apples also travel well, as do grapes. Don't choose fruit that will easily get squashed or is too soft as they will not travel well.
Bread is a staple for the picnic basket. Crusty bread, French baguettes, rolls, baps or even the Labanese flat bread can be used for either making sandwiches or an accompaniment to your meal.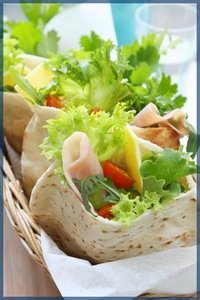 In fact the pita bread is ideal for this situation, where you can create pita pockets by cutting off the top of the bread circle and fill it with fillings of your choice. 
If you have a look at the pita pockets on the left you can see that these are filled with tomatoes, celery, lettuce, ham and cheese. 
If you want to add mayonnaise to these, do this just before eating, or else the mayonnaise will end up soaking through the thin walls of the pockets and you will end up with a soggy mess.
Thinking of other interesting fillings and picnic food ideas for your pita pockets for your picnic lunch? Another great filling is using roasted Mediterranean vegetables like courgettes, egg plants, tomatoes, pitted black  Robyn Mackenzie | Dreamstime.com                    olives and some garlic.
Again, because that these vegetables will have been fried in olive oil, these pockets should be assembled just before eating. Drizzle olive oil over the lot just before serving - delicious!
Cheese is another easy picnic food idea. Easy to pack in your picnic baskets, whether it is a lovely chunk of cheddar or a soft cheese like brie to finish off the meal with some grapes, dried apricots, dried figs and biscuits. 
A cream cheese is also the base for many quick dips which can be made at home before hand and then used to start your picnic with either fresh vegetables such as celery sticks, carrot strips, cucumber, red and green peppers and other crudities, or with either thick-cut crisps and biscuits.
Essential List for What to Pack for a Picnic
What you pack with your picnic baskets really depends on who is going on the picnic. If it is just you and a significant other, then pack your basket, a blanket to sit on, a small table cloth for your food, 2 glasses for your wine or drinks (preferably non-breakable), the corkscrew - How many times have you forgotten that? :) - and a flask of coffee for the afternoon. If you are going on a picnic with your family, then your list would include far more. However below is a standard list of what you should be taking with you.
salt and pepper
small pat of butter
bread
fruit
your 4 dishes
drinks
tea/coffee flask
corkscrew
tin opener
plates
eating utensils
paring knife
cutting/cheese board
cups and/or glasses
small tablecloth
serviettes
small blanket
A cool box (Esky if you are an Aussie, Chilly Bin if you are a Kiwi!) to transport food that may perish in high temperatures. This is imperative as fillings like ham can spoil very quickly.
games for the kids and big kids alike: frisbee, ball, chess etc.
suntan lotion
insect repellent
A fly swatter!
Of course, not an essential, but so nice for having a picnic in style, and a perfect do it yourself project for you own backyard, and that is some plans showing you
how to build a picnic table
.
---
---
PICNIC FOOD IDEAS AND SUMMER PICNIC RECIPES
My childhood memories of picnics often included mum's homemade ginger beer. Ginger Beer is so simple to make although it will need to be made at least a week before your outdoor event.
So, I am going to leave you this Homemade Ginger Beer recipe and wish you a happy picnic! If you are looking for some more quick and easy recipes for your picnic, including a Beer Bread recipe that does just the trick, then visit our Country Cooking Recipes page.
SUMMER PICNIC RECIPES for Homemade Ginger Beer
Makes 4 x 1.2 litre bottles
Yeast Mixture
1 teaspoon dried yeast (do not use a brand that has bread improvers added to it)
1 tablespoon sugar
1/2 cup warm water

Ginger Beer Mixture

2 cups sugar
2 tablespoons ground ginger
1 teaspoon tartaric acid
2 litres hot water
juice and grated rind of 2 lemons
2 litres of cold water
A handful of raisins
Method:
Stir the yeast mixture ingredients together and leave for about 10 minutes. Place the sugar, ginger and tartaric acid and raisins in a clean bucket. Pour in the hot water and lemon juice, and stir to dissolve the sugar. Add the cold water, cool to lukewarm and add the yeast. (It is important to wait for the water to cool down because if you don't and you add the yeast you will kill it, and your ginger beer will not be nice at all.)
Cover the bucket with a clean tea towel for about 24 to 36 hours. Strain equally into 4 thoroughly clean glass or plastic 1.25 litre bottles. Fill the bottles to within 5 cm of the top with extra cold water and add 1 teaspoon of sugar into each bottle. Make sure that each bottle has a few raisins. 
Screw on the tops and shake each bottle to dissolve the sugar. Leave the bottles to stand in a warm place for between 2 - 5 days. When the raisins start rising to the top of the bottles then you know that your ginger beer is ready to be refrigerated. Refrigerate to chill and your ginger beer is ready to be drunk. The tops will have to be loosened every second day or so until they are drunk as gas will be trapped in the bottles and needs to be released. Ginger beer, made like this, should be consumed within 3 weeks.
If you are looking for a recipe to make ginger beer from a mother plant then have a look at our Ginger Beer page for more details.
---
SUMMER PICNIC RECIPES for Homemade Iced Tea
For 8 cups of delicious iced tea, place in teapot one generous tablespoon of good tea (never buy a cheap, inferior grade of tea).

Pour over the tea leaves 4 cups of freshly boiled, scalding hot water; let stand five minutes, keep hot (not boil), strain from the leaves into a pitcher, then pour over the tea leaves another 4 cups of hot water, allow it to stand a few minutes, then strain as before.

Add the juice of one lemon and sugar to taste. When cooled stand on ice and add chipped ice to tumblers when serving.
---
SUMMER PICNIC RECIPES for Vodka Watermelon (For Adults Only! :) )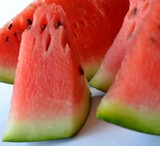 Take a large watermelon (about 10 lbs) and the night before the picnic cut a plug into the watermelon the same diameter as the vodka bottle and core out some of the flesh to a depth of about 2 inches.
Take a long-handled wooden spoon and push it all the way down to the base of the watermelon. Now take a bottle of vodka (I like Smirnoff) and pour the vodka into the plug and allowing the liquid to go through the melon flesh.
Put the plug back into the melon and refrigerate. Eat the next day.
Great picnic food ideas are so simple!
---
SUMMER PICNIC RECIPES for Italian Tomato Salad
Thinly slice large, ripe tomatoes. Slice 2 balls of mozzarella thinly. Layer the tomatoes with the mozzarella and add a handful of fresh basil leaves. Drizzle with olive oil and season to taste just before serving.
---
SUMMER PICNIC RECIPES for Potatoes in Horseradish Mayonnaise
Take 1 kg baby new potatoes. Boil until tender. Drain and refresh under cold water. Remove skins when cold. Take about 1 cup mayonnaise and add enough horseradish cream to suit your taste. (About 1/4 cup). Pour over potatoes.
SUMMER PICNIC RECIPES for Easy Potato Salad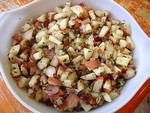 Cut up into slices 6 large, peeled, 
boiled potatoes while hot
; add 2 tablespoonful each of chopped red onion and parlsey. Also add 2 boiled eggs, chopped.
Now pour in a liberal quantity of good mayonnaise. If the mayonnaise appears too thick, thin with a bit of pouring cream. Add salt and black pepper to taste and toss lightly so as not to break the slices. 
*
Cold boiled potatoes do not make a good potato salad.
---
SUMMER PICNIC RECIPES for Brie with Iced Plums
This is one of my favourite picnic food ideas as it is so simple! Take a wheel of Brie and allow to stand at room temperature for 12 hours before serving. Combine ice cubes and plums 30 minutes before serving. Serve cheese with crackers. Iced grapes can be used together, or as an alternative to the plums. Pack the ice in a vacuum flask to prevent melting when transporting it to the picnic.
---
SUMMER PICNIC RECIPES for Smoked Salmon Roll-ups
Take slices of smoked salmon, fill with cream cheese. Roll up and slice into 2 inch fingers. Keep cold before serving.
---
SUMMER PICNIC RECIPES for Ham and Melon Roll-Ups
There is something about melon and ham as a combination that just works. If you want to really splash out, you can wrap your melon with prosciutto.
This is a no-fuss, quickly made food that will be well received by all. Of course you can make the slices of melon as large or small as you like.
Although you can use both the green and the  orange melons, I personally think the orange melons work better. They are sweeter and tastier.
---
SUMMER PICNIC RECIPES for Cold Meat Medley
Buy a pre-cooked chicken or do your own. Slice up at home. Plate this with a variety of cold cuts; ham, beef, salami etc. Add gherkins, olives, pickled onions.

---
Two very memorable picnics stand out in my mind. One was where we ate cold chicken and sun-ripe tomatoes, drank champagne and finished up with strawberries - no utensils in sight, while sitting on the bank overlooking the lake at Blenheim Place, England. The other was eating a very humble lunch of ham rolls sitting in the shadows of the best preserved Greek temples outside of Greece at Paestum, south of Naples. Although the meal was very simple, the ambiance of where we were made it very special. Which just shows that simple and easy picnic food ideas don't need to be complicated to have a successful picnic!

We had the place to ourselves as Paestum is largely ignored by tourists who would far rather risk life and limb careering up and down the Amalfi Coast trying to avoid wide tourist buses and crazy Vesper drivers. It was to our advantage!

Simple picnic food is all you need. Memories of where you have your picnic and with whom, will make it that special occasion you were hoping for. Enjoy!







---
You can Add your Own Comments for Picnic Food Ideas Here! 
We have lots of pages where you can contribute to throughout this website. We love hearing from our readers, and hope you will be one of those we hear from too. Feel free to add your own comments relating to summer picnics or submit your picnic food ideas here.
Don't miss out on our latest news and articles. Sign up for our free monthly e-zine!