A country home can be decorated in a number of different styles. Here we give you some home decorating ideas and photos that illustrate some of the decorating styles that exist for interior design.

Really, when starting your country decorating project you will need to look at the following to achieve that particular look you are after:

For some of you, you may be surprised by the last point. Surely a country home is a country home? Well, no it isn't and there are several decorating styles that you will need to choose from which ultimately,  will reflect your personality.

Are you looking for soft colors and florals with small prints, or perhaps you are wanting a Mediterranean country home with bold colors of yellows, oranges and terracottas? Or are you looking for a more early country look that is perhaps more simple, based on the Shaker furniture, straight lines and uncluttered?

We hope to cover all of those home decorating styles, and more in time to come, but first let's look at what makes up the style of a very generic country home and how you too can adopt this look for your own homes.


You don't have to live in a rambling farmhouse like the one above to have the country home decor you are after. In fact, whether you live in a high-rise apartment or in a bungalow in the suburbs, you can always bring a little countryside into your homes by just choosing appropriate materials and elements.
So what country decorating ideas can be give you to achieve that country look?
Patchwork quilts on wrought iron beds, braided rugs on wooden floors, painted furniture in pastel colors and soft drapes are just some of the simple ways in which you can achieve this look.
Country decorating is all about comfort. It is about creating a warm, inviting space for people to come into and feel immediately at ease. It is not a show house. It is not a house where people will fear where they put their feet or what they touch.
A country home is where you can smell the bread in the
woodstoves
, see the rewards of a bountiful summer harvest sitting in jars on shelves and dressers in the
country kitchens
,  the scrubbed pine table and the dried herbs hanging from the beams. The copper gleams, wooden spoons and whisks sit upright in a stone jar, and suddenly we are transported back to the kitchens of our grandmothers of long ago.
Country Decorating Styles
As mentioned earlier, how you decorate your home will depend on your personality, the colors you like and the style within this type of genre you want to create. There are so many different types of country decorating styles. Here are just a few:
Italian country decorating with terracotta floors, stone walls and soft yellows
French country decorating with stone walls and lilac blue shutters
Scandinavian country decorating with pale wood, and soft colors
Colonial country decorating with spoke-backed wooden chairs, patchwork quilts and simple lines
Victorian country decorating with heavily brocaded curtains, embossed wall papers and objet d'art from foreign travels and expeditions
Rustic country home decorating that embraces the great outdoors and is a celebration of honest wood
Italian Country Home Decorating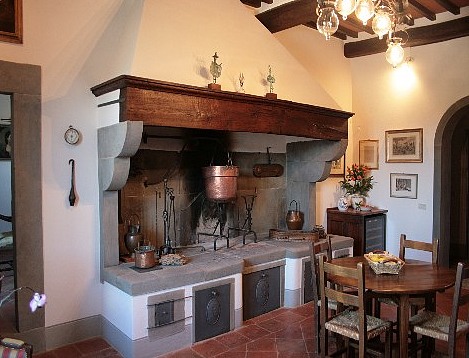 A traditional Tuscan country kitchen


The Italian country style is more than just decorating, it is a way of living. It is a timeless look based on fairly neutral, earthy background colors of red terracottas and sunny ochers. The Italian style centers around the strong use of natural materials, especially wood, stone and black wrought iron.
Home life tumbles out of the country home into the sunshine, onto terraces, balconies, under the shade of grapevines or olive trees. Eating al fresco takes place over 3 hours of languid eating and enjoying each other's company.
The strong sun is shut out with wooden shutters in summer, and keeps the cold, biting winds out in winter. Window boxes and terracotta pots filled with bright red geraniums or pretty pelargoniums are a splash of color against the stone walls.
Inside the chestnut wooden windows usually remain undecorated. Honest furniture sits comfortably on terracotta floors and the thick stone walls keep the house warm in winter and cool in summer. If the walls are plastered, they are either whitewashed or painted in earthy colors that match the surrounding sunburnt hills.
Finally, under the terracotta roof tiles lies either a beamed ceiling made of thick chestnut tree trunks, roughly hewn and spanning large lengths, or a beautiful vaulted ceiling of dusky pink and red homemade bricks.
French Country Home Decorating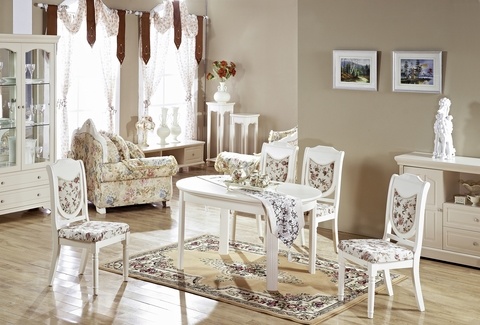 A French Country Home

France is a huge country, and each region could call their own way of decorating their homes as that which embodies the French country style. However, for most of us, we are more familiar with the south of France and the Provencale style that has, for many, become what is generally known as a French country style.
It is a style dominated by pales ochers, lilac blues and creams and a sophisticated country style decor that exudes an understated elegance. This country style decor would look appropriate in a humble farmhouse or a handsome chateaux.

The French style stands for:
Charm
Elegance
Grace
Traditions
The
charm
is in the way the French are able to mix various textures and fabrics so that they look both invitingly warm and sophisticated at the same time.
The
elegance and grace
come from the level of detail on how the soft furnishings, upholstery and curtains are treated with piping, tassels, tie-backs and fringes.
Walls are often painted, papered, upholstered or even decorated with
trompe l'oeil
 to create interesting and quirky optical illusions.
Fabrics billow everywhere, hanging from windows and pooling onto polished floors, valances on beds and pelmets, covers for wooden tables, cushions and seats on furniture.
Finally,
the tradition
of French country style comes together with the artifacts and furniture that is usually a collection of family heirlooms or preloved furniture picked up at antique markets and stores, either painted white or left highly polished.
Scandinavian Country Home Decorating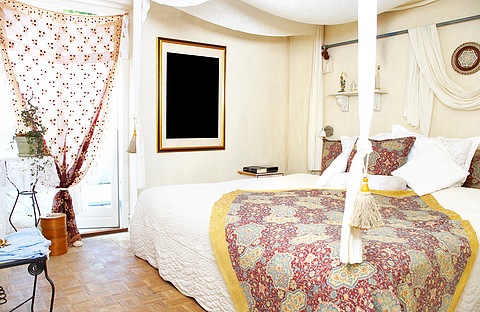 A bedroom in a Scandinavian country home
When we refer to the
Scandinavian country style
we include the 4 countries Norway, Finland, Sweden and Denmark that make up Scandinavia. All of these countries have very long nights and short days during winter, and so it is not surprising that the Scandinavian style is made up of colors that are light, and this includes the wood of the furniture which is either painted or untreated.  
Bare floor boards, uncluttered spaces, hand stenciled walls and even decorated painted furniture helps make up the Scandinavian style. And the same colors and decorative treatments can be found in the homes of rich and poor alike. Patterned fabric, gingham and checks of all sizes is used extensively in the Scandinavian country style.
There is the same love of wood and painted decoration, the same respect for handcrafted features and items and the same sense of peace and harmony that is created with this style.
Colonial Country Home Decorating
A bedroom in the Classical Colonial Style


The origins of the early Colonial style has its roots in the Elizabethan times of England, as it was during this time that the Pilgrims came to America and brought their furniture and possessions with them.

And many would be surprised to learn that the orginal colors used by the early Colonials were bright. However, by the time we got to see them in their original state most of the surfaces had been toned down through age and sunlight.

The Colonial style is just like the other country decor we have been writing about here; it makes use of:


reliance on natural finishes
an appreciation for folk art and country crafts
rough textiles
wood
bringing the outside, inside
Many of the soft furnishings are decorated with fancy needlework; crewel embroidery, candlewicking, applique and cross-stitch were used extensively.

Quilts were a way of using up odd scraps and reusing garments that for one reason or another could no longer be used. These were beautifully crafted and often handed down from mother to daughter.

Early colonial style of interior decorating developed from humble beginnings; low ceilings, plaster walls, exposed timber beams, wide plank wooden floors and sparse furniture. This is was the Rustic Colonial era.

Later down the track, a Classical Colonial style developed after homes became bigger and more refined with painted gunstock corner posts, boxed beamed ceilings, raised panelling and wide, pine plank floors.


Victorian Country Home Decorating
A dining room in a Victorian country home

The dark and often quirky style of Victorian interiors suits many types of homes from tall, Georgian homes to low-ceilinged modern apartments.
The Victorian style of decor is typically dark, with highly patterned surfaces. Papered walls are covered with a collection of many paintings or photographs in one area,  with large mirrors adorning the walls.
Furniture is large, and heavy, dark and often decorated with inlay, and to go with the highly patterned floors are highly patterned curtains.
As it was during this time that people started to embark on foreign travel to exotic places, many items were brought back from their travels and displayed, including a craze of animals, birds, insects and reptiles killed and then sent to a taxidermist to be stuffed and placed in glass display cabinets.
Rustic Country Home Decorating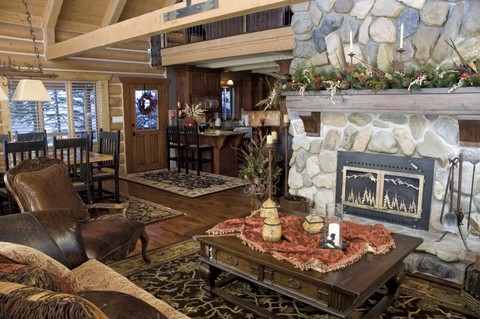 The interior of a modern rustic country home


Finally, there is rustic country home decor, which certainly doesn't mean rustic furniture crudely nailed together sitting at some rickety table that looks as if it is about to collapse at any moment, as you can see from the picture above. This is an example of a modern rustic country home that mixes rustic with sophistication. Whatever you choose within this style, a rustic home is a celebration of the abundance of nature.
Rustic country home decor is more about bringing the outside, inside. It is about using a lot of sustainable wood for doors, windows and walls. Mountain log cabins are a good example of this style of architecture and decor.
The choice of fabrics for sofas and seats lends itself to natural materials, particularly rough weave cloth, leather or woven grass seats.
Bear skins on floors, deer heads on walls and antlers used as door handles or used in light fittings are not out of place here. Native American style carpets in natural rough weave compliment the stone, slate or wooden floors.
Stone fireplaces are the norm that mixes well with the wooden interiors and exteriors. And the roofs are usually treated with wooden shingles or slate.
Important Elements for Country Home Decorating
Each of these country styles is different, and yet they are all country homes within their own right. There is no right or wrong way of putting together the country style.
However, whatever style of country home decorating you decided to use, there are some simple rules to follow:
Only use natural materials - wood, stone, wrought iron, leather, woven materials, brass, copper etc.
Decorate in a style that is sympathetic to the character and age of your house
Choose furniture that looks comfortable and inviting making it a practical, livable space
Choose colors that reflect nature; natural tones of white, cream, stone, earthy reds and ocher
Choose accessories that will build on the foundations of your country style that are handcrafted and made from natural materials
Your Country Home Garden
It is not just the inside of your home that needs attention. Take good care of the outside areas too.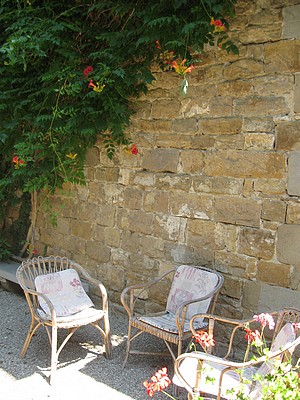 Create cottage gardens that have spaces that flow from the inside to the outside, and filled with pretty annuals and perennials
Grow some annuals in a disused wheelbarrow, or old milk churns
Use some old leather boots for growing herbs or growing strawberries in
Build bird houses in your country garden and feed wild birds over winter
Whatever country home decorating you choose, you will have created a space that inspires feelings of warmth and comfort. Your country home is a celebration of
country living
and getting back to the basics of what is important in our busy lives.
Country homes evoke feelings of a slower pace of life and a bygone era where the home was a safehaven, where all were welcome, whether you were passing through, or stopping for a while. It's all about creating memories that will last for generations to come.