Canadian Farms - Accommodation, Farmers Markets, Farm Services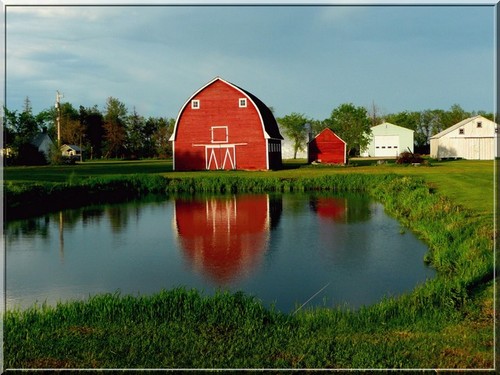 Canadian farms
offer a wealth of vacation rentals for a fabulous farm vacation that the whole family will enjoy. Find your ranch accommodation, farmhouses and cabins for a cheap holiday in a peaceful and relaxing environment. Don't forget to buy farm fresh food from the local farm store you will find in the areas of your choice.
Many Canadian homesteading families have been farming for generations, but life is hard for many of these families. Therefore, by buying local we can support our farmers and help make their lives a little easier.
This is a win-win situation as by buying local we are getting a far superior product that has not taken endless air-miles to get to our plates, nor has it sat in cold storage for weeks on end losing valuable vitamins. What you get is non-intensively grown, or organic fruit,
vegetables
, dairy products, and meat that are products of ecological agriculture.
What to See and Do in Canada?
When you book your cottage rentals, and finally get away on your country vacation, what will you see? Canada is a huge country with plenty to see and do. Make a stop at
Moose Jaw
in Saskatchewan. With a name like Moose Jaw, how can you go wrong? They have great ice cream and a fun local theater company that is uniquely Canadian. It is also an area for hunting. White tail deer, mule deer and antelope are in abundance for the hunting season. For hunting duck and goose, there are plenty near
Old Wives Lake
,
Pelican Lake
and sloughs and lakes south west of Moose Jaw. You can also find sharp-tailed grouse and Hungarian partridge in the same regions.
Next stop is
Climax, Saskatchewan
which is another winner in nomenclature! It's located in the middle of nowhere, has a population of about 180, a diner, a general store and a post-office. Its claim to fame comes from a television program where winners won some real estate here! And that was the first prize! The town also features in the board game Trivial Pursuit, which asks what features on the reverse of the town welcome sign; the answer is: "Come again!". Tourism in the area includes the
Grasslands National Park
35 minutes to the East, the scenic
Frenchman Valley
to the north and the area is a photographer's delight with ghost towns, grain elevators, natural wonders and wildlife throughout.
You cannot visit Canada without experiencing her majestic landscapes, but naming any one spot is not easy, as there are so many that you could visit from your Canadian farm. However, if one had to name a few it would be
Algonquin Park
, Ontario's all you could want in terms of lakes, moose, canyons, forests, beaches and more lakes. This is a prime place for outdoor activities. If you are looking for something different, try your hand at venturing into the interior for a canoe extravaganza! But watch out for the bears! :)
Once you have had your full of fresh air and pine needles, head on to
St. Albert, Ontario
where you will be able to visit an amazing cheese curd factory. If you are planning your stay on a Canadian farm near Ottawa, Ontario or Gatineau, Quebec during winter, then you are in for a special treat. This is the time for
Winterlude
where both cities celebrate winter with ice sculptures, public skating, musical concerts etc. Usually held over the first 3 weekends in February, your family will thoroughly enjoy the experience, as well as eating '
Beaver Tails'
no - not actual beavers! - but a delicious local pastry that is deep fried and one associates especially with the
Winterlude Festival
.
You will find outlets that will enable you to buy direct from your local farm shops, gate sales and market details can be found here. Don't forget to try some Maple Syrup products while you are there.
Is it time to spend some quality time in the country with your family? Or perhaps you just need to escape from the city for a relaxing weekend in the country. Have a look at our Farm Holidays page where you can find accommodation for Bed and Breakfast, Farm Stays, Self-contained cottages and country hotels.
Discover Southern Ontario, Canada
Information for those who are planning a Canadian holiday, or considering emigrating to this country, info about the Nature & Wildlife of the area, the cities, small towns, and quaint villages of the area, climate and economy.
---
Did you find this page helpful?
Sharing is a way of saying, "Thanks!"
Follow Us and Keep Up to Date
---
FARMS WORLDWIDE
We also host farms from the
UK,
the
USA
,
New Zealand
,
Australia
,
South Africa
,
Europe
.
If you have Canadian Farms that you would like to showcase visit our Farm Forum. You can upload a picture and brag a little. We don't mind! There are other individual farming discussion boards to contribute to through this forum, as well as a Craft Forum where you can share your favorite recipes and also get some crafting ideas for various arts & crafts.
---
If you would like to advertise your Canadian farm for free because you need some help on the farm to pick those crops, or whatever, see our section on farming jobs worldwide. Or, if you want to advertise your farm produce, farm accommodation or a farm service at a nominal rate, look at our section Advertise your Farm. Please feel free to Contact Us for any further inquiries.
---
CANADIAN FARM, HOMESTEAD & RANCH ACCOMMODATION IN:
---
Feel free to browse through the books below on Canada. You may find something of interest for your next trip to Canada.
You can Add your Own Comments and Pages on Canadian Farms Here!
We have lots of pages where you can contribute to throughout this homesteading website. We love hearing from our readers, and hope you will be one of those we hear from too. Look around our homesteading website. If you have any comments or questions, please feel free to contact us.
Leave a Comment
Do you have anything that you would like to add after reading this page? We would love to hear your thoughts. If you can add additional information to what has been written here you will be adding value to the website! No need to have any special skills - just type and submit. We will do the rest!
Don't miss out on our latest news and articles. Sign up for our free monthly e-zine!