Green Living Ideas for Recycling and Reducing our Carbon Footprint
Green Living is all about recycling and harnessing natural, sustainable resources, living a simple life and knowing how to reduce a carbon footprint. And while we are talking about carbon footprints, use our carbon footprint calculator to see how big your footprint really is.
Recycling = This is the keyword to creating environment that is eco-friendly and for going green. 
Whether you are a flat-dweller, a home owner or homesteading, we can all do our bit to help prevent more damage to our already ailing world. Why wait - go green today! See our section on Ways to go Green. We should be aiming at simple living, being self sufficient, ways to recycle, and ways to go green in your home and in your garden.
Of course, one great recycling idea is to go
Straw Bale Gardening
It is an ideal solution for people living in places with no soil, small spaces or who want to recycle their straw bales at the end of the season as mulch and compost an existing garden that may have poor soil.
And these days, building a strawbale house is cost-effective and a good example of green architecture. Eco-friendly architecture comes in all sorts of forms these days from mud brick homes, to using sustainable timber. However, more people are looking for an alternative option that is cheaper and quicker to build - having a
straw bale house
.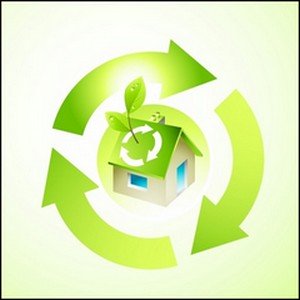 I remember as a teenager in the 70's how distressed and disturbed I was when we studied pollution around the world. But what has happened between what we knew then, and what we know now?
The difference is that we knew it was there, but we did nothing about it. Now, we acknowledge that the damage to the environment has been done, but we if we all work together, and look at how we contribute to minimizing even more damage to our environment, we can make a difference.
We hope that you will find this growing resource an inspiration for green living and living a more simple life. Find
ways to save water in your house
. How to build a composting toilet of your own. We will discuss
rain barrels
, solar power, wind turbines and
living off the grid
.
If you are worried about the quality of your drinking water why don't you read our article on water purifiers that use the sun to power a
personal solar desalination device.
Leave messages for family members or roommates on a reusable message board.
---
GREEN LIVING TIPS FOR YOUR GARDEN
12 Tips on
water conservation
in your garden and how to cut those water bills at the same time. And while we are talking about conserving water in your garden, how about
putting up a water storage tank
or buying some
rain barrels
to catch the rain and put it to good use.
Use vinegar in your garden to eliminate pests and critters the natural way. For those of you who don't like using pesticides and insecticides.
Gardening with Vinegar
is the perfect solution. Also see our section on
natural pesticides
.
Take your food scraps, leaves and lawn clippings and any prunings and turn them into compost. Learn all about Worm Farming and how to set up a simple system to make compost within 4 months.
---
GREEN LIVING FOR YOUR HOMES
More than 200, 000 Americans alone live-off grid without the use of a municipal electricity supply. They harness the sun's energy through solar power, and the wind's currents using wind turbines. Visit our
Living off-grid
section for more details.
Try our
helpful hints and household tips
and
cleaning with vinegar
to reduce the chemicals in your home and making your own
homemade cleaners
.
---
---
ALTERNATIVE FUELS: RUNNING A CAR ON WATER - NO PETROL!
The cost of gasoline and petrol these days is ridiculous, unless you live in Middle Eastern countries where it is still reasonable. So why is gasoline and petrol so expensive, and do we go back to riding bicycles and donkey carts, or can we use an alternative bio-fuel. I don't believe in the concept of bio-fuels, because you are using space to grow fuel that should be used to feed people, but what if you could run your can on water and gas?
Well you can!
Run Auto With Water
works on 99.9% of vehicles including hybrids, diesel, gas, and petrol. Your vehicle warranty is preserved and you can add or remove the system in minutes. This system is SAFE for your vehicle and requires no engine modifications.
Click Here!
for more details of this fascinating breakthrough, and stop paying through the nose to run your car!
---
GREEN LIVING RESOURCES
Not only do we have an online Green Living magazine for you, but we also have instructional books for sale, rain barrels, solar panels, wind turbines and composting toilets for sale through our Country Living Books section.
---
You can Add your Own Comments and Pages!
We have lots of pages where you can contribute to throughout this homesteading website. We love hearing from our readers, and hope you will be one of those we hear from too. Look around our homesteading website. If you have any comments or questions, please feel free to contact us.