Free Chicken Coop Plans - 8x 8 Foot Wooden Chicken Coop
Free chicken coop plans are sometimes hard to come by. However, we are very lucky in that the University of Tennessee has some wonderful free plans available for a variety of farm buildings, including this one which we have for an 8x8 foot chicken house. Furthermore it also comes with all the dimensions, so there is no guesswork when building.
Raising chickens has just become a whole lot cheaper. By following this free poultry house plan you will be saving yourself a bundle if you had to buy the same thing at your local agricultural supply store.
If you have had a look at it, and it still doesn't quite match up to expectations, think about converting an old child's Wendy-house into a chicken house. You will be amazed at how easy it is to convert.
There are several designs available; with your free chicken coop plans to build, but if you need some others, plus some further information on keeping chickens see below - Enjoy!

Your Free Chicken Coop Plans in .pdf can be downloaded here.  Here are some more chicken coop plans. These coops for chickens are of the following dimensions:
Chicken coop 20 foot x 20 foot

Chicken coop for 50 - 80 hens

Chicken coop 8 foot x 8 foot for 15 - 20 hens
See the .pdf for plans for chicken coops.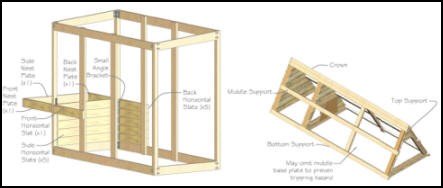 If you like the above plan here is another option: Here you can get to build a variety of chicken coop plans including a barn-type chicken house and run.
OR this chicken coop is one that can be built in just 3 days, along with access to 50 chicken coop plans Get your 50 Chicken Coop Plans here! Plus extensive information on raising chickens.
Did you find this page helpful?
Sharing is a way of saying, "Thanks!"
Follow Us and Keep Up to Date
Other Chicken Management Resources
We have other resources on chickens that may be of interest to you.  
Bantam Chickens
are ideal to keep if you live in the suburbs. But then if you want to keep chickens just for eggs then you need to know the right
chicken breeds for egg production
.  
Go from Chicken Coop Plans back to How to Raise Chickens
Go to Feeding Chickens
Go to Cleaning Chicken Pens with Fire
Go to Chicken House Plans
Go to Backyard Chickens
Go to FAQ Raising Chickens
Go to Butchering Chickens
Go to Caponize Chickens
Go to Coccidiosis in Chickens

Go to Natural Remedies for Sick Chickens
Go to Self-Sufficient Living
Go to Chicken Recipes
Go to Farm Animals
The University of Missouri has a lot of information on chicken management.
---
BOOKS FOR BUILDING POULTRY HOUSES
---
You can Add your own Comments, Tips and Ideas on Building Chicken Coops Here!
We have lots of pages where you can contribute to throughout this homesteading website. We love hearing from our readers, and hope you will be one of those we hear from too. Look around our homesteading website. If you have some
comments, tips, or ideas on building chicken coops
of your own, please submit them. All you need to do is type and submit. We will do the rest!
Leave a Comment
Do you have anything that you would like to add after reading this page? We would love to hear your thoughts. If you can add additional information to what has been written here you will be adding value to the website! No need to have any special skills - just type and submit. We will do the rest!
Other Comments
Click below to see comments from other visitors to this page...

How to Keep Rats out of the Chicken Coop 

I tried all sorts of ways in trying to keep rats out of my chicken coop as they were tunnelling their way into it at night. I tried by filling in the holes, …
Old Garden sheds as henhouses 

Sometimes you can get free or inexpensive garden sheds on Kijiji that are so easy to convert to henhouses too! By saving on the bulk of the building …
Homemade Wine Barrel Chicken Coop Not rated yet
A wine barrel makes and excellent chicken coop and offers good protection for a hen with a brood of chicks, if it is arranged as shown in the sketch. …
---
Don't miss out on our latest news and articles. Sign up for our free monthly e-zine!