Mulberry Trees: How to Grow, Prune and Make Mulberry Wine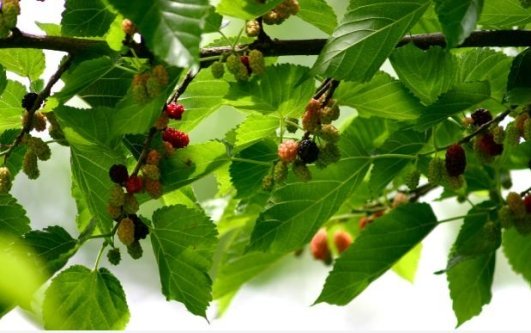 Mulberry trees take me back to my childhood to a day where my poor mother was beside herself to see me in my Sunday best covered from head to toe in mulberry juice. It was a dress she had made just weeks before, and which was absolutely ruined. There is nothing worse than mulberry juice for mums and clothes, but oh how sublime for children in their innocence!

Growing Mulberry Trees: Suitable Climates
Growing mulberry trees can be done in most climates. I have even grown a mulberry tree very successfully in a desert climate. They love any warm climates, and will survive anywhere as long as the climate is not excessively cold. 
Growing Mulberry Trees: Soil Conditions
They also like a pH soil of 5.5 - 7 and preferably a loamy soil. But even that you can compromise on. They are quite hardy plants. But the species that you want is the black mulberry for its fruit. The white mulberry has very insipid fruit that is only grown for ornamental purposes.

Growing Mulberry Trees: Growing Conditions
Mulberry trees are not trees you want to plant in small gardens. They can reach heights of between 30-50 feet over 20 years of growth. However, if you do have the space, they make wonderful trees for children to climb once established are great fun for the kids if you ever want to keep silkworms!

Mulberries are also self-fertile, so you don't have to plant more than one tree to get the soft, luscious fruit every year. Best of all, you don't have to wait 20 years before it begins to fruit. Your tree will fruit the very first year, and in each successive year the crop will be better than the last. It will fruit well for at least 40 years.

Growing Mulberry Trees: When to Plant
The best time to plant bare-rooted trees is during the winter when the plant is dormant. However, because of the cold, it is best to be extra careful when back-filling the hole that you don't damage the roots that can be quite brittle and fragile. Other plants can be planted in the early spring. Make sure that the hole has a good amount of compost, well-rotted farmyard manure and some blood and bone to give it a good start.

Growing Mulberry Trees: Where to Plant
If you live in a windy area, it is better to find a sheltered spot for it. Young trees don't have strong limbs and could easily be damaged. They also like to be well-watered, especially in the first 2 years as their root system is  still fairly shallow.

If you live in a hot climate, it would be best to conserve as much water as possible and therefore a layer of mulch would be highly beneficial for your plant. Water well when the fruit begins to form if you live in a hot climate, because if you don't, your fruit will fall before they have even begun to ripen.

To look after your tree dress with some compost just before it fruits and after it has finished.

Growing Mulberry Trees: Pruning
If you need to prune your tree in anyway, you should do so in the winter months, as your tree will bleed during the times when the sap is rising, and you don't want that.

But as mulberry trees can  grow quite high, it is worth keeping the tree short enough for you to be able to harvest the berries without too much trouble. If you don't you will lose the berries to the birds, and you will have to make do with the fruit from the lower limbs.

Growing Mulberry Trees for the Fruit
There is no point in growing mulberries without using the fruit. And let's face it, how many mulberry pies, desserts or bottles of jam will you go through before you get to a stage that you don't even want to look at another mulberry.

Well, what about making mulberry wine? It isn't as difficult as you think, and certainly helps to use up a glut of mulberries in a very pleasant way.

Mulberry Wine Recipe
Pick your mulberries on a nice, sunny day at the time when the berries have just changed from going from red to a shiny black.

Now spread out the fruit thinly on a clean table or flat surface for 24 hours.

Gather them up in bundles of cheese cloth and squeeze the bundles over a large bowl so that you are able to get all the juice out.

Another way of doing this is ny spinning the bags and keep rotating them in one direction so that the bag is drawn up tight, presing on the fruit and allowing the juice to run freely into the bowl.

Now, boil a gallon of water for every gallon of juice and put in an ounce of cinnamon bark and 6 ounces of sugar.

Stir until sugar is dissolved and remove from the heat.  Skim the water, strain it, and then add the mulberry juice.

Now add a bottle of good sweet wine to the mulberry juic, a Riesling it perfect,  and place the mixture in a small keg. Leave for 5-6 days to settle. The draw off the mixture into bottles and leave them in a cool place until required.



 
---
You can Add your Own Comments and Pages!
We have lots of pages where you can contribute to throughout this website. We love hearing from our readers, and hope you will be one of those we hear from too. Feel free to add anything you like related to growing mulberry trees. You can do that by writing in the form below.
Leave a Comment
Do you have anything that you would like to add after reading this page? We would love to hear your thoughts. If you can add additional information to what has been written here you will be adding value to the website! No need to have any special skills - just type and submit. We will do the rest!
Other Comments
Click below to see comments from other visitors to this page...

Don't miss out on our latest news and articles. Sign up for our free monthly e-zine!