Whether you call these oat bars, flapjacks or crunchies, they are tasty whatever you call them in your part of the world.
Who doesn't like crunchie bars? Mum used to make these for me as a kid, and I still love them. So thought I would pass on the recipe.
Kids love them, and an added bonus is that they are also fairly healthy. I say fairly, because there is fair amount of sugar in them. However, you could cut that out and replace it all with honey if you wanted to.
Recipes for Oat Bars
4 cups (11.5 oz) rolled oats
3 cups (9 oz) desiccated coconut
1 cup (4.5 oz) plain flour
1 1/2 cups brown sugar
1/2 teaspoon salt
1 1/4 cup butter
3 tablespoons golden syrup or honey
2 teaspoons baking soda (bicarbonate of soda)
Step 1.  Ingredients for Making Oat Bars
Make sure that you have everything you need first. Here you can see all the necessary ingredients to make your first batch of oat bars.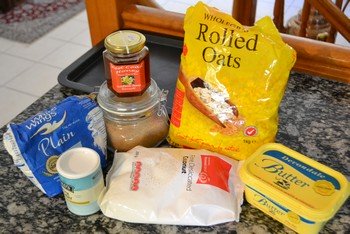 Step 2. Measure your Ingredients
Carefully measure out the oats, coconut and the flour.
Step 3. Mix dry Ingredients Together
Next measure your sugar and baking soda out and then mix all measured dry ingredients together.
Step 4. Melt your Butter
Melt your butter in a pot over a low heat so as not to burn. Once melted remove from stove, add the honey and the baking soda. Mixture will froth. Now add to your mixture.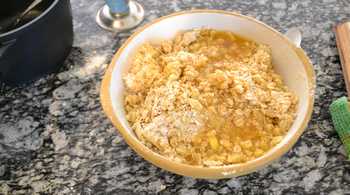 Step 5. Baking Tray Preparation
You will need to grease your baking tray well, so that the oat bars don't stick to the bottom.
Step 6: Oat Bar Mixture
Start placing your oat bar mixture on the baking tray. Make sure that the mixture is evenly placed on the tray.
Step 7: Firm the Mixture

.

Continue to firm the oat mixture down so that it is well compacted. If you feel that you need more butter, take the mixture out and add more butter, and then start again.

By making sure that the mixture has enough butter and is well compacted your bars will be firm and will not crumble when cut.

Step 8: Baking your Oat Bars
Make in a moderate oven for 20 minutes or so, until golden brown. Then take them out and while the mixture is still warm, start cutting them up into individual bars.

You can cook them for longer at a cooler temperature if you like. It really all depends on how crunchy you want your oat bars to be. The longer you cook them the harder they will be.