When growing mushrooms best results are gained in a dark, cool, draught-free environment. A shed or cellar is the perfect location, but if you don't have these try growing them under the stairs, under the house, or in the bottom of a cupboard. Learn how to grow mushrooms the easy way!
Compost for Growing Mushrooms
The
best compost for growing mushrooms
is from horse manure or chicken litter mixed with straw. The correct ratio is using 2 four-gallon drums of
manure
to 1 straw bale.
You will first need to rot your compost down before you can plant the mushroom spore. And to do that you need to leave your mixed manure and straw for about 5 days untouched. On the 6th day turn the heap thoroughly making sure that the outside of the
compost
is now on the inside. Keep turning it in this way for another 5 days for at least 3 to 4 more time in order for the compost to break down.
You may need to add a little water to the mixture. However, it must not be saturated and certainly not showing any moisture if you squeeze some of it out. Remember too much water and you will cool down the heat of your compost heap and too much and your compost will sour.
If you are growing mushrooms in horse manure this process will take only 2 weeks before you have the right compost conditions to start growing mushrooms. But if you are using chicken manure, it can take up to 4 weeks before the compost is ready for growing mushrooms in.
When is the Right Season for Growing Mushrooms?
Well, there isn't one. You can grow mushrooms all through the year as long as provide the right growing conditions.
Preparing your Boxes for Growing Mushrooms
Once your compost is ready place the compost into wooden boxes that are between 6 and 8 inches deep.
Take your mushroom spawn and crumble it up. If it is fresh there will be a white, fluffy layer on the top and it should have a mushroom smell. Avoid any mushroom spawn that is black or dark green in color.
Now rub it into the compost and cover the spawn with about an inch of peat moss or medium loam soil. Better results are obtained when the soil is inert as it encourages the spawn to spread rather than to grow up. Inert soil can be created by heating it up or taking bare ground and burning paper on the top of it.
Add a little lime to the soil as this will further help with growing mushrooms successfully.
Growing Mushrooms and Watering Them
Water should never be given to your mushrooms in the first 4 weeks as there is enough moisture in the provided compost. If you end up over-watering your mushrooms they will die. They like moist or damp conditions, but not sodden ones.
If you are growing mushrooms in temperatures above 60 F then you should start watering lightly after the 4 week period. If your temperature is below this, then you should delay watering for another 2-4 weeks.
If you find that your soil is drying out too quickly then you can solve this problem by placing a damp Hessian sack over the top of the boxes.
Growing Mushrooms and How to Harvest Mushrooms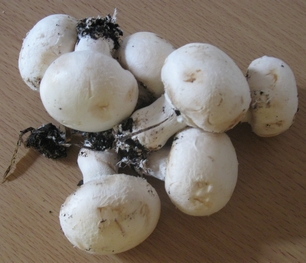 After planting the mushroom spawn within 6-12 weeks your mushrooms will start to appear depending on the temperature and growing conditions. Within 5-7 days of growth they are ready to be harvested.
If your soil is on the dry side your mushrooms could take a little longer to appear. For the next 3-4 months you should be able to enjoy a steady supply of homegrown mushrooms! You can expect about 2 pounds of mushrooms per square foot of compost.
When you want to harvest them it is better to pull them out rather than cutting them. You can harvest them all at once, and then replace the bag after a light watering and wait for the next flush of mushrooms to appear.
Do you have Something to Share on Growing Mushrooms?
We have lots of pages where you can contribute to throughout this website. We love hearing from our readers, and hope you will be one of those we hear from too. Look around our homesteading website. If you have some comments, tips and ideas on growing mushrooms of your own, please submit them. All you need to do is type and submit. We will do the rest! If you have some pictures of your own designs we would love to see them!

Leave a Comment
Do you have anything that you would like to add after reading this page? We would love to hear your thoughts. If you can add additional information to what has been written here you will be adding value to the website! No need to have any special skills - just type and submit. We will do the rest!
Other Comments
Click below to see comments from other visitors to this page...

---