Thanksgiving and Christmas would just not be the same without cranberry sauce. However, we have a number of traditional cranberry recipes for you that goes beyond just jams and sauces, and for every day cooking as well.
This is a versatile little berry that can be used in a number of different ways. One of the simplest ways of treating them is to give them a light dusting of castor sugar, combine with thin slices of orange or mandarin peel and decorate iced cakes, cheese cakes or ice-cream with them.
Cranberries are also good with a variety of meats. They go well with pork, turkey, beef, veal and even lamb. Because of its tart flavor it seems to combine well with fatty meats like lamb.
Cranberry sauce can be used as a substitute for a fruit jam in baking. For example if you are making a Swiss Roll, also known as a Jam, or Jelly Roll, you can spread cranberry sauce on the sponge, before rolling it up.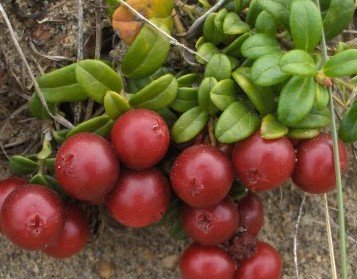 Health Benefits of Cranberries
The best thing is that not only do cranberries taste great, but they are also high in Vitamin C, flavonoids, and antioxidants, making it a healthy choice. They are also very high in quercetin. Quercetin helps regulate the sodium channel in the kidneys, preventing salt from causing high blood pressure. Therefore, the quercetin in the cranberries also helps to prevent any possible kidney damage.
They also help aid digestion and stimulate the appetite.
If you suffer from bouts of cystitis then cranberries will give you instant relief. You need to find either whole dried cranberries that you can steep in hot water to make a strong tea and drink throughout the day, or find unpasturised, pure cranberry juice to drink.
So whether you know this berry as a
cranberry
, a
mossberry
or a
fenberry
we hope that you will enjoy making these traditional delights in your kitchens this festive season.
I am not one for complicated and long recipes. So the recipes with cranberries here are mostly quick and easy, with the minimum of fuss. Enjoy!
Cleaning your Cranberries before Using Them
Because this fruit grows low off the ground you will need to clean them before using them as they will often be very dusty.
The best way to do this is to put them in a colander and dip them up and down in a basin of water several times. In this way you will also be able to find those berries that aren't good, that need to be thrown away. You will also be able to clean away any leaves, stalks, etc.
Christmas Cranberry Recipes
Easy Cranberry Sauce
There really isn't much to making this traditional recipe. You will need:
1 quart fresh cranberries
2 cups sugar
1 cup cold water
Place all into a saucepan and boil together for 15 minutes.
Cranberry Recipes for Cakes, Muffins
Cream Cheese Cranberry Muffins
These quick and easy muffins are just the thing to knock up in about 15 minutes when unexpected visitors turn up on your doorstep. You can make them with either fresh or frozen cranberries. Keep a batch in the freezer, as these freeze very well. Remember when making muffins, never over-mix your mixture as you will end up with tough muffins.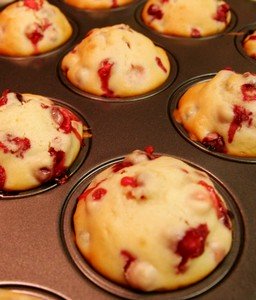 1 cup butter, softened
8 oz. cream cheese
1 1/2 cups sugar
1 1/2 teaspoon vanilla extract
4 eggs
1 tablespoon plain yogurt
2 cups all-purpose flour
1 1/2 teaspoons baking powder
1/2 teaspoons salt
2 cups fresh or frozen cranberries
1/2 cup chopped pecan nuts
Cream the butter, cream cheese and sugar with an egg beater or food processor. Add the vanilla extract.  
Beat the eggs and then add a little at a time, beating well in between. Add plain yogurt. Sift flour, baking powder and salt together and then add slowly to the mixture, mixing in lightly.
Fold in cranberries and pecan nuts.
Place spoonfuls of mixture in greased or paper-lined muffin trays. Bake in a moderate oven at 350 degrees F. (180 degrees C) for 20-25 minutes, or until cooked through.  Leave in tin for 5 minutes before removing and placing on wire rack.
Makes 2 dozen
.
Cranberry and Almond Coffee Cake
Although this cake will take longer than the muffins to make, it is well worth it. The recipe calls for almond paste, which you can make from the recipe below.
1/2 cup almond paste
6 tablespoons butter, softened
1/2 cup sugar plus 2 tablespoons,  divided
3 eggs
1 1/3 all purpose flour, divided
1 teaspoon baking powder
1/2 teaspoon almond extract
2 1/4 cups frozen or fresh cranberries
Cream almond past, butter and 1/2 cup sugar until fluffy and creamy. Beat 2 of the eggs well, add a little at a time, and beat well in between. Mix in 1 cup flour and the baking powder, sifted together.  Beat the remaining egg, add a little at a time, beat in between and add remaining flour.
Stir in the almond extract, and fold in the cranberries. Pour the mixture into an 8 inch baking tin.  Sprinkle the remaining sugar over the top and bake at 325 degrees F. for 45 - 55 minutes, or until cooked through.
Allow to cool in tin for 5 minutes before turning out onto wire rack.
Cranberry Dessert Recipes
Dessert recipes with cranberries make an interesting change. A refreshing dessert to have on a hot summer's day is cranberry ice. It not only looks great once made, but tastes delicious too.
Cranberry Ice (6)
1 quart cranberries
1 pint water
1 lb. sugar
juice of 2 lemons
Cook cranberries in the water until soft and starting to split. Strain off the water and add the sugar. Cook until totally dissolved. Cool before adding the lemon juice. Mix through and place in a plastic container and freeze until needed.
Cranberry Meringue Pie (6)
Here's a twist on an old favorite and an easy cranberry recipe at that.
Short crust pastry enough for a deep pie dish
1 1/2 cups sugar
2 cups fresh cranberries
1/2 cup cold water
1 tablespoon flour
2 eggs, separated
1 tablespoon butter
1/2 teaspoon vanilla extract
2 tablespoons icing/confectioner's sugar
Grease a deep pie dish, line with short crust pastry and bake blind until slightly cooked. Remove from oven and start making the filling.
Cook sugar and water together to form a thin syrup. Add the cranberries and cook until soft and start to burst. Remove from heat and allow to cool slightly.
Now mix the flour with the 2 egg yolks until smooth. Add 3 tablespoons of the juice of the cooked cranberries to the mixture, along with the cooled, cooked cranberries.
Place back on a low heat and simmer for 3 minutes. Stir in the butter and vanilla extract, and remove from the heat again to cool.
Once cool place mixture onto the pre-baked pastry shell. Beat the egg whites with the icing/confectioner's sugar (powdered sugar) until stiff. Cover the cranberry mixture with the meringue and place in a cool oven to set and brown slightly.
Cranberry Pie (6)
Yummy, gooey, red cranberry pie, decorated with twirls of pastry on the top in a cartwheel design. Who can resist?
Short crust pastry
2 cups fresh cranberries
1 tablespoon flour
1/2 cup sugar
3 tablespoons water
2 tablespoons butter
Line a greased pie dish with the short crust pastry. Cut the cranberries in half and then mix them together in a bowl with the flour, sugar and water. Place on top of the pastry. Dot with the butter and then place the twisted pastry strips onto the top of the mixture in a cartwheel design. Bake in a moderate oven for about 25-30 minutes.
Cranberry Salad Recipes
Cranberry and Apple Salad
Place an amount of cranberries in a saucepan with a little sugar, just so that when it boils the berries retain their shape.  Remove from the heat,  cool and drain. Add the same amount of chopped and peeled apple.  Place on lettuce leaves and dress with a thin mayonnaise.
Cranberry Jam, Jelly, Relish and Butter Recipes
Cranberry Jelly
2 quarts fresh cranberries
1 quart water
granulated sugar
Cook the cranberries in the water until soft and starting to split. Remove from the heat and strain through a jelly bag. Reserve the juice and measure it. To each pint of cranberry juice add 3/4 pound sugar. Cook over a low heat until sugar is dissolved, but do not boil. Remove from heat and place in hot, sterilized glass jars. 
Cranberry and Apple Jelly
3 pints cranberries
1 1/2 cups boiling water
1 quart apple juice
6 1/4 cups sugar
Place in a saucepan and boil rapidly until the skins split. Drain the pulp through a bag. Add juice back into the saucepan. Add the apple juice and boil for 20 minutes.  Heat 4 1/4 cups of sugar in a hot oven and boil for 3 minutes. Strain the cranberry pulp through a puree sieve and add to saucepan. Bring to the boil again. Remove from heat and add 2 cups sugar. Boil to boiling point and can.
Cranberry and Raisin Jam
1 quart cranberries
1 large cup raisins, seeded
1 quart cold water
2 1/2 cups sugar
Cook the raisins in the water until the water is reduced by a half. Add the cranberries and sugar and thick. Bottle.
Christmas Berry Jam
3  cups fresh cranberries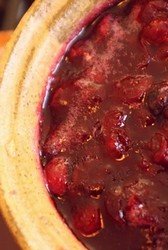 1 medium orange, deseeded, peeled, quartered
10 oz. frozen strawberries, sliced
1/4 teaspoon cloves, ground
1/4 cinnamon, ground
4 cups sugar
1/2 cup water
3 oz. liquid fruit pectin
Place cranberries, orange pieces into a food processor and chop coarsley. Add slightly thawed strawberries, cloves and cinnamon. Process until mixture is finely chopped.
Place fruit mixture into a heavy based saucepan, add sugar and water and cook for 2 minutes over a low heat, stirring constantly. Increase to high and bring to a rolling boil. Stir in the liquid pectin. Bring to the boil again and boil for 1 minute. Remove from heat and skim the foam off the jam. If you add a nut of butter in the beginning of the boiling process, this helps reduce the problem.
Pour into canning jars while still hot.
Makes 3 pints
.
Cranberry Relish
1 quart fresh cranberries
4 small tart apples
2 small oranges, juice and rind of 1/2
1 cup toasted pecan nuts
2 cups light brown sugar
Core and roughly slice the apples and peel the oranges. Place in a food processor, along with the cranberries and a small amount of the rind. Add th toasted pecans and the sugar. Blend well. Allow to stand in the fridge overnight.  Goes well with meat dishes.
Cranberry Butter
A delicious and nutritious spread for muffins, cake or bread.
3/4 quarts fresh cranberries
1 pint water
2 lbs sugar
Cook the cranberries in the water until the fruit is soft and starts to split. Now press through a sieve or food mill. Now take the fruit pulp and cook it until quite thick, reducing the water content.
Add the sugar, and cook for a further 30 minutes or so over a very low heat. Stir constantly to make sure that it doesn't burn. Remove from heat and allow to cool slightly before placing in pre-sterilized canning jars.
Cranberry Preserves

Cranberry Catsup
5 pounds cranberries
1 pint vinegar
2 1/2 pounds brown sugar
3 tablespoons ground cinnamon
1/2 tablespoon ground cloves
1/2 tablespoon salt
1/2 teaspoon paprika
Cook the cranberries in the vinegar until they burst open, which is about 5 minutes. Press through a puree sieve. Add the rest of the ingredients and simmer until the mixture thickens. Can.
Cranberry Preserve Recipe
2 apples
3 cups sugar
3/4 cup water
4 1/2 cups cranberries
1 tablespoon grated lemon rind
1/4 cup creme de cassis (optional)
Peel, core and roughly dice the apples. Place sugar and water into a saucepan and heat gently until sugar dissolves.  Swirl pan, don't stir. Add apples cranberries and lemon rind. Bring to boil. Reduce heat and continue to cook for about 20 minutes, or until mixture takes on the consistency of thick jam.
Add the creme de cassis at this stage, if using.  Will keep in fridge for up to 1 month.
Cranberry and Raspberry Preserve
6 cups raspberries
2 1/2 cups sugar, divided
3 cups cranberries
1/4 cup fresh orange juice
zest of 1 orange
Place raspberries in a bowl and mix in 1 cup of sugar. Mix well and leave to stand for 1 hour.  Add cranberries and remaining sugar. Place in a heavy bottomed saucepan and place over a high heat. Stir constantly until cranberries split and release their juice. About 5 minutes. Continue cooking until all the berries have split and mixture is like syrup.
Skim off any foam, or add 1 nut size piece of butter to the beginning of the boiling process to minimize this. Place  back on the heat and boil for 10 minutes or until mixture thickens. Add the raspberries in sugar, plus all the juice, and boil for 10 minutes more.
Stir in the orange zest.
Test to see if the jam is ready. Remove pan from heat. Remove a teaspoon of the mixture and place in the freezer for 5 minutes. When you remove the jam it should wrinkle if pushed to one side. If not, boil for 5 more minutes and test again.
Ladle into canning jars and seal. Process in a hot water bath for 5 minutes.
Makes 4 pints
.
Storing and Canning Cranberries
Perhaps you are lucky enough to have a couple of cranberry bushes in your garden and you want to know how to preserve them. It is simple enough,  sort through and then wash the fruit. Boil some water and allow it to become cold. Pack your cranberries into sterilized canning jars. Fill with the cold water and store in a cool, dark place.
Because there is no other method of preserving involved it is very important that you only choose fruit that is firm and free from any blemishes. If not, your jars will spoil very quickly.
Cranberries preserved like this will keep through to the summer.
If you want to can cranberries for a longer keeping time then follow the following:
Canning Recipe for Cranberries
1 lb. cranberries
1/2 lb. sugar
1/4 cup water
brandy paper
Wash and discard any spoiled fruit. Place in a colander to drain. Place the sugar and water in a heavy based saucepan and bring to the boil over a medium heat.  Boil for 1 minute.
Add the cranberries and boil until the fruit is transparent and a light red.
Conserving the liquid, remove the cranberry fruit and place them in sterilized canning jars.  Place the syrup back on the heat and boil for 15 - 20 minutes more and then pour the hot syrup over the berries in the jars.  Leave a 1/4 inch head space and all the fruit to cool before covering the necks of the jars with paper dipped in brandy.
Close the lids as tightly as possible.