Here are some pictures of my favorite David Austin roses. I love roses, I always have. Climbers, ramblers, rugosa, carpet, floribunda, hybrid teas - I love them all, for they each have a function in the garden that you can use to its full advantage. They are my favorite flowers, along with lavender and irises.

But more than that, I love the old-fashioned, heritage roses. There is something about their many petalled, open heads that I find so appealing, and the best thing about this type of rose is that they have been around for a very long time. This means that they are easy to grow, are hardy, and usually resistant to disease and perfect for any cottage garden.

The Disadvantage of Old Fashioned Roses
The downside to old fashioned roses is that they usually don't flower repeatedly throughout the season.  The Bourbon roses, with their infusion of China blood are reliably repeat flowering, some almost never without a new flush of color. Examples of this are "Le Reine Victoria" and "Mme. Pierre Oger". Some of the Centifolias and Moss Roses too, give a good second performance in the fall, as the the Autumn Damasks like "Quautre Saisons".

The Gallica roses are unfortunately not so obliging, and damask roses are even less so.  The soft rich colorings of these roses, with their huge number of petals, quartering, button eyes and old rose fragrances come only once a year, for about 6-8 weeks.


And so this is where David Austin comes in. As a breeder of English roses he wanted to produce old-style fragrant roses with very repeat flowering habits. In this quest David has been very successful. He has managed to produce some remarkable roses, many of which flower for 8 months or more.

Not only has David Austin succeeded in combining all the old virtues and appearance with repeat flowering habit, but he has also introduced the genes for previously unavailable colors like old gold and soft apricot with that same mutable blending that distinguishes the Tea Roses. 

His most successful rose to date would have to be Constance Spry, bred by crossing "Dainty Maid" with "Belle Amour". I have to confess that it is definitely one of my favorites. It is a shrub-climber, ironically only once flowering, but one can forgive this flaw for it has huge, clear, pink flowers the size of large peonies, a luminous quality unrivaled in the rose world, and a strong fragrance of myhrr that makes a stunning show.

Constance Spry is best used as a climber to 10 feet but it can also be allowed to ramble along a fence or a wall, as you can see from the picture below.


Out of all the rose varieties, the David Austin roses are definitely at the top of my list. With hundreds of  varieties to choose from, there is something here for everyone.  I like to think of his roses as old-fashioned roses with a modern twist.

In general I love the way the David Austin roses smell, the way the flowers are formed; usually huge blooms with many petals, and that they grow vigorously in my European climate, for which they were bred.

You will often see people in the States, especially those from California, or further south complaining that their Austin roses are not performing as they had hoped.

This is due to the fact that the climate is too warm for most of these roses. In the main, they were not bred for that climate in mind. I am not saying that growing them in warm climates, is a no go, because there are some David Austin varieties that will grow in warmer climates, but what I am saying is that you need to be mindful of your climate, and make sure you only buy those roses that are heat resistant and are more tolerant of a warmer climate.
How to Choose your David Austin Roses
David Austin senior divides his roses in to
4 categories
, that make it easier for you to choose which ones suit your needs best:
The

Old Rose Hybrids

. These look like the classic old English roses but are repeat bloomers, are resistant to the normal roses diseases and come in a range of colors.
The

Leander Group

, that are usually pillar or climbing roses.
The

English Musk Roses

have strong perfumes
The

English Alba Hybrids

are tall growing roses.
The rose can make a colorful hedging plant
David Austin's Canterbury Tales Roses

Some of David's roses are named after characters in Chaucer's
Canterbury Tales,
others are named after characters from Shakespeare's plays, and even members of his family. Here are some good roses from his Chaucer selection.
David Austin Roses : Chaucer
The rose, Chaucer is a very desirable rose. At approximately 1 meter high and wide, this shrub rose is small enough to grace even the tiniest town garden. The large, deeply cupped, full blooms have much of the style of Bourbon roses about them, and the color is a delicate, clear pink. It shares with Constance Spry a delicious strong sweet myrrh fragrance with repeat flowers.
David Austin Roses : Canterbury
Canterbury is a smallish shrub roses to 4 feet with large semi-double cupped flowers in a translucent pure rose pink, composed of wavy-edged petals with golden stamens and a strong, sweet fragrance. It is a descendant of Constance Spry.
David Austin Roses : The Knight
The Knight, is a seedling resulting from a cross with Chianti. It has the classic Gallica form, with clusters of very fragrant, very double roses that each reflex to a ball shape of about 4 inches across. The buds resemble those of Cardinal de Richelieu, but are larger. The color is a rich, deep crimson aging to dusky royal purples and reds. The shrub is short and neat, and less than 3 feet hight with recurring flowers.
David Austin Roses : The Miller
The Miller is a superb strong and healthy shrub rose to 6 feet high and wide and makes an excellent repeat flowering hedge. It can be maintained at a lower height if wished. It covers in shallowly cupped double flowers of clear, translucent pink in small and large sprays with a lovely old rose fragrance.
David Austin Roses : The Friar
For those of you who love the old Tea Roses, The Friar is a must. Opening from elegant buds to very double blooms of delicate apricot, blush and fawn with true Tea Rose fragrance. The bush grows to 3 feet high and has the same graceful growth pattern as the Tea Roses.
David Austin Roses : The Prioress
The Prioress shares many of the Alba Rose qualities with fragrant chalice-shaped, blush tinted blooms revealing golden stamens against a background of light green foliage. At 3 feet high and wide it is another good choice for the small garden.
David Austin Roses : The Wife of Bath
Even smaller is The Wife of Bath. This is a rose bred from some truly great roses; Mme. Caroline Testout x (Ma Perkins x Constance Spry). The little bush is never out of flower, covered in the most charming large, old-fashioned blooms, cupped, filled with short petals and with a strong sweet fragrance, and warm pink deepening towards the center.
David Austin Roses : The Yeoman
For those of you who like a soft, glowing salmon pink mixed with richest apricot, then The Yeoman is a perfect choice and a rich, spicy fragrance to match. It was bred from Ivory Fashion x (Constance Spry x Monique). It is a very free flowering rose and recurrent flowering sturdy little shrub of 4 feet high. The petals are truly glowing and translucent, quite exquisite when the sun shines through them. David Austin himself once that this is one of his best performers in the series.
So it seems odd now that this rose has since been discontinued. However, you can still buy this rose from a few select nurseries around the world.
David Austin Roses : Glastonbury
The richest heavy damask perfume comes from another Chaucerian rose Glastonbury. It is another modest neat grower to 3 feet high and wide with saucer-shaped large blooms well filled with curled petals in a rich, deep crimson aging to dusky purple with just a hint of pure gold stamens showing through. Rather like Tuscany. It is well clothed with dark green foliage.
David Austin Roses : The Squire
Another fragrant rose is The Squire. The flowers are huge, deeply cupped and of the richest deep crimson reds, unfading even in the hottest sun, smothering a large shrub 6 feet high and 6 feet wide.
Top 10 David Austin Roses for Hedges
Sometime back I was researching for some hedging roses. I wanted something that would grow quickly, would bloom over a long period of time, and would be pretty to look at.
I ordered 60 Golden Celebration rose bushes that I was hoping would make a glorious hedge for the perimeter of my stone farmhouse. However, my supplier couldn't deliver, and in the end I went for an edible hedge; the wild cherry plum. However, I still think that Golden Celebration would have been a perfect fit. Sometimes, life doesn't go the way we plan...
However, there are many roses that make good hedges, and so thought I would also share with you some of the best of the David Austin roses for hedging. These are in no particular order, and all of them have been recommended by David Austin himself as being the best of his plants.
1. David Austin Roses: Harlow Carr (Recommended)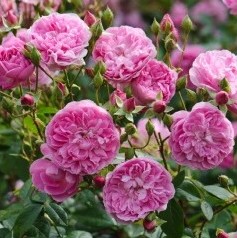 If you are looking for a old-fashioned variety, pink hedge rose then you want to go for
Harlow Carr
.
However, this is one of those shrub roses that is not for the hotter climates.  It does grow 4-6 feet high, if you let it, but easily contained to 4 feet or less.
In cool climates the Harlow Carr will bloom from the first signs of spring right through to the first signs of frost. The blooms are about 2 1/2 inches across in diameter.
It grows into a fairly compact, well rounded shrub and has flowers from the bottom up, so well covered to make a pretty display. It is a fairly hardy rose and recommended.
It is also a rose that has a strong perfume. Plant 1.5-2 feet apart. Will tolerate partial shade.
2.  David Austin Roses: Golden Celebration (Recommended)
Another good David Austin rose is Golden Celebration, with its large, gloriously rich yellow-gold blooms.  It has everything you would want in a rose, plus the fact that it is an easy-to- grow-and-care-for rose.
It flowers well from the summer onwards with repeated flushes of flowers until late autumn. The flowers grow on arching stems. It also has a strong fragrance.
Golden Celebration will grow as high as it will wide, which makes it a very economical fencing rose to purchase.
As it grows 4 feet high, it will also grow 4 feet wide. However, I would plant them at 3 feet intervals to make sure that I got a good cover at the bottom of the hedge. Will tolerate partial shade.
3. David Austin Roses: Queen of Sweden (Recommended)
This is a delicate pink rose that is very tall growing. So if you are looking for a pretty, tall hedge this one is for you. It has a light perfume, so don't expect anything heady, but the delicate flowers make up for what it lacks in smell.  
This is an upright growing plant, and the flowers themselves face upright when they bloom. The blooms are about 3 inches across and don't fade as they get older. This is a good disease resistant rose, and fairly hardy.  
Finally, although not a thornless rose, the thorns themselves are few and far between, most of which are found at the bottom of the plant. Plant 2 feet apart. Will tolerate partial shade.
4. David Austin Roses: The Alnwick (Recommended)
The Alnwick rose is also known
as
Alnwick Castle
is another gorgeous pink hedging rose from David Austin. In fact, this is a rose that David Austin officially recommends. And you can see why.
The large, cup-like blooms appear in the summer and continue throughout until the onset of the first frosts.
The best thing about this rose is its heavenly smell, as well as being disease resistant.
This rose hedge will grow well over 4 feet high, and bushes out to 3 feet wide. It grows in an upright habit.  Plant 2 feet apart.
5. David Austin Roses: Benjamin Britten (Recommended)
The Benjamin Britten rose makes a statement. First of all it is almost a brick red, which is unusual for a rose, and secondly, I like the way it makes a compact hedge which is very showy when it is in full bloom.
This is also a good rose for scent as it smells divine.  Hardy, and easy to grow, this is definitely a rose worth growing. Even if you don't have it as a hedge, it would still look good in a mixed bed or even in a container on a patio.
It will grow 4 ft x 3 ft at maturity and should be planted 2 foot apart if you are going to grow this rose as a hedging plant.
6. David Austin Roses: Crocus (Recommended)
  Now, if you are looking for an elegant
hedge rose, then have a look at Crocus. I love its scalloped petals.
I love too the soft apricot colors, and how they are deeper in the center, and fade to a lighter shade going outwards. I could imagine that this rose would make a lovely bouquet for a bride on her wedding day.
This is another hardy rose, with a good fragrance, although not too strong, and is a repeat bloomer so you will have a long season of flowers.
The flowers can be found in clusters at the end of arching stems. Crocus is hardy and free flowering. The only reason why I didn't choose this rose as my hedge, was because I thought that it looked better as a climber, as the flowers don't quite have as dense a cover, as I wanted. Will tolerate partial shade.
7. David Austin Roses: Wild Eve (Recommended)
Well if you thought Crocus was elegant
what do you think of Wild Eve?
I don't think she has been name right, as I don't think there is anything wild about this exquisite rose that is so delicate, and so elegant. The flowers look more like peonies rather than roses and are produced on long, arching stems.
This is a rose that I have on my wish list. Although not sure how she would fair when the wind blows with all those petals.
This is a tall growing hedge that will reach 6 feet or more. Because of its thorns it will provide impenetrable cover. The flowers have a light perfume.
Considered to be an easy to grow and care for rose, hardy and resistant to disease. Plant 18 inches apart. Will tolerate partial shade.
8. David Austin Roses: Wild Edric (Recommended)
Now I can see why this was called Wild
Edric, because the rose is a
rugosa
.
As a result it grows freely,  is hardy and resistant to disease, will quickly form an impenetrable hedge with its thorns and will provide a lovely display of large pink flowers with a good perfume over a long period of time.
If you haven't had much luck in growing roses, this is one of those bullet-proof roses that you just cannot kill, no matter what you did to it. It is even considered to be a deer-proof rose.
Plant 2-3 feet apart and enjoy the dark pink blooms with its contrasting yellow stamens. Will tolerate partial shade.
9. David Austin Roses: Hyde Hall (Recommended)
I am not sure why there are so many pink rose hedges, rather than other colors, but here is yet another. But what another!
The Hyde Hall is long blooming from late spring right through to late fall.
This rose has lots of thorns so will make a good impenetrable fence. It is hardy and resistant to disease.
If you want a tall hedge, this rose will grow to 7 - 8 feet if you only prune it lightly, although if you prune hard, you can keep it to 4 feet.
The blooms appear on drooping sprays, and have a light fragrance. Plant 18 inches to 3 feet apart for good results. Will tolerate some shade.
10. David Austin Roses: Molineux (Recommended)

This is a multi-award wining rose, including one for its perfume. The Molineux rose is a wonderful rich yellow growing in an upright position, compact with little sprawl.
It is a readily repeat flowering rose that starts off a light yellow orange and then opens out to a glorious yellow.
This is not a tall hedge rose, growing only to 3 feet, but compact and hardy.
I don't know too many people who haven't had success with it. Once planted it only gives of its best.  Very easy to care for rose that is disease resistant.
It does have does have a few thorns, but not too many. Plant 2 - 3 feet apart.
David Austin's Recommended Roses
If you were wondering what the man himself recommends from all the varieties, here are 2 recommended David Austin roses. There are far too many lovely roses here to mention, but this is a shortlist.  
These are, in no particular order:
1.  David Austin Rose: Grace - (Royal Horticultural Society Award of Garden Merit)
Now I have a weakness for apricot roses. I don't know why, but I find them fascinatingly beautiful.
This rose is sensational.  And to top it all it is hardy, virtually trouble free with a strong scent.
This is definitely on my list of roses to buy next.
It would look good in a mixed bed as the flowers grow in an arching effect, and grows fairly large, spreading to 4 feet in width and 4 feet in height.
With repeat blooming capabilities you really cannot go wrong with this lovely rose. Will tolerate partial shade.
2.  David Austin Rose: Scepter'd Isle - (Royal Horticultural Society Award of Garden Merit)
I love the look of this rose. A delicate color that leads the eye towards the yellow stamens in the center of the cup-shaped flowers that grow in an upright position.
This rose won an award for its fragrance. It is also quite a tall, bushy plant, extending to 4 feet high to 3 feet wide, so ideal as a mixed rose border.
Of course, there are many more roses bred by
David Austin
, too many to read about here, and so we suggest you look at his website for more detail.
If you love old-fashioned roses, then you will love the David Austin roses. These are roses that are sufficiently rare enough to be items of discussion in the garden, and of such exquisite form and fragrance as to bring endless beauty to all gardens, from the tiniest to the largest.