English Country Garden Design - Top 10 Cottage Garden Plants, Flowers
An English country garden is fun and easy to design if you have the right elements. Learn how to design a true English cottage garden from our tips, ideas and advice using the right cottage flowers and plants for an effective cottage garden design.
 ENGLISH COUNTRY GARDENING IDEAS
When we talk about a cottage garden we are really talking about an English country garden. The plants and flowers that are used in such a garden design, are seen in gardens throughout England. These country gardens conjure up thoughts of romance, bumble bees, butterflies and lazy summer days.
To try and recreate such a garden is not difficult, but to be successful you should choose your cottage plants and flowers wisely with regards to color groupings, know the heights of your plants so that you have proper planning, and finally choosing cottage plants that will thrive in your climate and soil conditions.

So, where exactly does one begin, and what elements are needed to create English country gardens?
DESIGNING AN ENGLISH COUNTRY GARDEN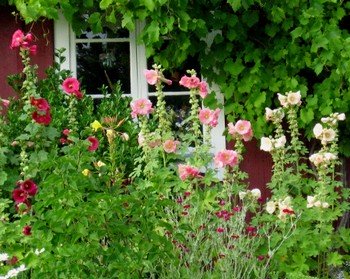 Your typical English cottage garden is small and compact, full and brimming with flowering cottage garden plants.
Typically is surrounds a small, simple house with a porch. And being so confined, the cottage style has no room no need for lawn. Instead, pathways cut a swathe through the cottage garden plants and flowers, usually made of brick, shell, gravel or aggregate.

Where cottage gardens appear haphazard and abundant, success requires careful placement and knowledge of height and spread of your cottage garden plants. Climbing
roses
and wisteria give both height and romance to these gardens, especially when they provide a backdrop to other summer cottage flowers such as poppies, cornflowers, Delphiniums, lavender and Erigeron daisies. Of course don't forget that we can't just think of summer. What about
Spring Bulbs
for your cottage garden?
The cottage garden
, or English country garden, is best for those who love to garden, for the style is not low-maintenance. It looks informal, as if nature had scattered its seed to paint the various tapestries of color, but in actual fact, it is highly contrived. Making sure that you have a garden that blooms constantly, is no mean feat.
Design Elements for an English Country Garden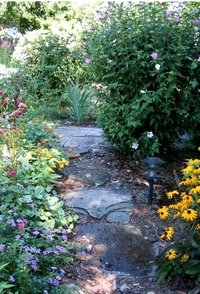 Choose simple cottage flowers for your cottage garden design and make sure that they are old-fashioned varieties. Try and choose a color scheme like pinks and whites, or blues and yellows. Where you choose to have a whole spectrum of colors then make sure that the palette is soft.
Warm brick paths, rambling roses and other climbers, pastel perennials and self-sowing annuals such as allysum are characteristic of a cottage style garden.
Choose fragrant flowers for both garden, arbors and houses.
Let your garden show your personality. Choose your plants for personal preference and meaning rather than for design.
Plant flowers and plants in small pockets rather than in large drifts.
---
ENGLISH COUNTRY GARDEN DESIGNS IN HARMONY WITH YOUR HOUSE
Your house will be the main focus of your cottage garden design. It is the biggest structure in your garden and you want to be able to see your garden from as many windows as possible. Your house should also match your garden. You cannot have an ultra-modern house with a cottage garden, nor would you have a mock-Tudor house with yuccas and agaves. It would just look very odd. Your house should look old and timeless, even if it isn't if you are to be successful in creating that special cottage style of gardening. See our page on
country style decor
to create that county home feel.
Don't just think of your garden, but also think of your house. Ideally, your house should be covered in some flowering climber to link your house to your garden. Wisteria, honeysuckle, golden shower, star jasmine, clematis, ornamental grapes or even climbing roses such as the lovely "Albertine", will do the trick.
If you have ugly steps that lead to your house, tile them with terracotta tiles, and then soften the edges by placing lavender, geraniums and other colorful plants in pots and line the steps with these.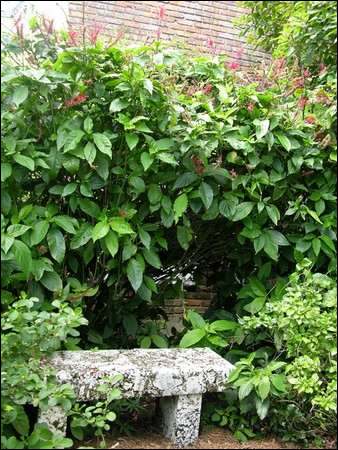 ---
English Country Garden Design Tips
Do you remember the lyrics of the old song,
An English Country Garden
? How many kinds of sweet flowers grow in an English country garden?" Well, we will tell you, and you can see the rest of the lyrics below.
Traditionally the cottage garden is surrounded by either a fence, wall or hedge with a gate giving access to the property. There is usually a pathway, that is seldom straight in nature, that leads from the gate to the front of the house. While the garden beds on either side of the pathway need not be mirror-images of one another, they should be equally balanced in the choice of colors used either side, and the cottage plants used in both garden beds should be similar in height and type so that there is a definite pattern that is evident.
Stay away from colorful hybrids and go for the traditional cottage garden flowers that give you soft colors and small flowers.
Don't just concentrate on the flowers. Include garden features such as bird baths, bird houses, benches, bird feeding tables where you can feed the wild birds, chairs, containers and window boxes. You can also have some fun with wheelbarrows, old milk churns and other old farming equipment.
Because most of your cottage plants are herbaceous they will die down in winter. Therefore you need to add some plants that will be evergreen or flower during that time to give your garden a winter interest. Plants such as rosemary, germander, lavender and boxwood will help out here. Cool weather annuals such as pansies can also be planted for color, as well as ornamental kales.
Make your country garden serviceable. Plant espaliered fruit trees such as pear trees and fruiting shrubs such as black and red currants and blueberries close to the perimeter of the house. Intersperse your flowers with medicinal herbs for easy picking when needed.
---
Steps to Creating an English Country Garden
1. Choose Feature, Filler and Anchor Plants
You need feature plants that will create interest to your garden. Roses are the ideal feature plant. Hydrangeas could be considered filler plants including others such as hollyhocks, lavender and viburnum. Your anchor plants are those that create a backdrop to your canvass and are placed at the back of the beds due to their height. These are usually evergreens and could be conifers, boxwood and other small trees.
2. Create Different Areas
Create different areas of your garden so that you don't view the whole of your garden at once. Instead you create different areas for added interest. The sizes of these areas will be in direct proportion to the size of the garden as a whole.
3. Grow Living Dividers
In order to divide each area from the other you need to plant hedges of some sort to form a division. A flowering plant like wegiela, boxwood, or any tall growing evergreen hedging should be planted to create living dividers. These should be encouraged to grow 6-8 feet high to create this effect.
4. Build a Fence
Fences, particularly picket fences, should be built to allow your space to be defined and to protect your garden. If built correctly, it will add to help creating the typical English country garden that you are making.
5. Add an Arbor
Arbors can help lead your visitors to your house, from the gate and up the path. If covered in climbing roses one evokes an element of romance. Arbors also define that feeling of entering a space.
6. Build a Gate
Gates not only keep out unwanted visitor, be that either the two-legged or the four-legged variety, but depending on what you choose will help create your cottage style. Many of you will opt for the white-washed gate to go with the white-washed picket fence. However, it doesn't have to be just white. You could have a plain or painted iron fence, an unpainted wooden fence, or even a wrought-iron fence. It really remains up to the individual, and your choice of gate will further help to show your personality.
7. Plant your Pathways
Whether you choose a straight path or a curved path, this pathway should lead your visitors to your home from your gate. The pathway can be constructed from reclaimed stone or brick to shells or pebbles. It can be made from just about any material other than concrete. By allowing the plants to grow onto the pathway you are softening the edges and are one step closer to creating a wonderful English country garden.
---
In an English Country Garden - Do you Remember the Lyrics?
How many kinds of sweet flowers grow
In an English country garden?
We'll tell you now of some that we know
Those we miss you'll surely pardon
Daffodils, heart's ease and phlox
Meadowsweet and lady smocks
Gentian, lupin and tall hollyhocks
Roses, foxgloves, snowdrops, forget-me-nots
In an English country garden
How many insects come here and go
In an English country garden?
We'll tell you now of some that we know
Those we miss you'll surely pardon
Fireflies, moths and bees
Spiders climbing in the trees
Butterflies drift in the gentle breeze
There are snakes, ants that sting
And other creeping things
In an English country garden
How many songbirds fly to and fro
In an English country garden?
We'll tell you now of some that we know
Those we miss you'll surely pardon
Bobolink, cuckoo and quail
Tanager and cardinal
Bluebird, lark, thrush and nightingale
There is joy in the spring
When the birds begin to sing
In an English country garden
---
TOP 10 COTTAGE GARDEN PLANTS AND FLOWERS FOR YOUR ENGLISH COUNTRY GARDEN
Here are my top 10 choices for cottage plants and flowers. There are so many lovely flowers to choose from when designing a garden like this, and these are but a few, and not in any particular order.


Cottage Garden Plants #1:
Pink Valerian

Aspect: Full/Part Sun
Soil: Any Soil
Height: 45 cm


Cottage Garden Plants #2:
Allysum

Aspect: Full Sun
Soil: Well-drained
Height: 15 cm +


Cottage Garden Plants #3:
Lavender

Aspect: Full Sun
Soil: Well-drained
Height: 120 cm


Cottage Garden Plants #4: Wallflowers

Aspect: Full/Part Sun
Soil: Moist, Cool
Height: 45 cm


Cottage Garden Plants #5:
Old Fashioned Roses

Aspect: Full Sun
Soil: Well Drained
Height: 1-2 m


Cottage Garden Plants #6:
Silene

Aspect: Full Sun
Soil: Well-drained
Height: 30 cm


Cottage Garden Plants #7: Delphiniums

Aspect: Full Sun
Soil: Moist
Height: 90-150 cm


Cottage Garden Plants #8: Foxglove

Aspect: Sun/Part Shade
Soil: Moist
Height: 150 cm


Cottage Garden Plants #9: Climbing Roses

Aspect: Full Sun
Soil: Well-drained
Height: 3m +


Cottage Garden Plants #10: Canterbury Bells

Aspect: Full Sun
Soil: Moist
Height: 40 cm
---
COTTAGE GARDEN SHRUBS FOR YEAR- ROUND COLOR
COMMON NAME
BOTANICAL NAME
HEIGHT
COLOR
SPECIAL POINTS
March
Spice Bush
Benzoin odoriferum
6-15 ft.
Yellow
Flowers appear before leaves. Crimson fruit in fall. Aromatic odor.
Daphne
Daphne Mezereum
4ft.
Purple
The only hardy deciduous daphne. Plant in light soil and in shade.
April
Barberry
Berberis-Thunbergii
2-4 ft.
Yellow
Prefers dry soil. Berries all winter.
Golden Bell
Forsythia suspensa
5-8 ft.
Yellow
Flowers appear before leaves. Hardy; free from insects.
May
Red-osier Dogwood
Cornus stolonifera
4-8 ft.
White
Red branched. Plant in moist soil.
Japanese Snow Flower
Deutzia gracilis
1-3 ft.
White
Very beautiful when flowering. Needs well drained soil.
Japanese Snowball
Viburnum plicatum
8 ft.
White
Not as likely to have lice as common snowball. Larger balls.
Lilac
Syringa vulgaris
15 ft.
Purple
Very fragrant. Will grow anywhere even in some shade.
June
Deutzia
Deutzia Lemoinei
1-3 ft.
White
Hardy; flowers showy.
Weigela
Diervilla Florida
6 ft.
Pink
White
Red
May have white or red flowers. Flowers under trees. Lives where other shrubs die.
Spirea
Spirea Van Houttei
4 ft.
White
Most showy of spireas. Grows anywhere.
Mock Orange
Philadelphus Coronarius
10 ft.
White
Varieties of different colors. Fragrant; makes good screen.
Smoke Bush
Rhus cotinus
4-10 ft.
Purplish
Hardy. Beautiful all summer. Purple color changes to smoke color.
July
Spirea
Spirea Bumalda, var. Anthony Waterer
3 ft.
White
Flowers run from white to deep pink. Late flowering. Hardy.
Sweet Pepper Bush
Clethra alnifolia
3-10 ft.
White
Moist soil or sandy. Late blooming; fragrant flowers.
August
Althea, Rose of Sharon
Hibiscus Syriacus
12 ft.
White
to purple
Very hardy. Plant in any good garden soil.
September
Hardy Hydrangea
Hydrangea paniculata
8 ft.
White
to pink
A showy shrub. Flowers remain on all winter.
October
Witch Hazel
Hamamelis Virginiana
6-20 ft.
Yellow
Grows anywhere. Likes moisture. Fruit "explodes."
---
COTTAGE GARDEN PLANTS FOR YEAR - ROUND COLOR AND FLOWERS
NAME
COLOR
HEIGHT
SPECIAL POINTS
March
Columbine
Red
1 ft.
Grows on rocky places. Graceful flower.
Hepatica
White Blue Pink
6 in.
Early spring flower. Ready to blossom under the snow. Last year's leaves shelter flower.
Saxifrage
White
8 in.
Grows in rocky, sandy places.
April
Bluebell
Blue
16 in.
Likes rock soil and sun.
Dwarf Iris
Blue
1 ft.
A good border plant. Does not require any special soil. Spreads.
Moss Pink
Pink
6 in.
Likes full sun. Spreads rapidly.
Violet
Blue
6 in.
Good soil. Plant in either sun or shade.
May
Lily-of-the-Valley
White
9 in.
Grows under trees, spreads rapidly. Flowers fragrant. Cut flower effect.
German Iris
Different
2 ft.
The best of flags for general planting purposes.
Forget-me-not
Blue
low
Thrives on moist soil. Planted with tulips follows them in bloom.
Chinese Peony
Different
4 ft.
The earliest of peonies. Good in borders.
Myrtle
Blue
low
Grows even in shade and poorly drained soils. Spreads rapidly.
June
Bleeding Heart
Pink
2 ft.
A hardy plant. Needs moist, good soil. Good border plant.
Foxglove
Purple
4 ft.
Perennial which self sows. Effective in backgrounds. Likes shade.
Garden Peony
Crimson
3 ft.
The real old-fashioned peony. Good border plant. Large blossoms.
Larkspur
Blue
4 ft.
Good for borders and backgrounds. The finest of blue flowers.
Sweet William
Different
2 ft.
A self sowing perennial. Bright colors. Good for massing. Sweet and constant bloomer.
July
Baby's Breath
White
3 ft.
Grows in rocky soil. Use for formal bouquets.
Butterfly Weed
Orange
2 ft.
Likes full sunlight and dry soil. Fine color effect.
Perennial Phlox
Different
2-5 ft.
Good for borders and cut flowers.
Spiked Loosestrife
Pink
3 ft.
Belongs in wet swamp lands. Will grow in borders.
Hollyhock
Different
6 ft.
Use for backgrounds and borders.
August
Aster, New England
Blue
4 ft.
Grows in any soil. The best of tall asters.
Golden Glow
Yellow
6 ft.
Grows in any soil and spreads rapidly. Good background.
Japanese Clematis
White
Climber
Rapid flowering vine. Use on trellis. Sweet flowers.
Sunflower
Yellow
6 ft.
Fine for backgrounds and screens. Any dry soil.
Turtle Head
Rose Purple
2 ft.
Flowers on spikes. Any soil, but wet preferred.
September
Hardy Hydrangea
White
6 ft.
Blooms till frost. Blossom heads effective.
Japanese Anemone
Carmine
3 ft.
Good border plant. Blossoms last till frost.
Essential Garden Tools
If you are a beginner gardener, you may be wondering which garden tools you
need for getting the job done. Well we feel that there are 12 essential garden
tool that you would need, so here they are.
Videos on How to Design a Cottage Garden
                        The first video shows Tasha Tudor



The second video is on Designing a Cottage Garden
Did you find this page helpful?
Sharing is a way of saying, "Thanks!"
Follow Us and Keep Up to Date
BESTSELLING BOOKS and DVDs on ENGLISH COTTAGE GARDENS and COTTAGE GARDEN PLANTS
You can Add your Own Comments and Pages on Cottage Gardens!
If you have any comments or ideas of you own on cottage gardens, please drop us a line. Use the form below, just type and we will do the rest.
Leave a Comment
Do you have anything that you would like to add after reading this page? We would love to hear your thoughts. If you can add additional information to what has been written here you will be adding value to the website! No need to have any special skills - just type and submit. We will do the rest!
Other Comments
Click below to see comments from other visitors to this page...

Fascinating Information on Cottage Plants and Gardens 

Good day to Everybody - How inspirational! Planning to add similar cottage plants to our S.African garden. Our weather is more harsh than the British, …
Don't miss out on our latest news and articles. Sign up for our free monthly e-zine!