Free Quilting Patterns and Designs for Beginners
Free quilting patterns and designs for you to trace and use for your quilting projects. Ideal for Quilting for Beginners.
QUILTING BASICS:
The
three necessary parts of a quilt are the top, the lining or back, and the interlining
. The top, which is the important feature, unless the quilting is to be the only ornamentation, may be a single piece of plain cloth; or it may be pieced together from many small pieces different in size, color, and shape, so as to form either simple or fanciful designs. 
The quilt top may also be adorned with designs cut from fabrics of varying colors and applied to the foundation with fancy stitches, or it may be embroidered. The materials may be either cotton, linen, wool, or silk. The quilt back is usually of plain material, which requires no description. The interlining, if the quilting is to be close and elaborate, must be thin. If warmth is desired in your quilt a thicker interlining is used and the lines of quilting are spaced farther apart. The design of the quilt top and the quilting lend themselves very readily to all manner of variations, and as a result there is an almost infinite variety of quilts.
For convenience in making, nearly every quilt is composed of a number of blocks of regular form and size which, when joined together, make the body of the quilt. Each of these blocks may have a design complete in itself, or may be only part of a large and complicated design covering the whole top of the quilt.
For more instructions in detail see our page on how to quilt.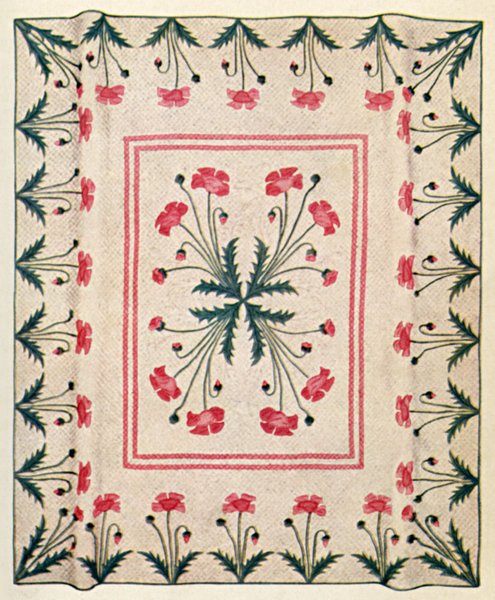 FREE QUILTING PATTERNS:DIAGONAL DESIGNS
(
a
) Single Diagonal Lines
(
b
) Double Diagonal Lines
(
c
) Triple Diagonal Lines
See a Larger Picture
FREE QUILTING PATTERNS:
DIAMONDS AND PLAID DESIGNS
(
a
) Diamonds
(
b
) Hanging Diamonds
(
c
) Broken Plaid
See a Larger Picture
FREE QUILTING PATTERNS:
ROPE, SHELL AND FAN DESIGNS
(
a
) Rope
(
b
) Shell
(
c
) Fan
See a Larger Picture
FREE QUILTING PATTERNS:
FEATHER DESIGN
FREE QUILTING PATTERNS:
FLOWER DESIGN
FREE QUILTING PATTERNS: PINEAPPLE DESIGN
See larger Picture

---
Follow Us: Facebook, Twitter, Google+, Pinterest, RSS
You can Add your Own Comments and Pages!
We have lots of pages where you can contribute to throughout this homesteading website. We love hearing from our readers, and hope you will be one of those we hear from too. Look around our homesteading website. If you have any comments, recipes of your own,  or questions, please add them by using this submission page below. We would love to have your contributions!
Leave a Comment
Do you have anything that you would like to add after reading this page? We would love to hear your thoughts. If you can add additional information to what has been written here you will be adding value to the website! No need to have any special skills - just type and submit. We will do the rest!
Don't miss out on our latest news and articles. Sign up for our free monthly e-zine!