Homestead Land: What to Look for when Buying Land and Moving to the Country

HOMESTEAD LAND: Introduction to Buying Land for Farming
When we were looking for our own homestead land we had a list of what we wanted. The farm had to have a lovely view, a stone farmhouse with potential, not too far from town but not where we could still hear traffic, the elevation had to be low enough for growing olives and the soil good enough for growing grapes. Finally, it had to have its own water source and be big enough to make a living.
Where no place may tick all the right boxes, and you will probably need to make some compromises, the bare minimum of what we wanted was a good view, good soil and water. The fact that we got all the rest was just good fortune.
BUYING HOMESTEAD LAND: Know What you Want Before your Buy!
Buying good homestead land when homesteading today is the most important purchase you will make and there are lots of considerations to take into account before you make the decision to purchase. Make sure, therefore, that you get it right the first time and look before you leap when buying land for farming.
When buying rural land never buy land with your heart. Look beyond the aesthetics and analyze what you are investing in, because if you don't you will end up losing a lot of money in the process.
There are many other aspects that need to be taken into consideration when buying farm land:
Do you want the land to be virgin land or developed land?
Do you want to work the land full time or are you going to supplement your homestead living with income working in town?
Can you live in the area with the present climate and does the climate allow you to farm what you had in mind?
Is it close to goods and services or will you be isolated and spending money in the transportation of your goods?
Are you going to live off-grid or on the grid? If you are going to live on the grid are all the services you need available or will there be additional expenses in getting telephone lines and electricity to your homestead?
Is your homestead properly fenced and if not have you factored that into the purchase price?
Therefore, knowing what you want before you set off looking narrows down the search and makes it easier to make a choice.
HOMESTEAD LAND: Visit our Local Council Before your Buy!
I wish someone had given us this advice before we bought. It would have saved us a lot of heartache. Councils have different by-laws that differ from area to area. They have different by-laws regarding the raising chickens, pigs and other livestock. They have different by-laws regarding swimming pools, barns, other structures, internal renovations and some may even dictate what color your roof should be and what color you can paint your house!
For over a year now we have been trying to enlarge our kitchen by changing the internal wall structure so that we can have a large farmhouse kitchen. Due to seismic codes and regulations we have been unable to do so. We have not won the war yet!
If you are thinking of homesteading, before buying your homestead land visit your local council or municipality. Find out what your land is zoned for. Is it zoned for agricultural use and does it allow for a dwelling? What agricultural activities are you allowed to carry out on this land? Are there any restrictions you need to know about?
What conservation restrictions exist? Can you clear the land, for example, or can you cut down trees in any forest that is part of your property, or are they protected? Can you build a dam or deepen existing dams?
Finally, find out about any future plans for the area. You don't want to find out that your land had been earmarked for expropriation and a highway is coming straight through your property and that was why the present owners are selling. This may sound far-fetched, but I am writing from experience! We nearly bought a house more than 25 years ago where this very situation presented itself! Sellers can be very unscrupulous and so can real estate agents at times. So buyer, be ware! Do your homework!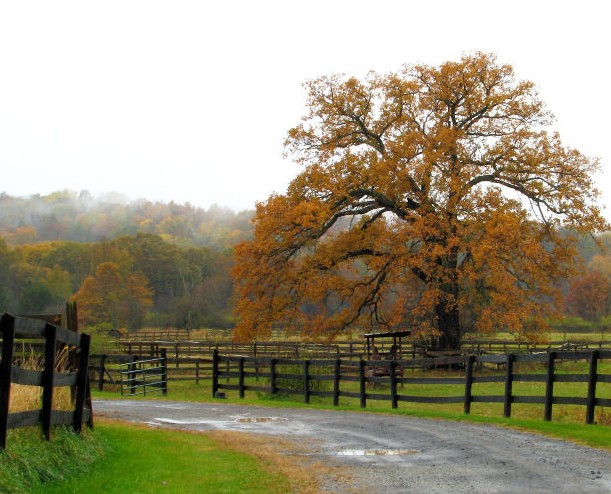 Buying Homestead Land needs Planning and Thought
LOCATION OF HOMESTEAD LAND: Isolation versus Accessibility
We once looked at land that was beautiful. It had everything we wanted; great views, established olive groves, water and total silence except for the bees humming at a distance. The drawback; a 7 kilometer white road. In other words, a dirt road that was rutted in summer and probably would be a mudslide in the wet season, and where one could be totally cut off for weeks on end when it snowed. Homesteading under these conditions is not fun!
Would we have to maintain this road? How much would that cost per year when we had to get a grader out for the job? Were we going through other people's fields to get to our own house? Would we be able to use this road with the car we had or would we have to buy a 4-wheeled drive?
We thought of more serious aspects; snake bites and farm accidents. Did we really want to live so far away from hospital services when we were in our mid-50s and then finally older.
We had to be practical, we moved on to buy our homestead elsewhere.
HOMESTEAD LAND: The Importance of Water
Water is an essential consideration when you go farming. Relying on town water or mains water is fine for house use, but totally impractical and expensive when you want to irrigate crops. You need to have a water source on your property. This could be in the form of a river with pumping rights, boreholes, dams and wells.
Before buying your homestead land you need to get a surveyor in to check the ouput of the existing wells and boreholes on the property. Speak to neighbors to see if these usually dry up during the dry periods.
Get your surveyor to check the levels of subterranean water and see how far the water is. Any cost of a borehole or well that needs to be established will be determined by how far down they will need to go.
Never buy rural land for homesteading without its own water. Be wary of any properties that share rights with neighbors for water. What agreements you may have on purchase can soon change when your neighbor sells to a new party.
HOMESTEAD LAND: Choosing the Best Layout for your Farm Land
Land should always have a view as far as I am concerned. Otherwise, what is the point of having rural land looking over some monstrosity such as cooling towers or a major highway?
Your homestead should ideally have a mix of fields and woodland, especially if you have fireplaces and a wood stove as we do. You will need a constant supply of good wood. If you live in the southern hemisphere your land should slope gently towards the north or northeast, have natural shelters against prevailing winds and the potential for a dam if there is not one already there.
If you live in a seismic area you will need to stabilize your house with micro-piling. Make sure too that you get a geologist in to check the land and find out if your house is built on one type or different types of soil. Having a house that straddles two or more types of strata will result in cracks in time to come.
Is you land in the path of hurricanes or cyclones, earthquakes or prone to bush fires? If so how could you minimize the effects of these and other natural disasters?
HOMESTEAD LAND: The Soil and your Farm Land
Is your soil arable? Will it be able to sustain the type of farming you have in mind? Does it suffer from long periods of drought and will you be able to get water to it when needed?
HOMESTEAD LAND: What to Grow?
Has the farm stood fallow for a long time? If you are an organic farmer this will be to your advantage as it means that there have been no artificial fertilizers or chemicals for some time. However, if it is in working farm you will need to establish how the land has been farmed and whether any heavy usage of chemical fertilizers and pesticides has taken place.
You may be thinking of raising livestock on your homestead. But is the land big enough to support the number of livestock you had in mind? Bring in a local stockman who will be able to advise you accordingly.
Your best rule of thumb is to see what your neighbors are growing and raising. This will be an indication of what does well in your area.
HOMESTEAD LAND: Where to Build your Homestead
Views are important, as has been established, and so I would take advantage of any pretty vista that presented itself. However, there are other considerations to make.
Prevailing Winds:
You will want to protect your homestead from any prevailing winds and to shelter it from trees that will keep your house warm in winter and cool in summer. However, keeping trees too close to your homestead will do more harm than good.
Damage from fallen trees to a house can be extensive. Invasive roots can also cause a huge problem for the foundations of a house. If the roots have sucked out all the moisture of the soil near a house, particularly clay soil, huge cracks will soon be evident in the brickwork. Therefore, any homestead should be built at a distance of one and a half times their mature height, and no closer.
If your surrounding countryside is flat then you will need to plant a series of windbreaks in a line and spaced approximately 10 times their height. Therefore, if your trees have a mature height of 5 meters then you need to plant the next line 50 meters away. When planting your lines of trees make sure that you are planting them in the path of the prevailing winds. Failing to do that will result in a wind funnel between trees and buildings, which is not what you want!
A windbreak that works best is one that is underplanted and interspersed with bushy shrubs among belts of medium-high trees.
Expansion
The homestead should also be positioned so that there is room for expansion if you ever want to extend and build on at a later stage.
Soil Removal
No matter where you position your homestead you will need to shift soil from where the farmhouse will go. Remember that shifting soil is labor-intensive and therefore expensive. Position your homestead where it will involve the minimal of cut-and-fill.
Access to your Homestead
Of all the developments you will make to your homestead, road building is the most expensive. Therefore position your house where it will be close to a public road and where services such as electricity and phone lines will be economical in their construction.

HOMESTEAD LAND: Planning and Doing your Homework is the Key
If you have clear goals of what you want in your homestead land when selecting your property you have already made inroads into the purchase of your rural land. The other half of the quest is that once you have found that land, you really need to do your homework and find out as much as you can about this piece of farm land before you make an offer. These are the hidden assets or pitfalls that neither the seller, nor the agent will pass on to you and you need to be well-informed before making that final leap.
You can Add your Own Comments regarding Homestead Land!
We have lots of pages where you can contribute to throughout this homesteading website. We love hearing from our readers, and hope you will be one of those we hear from too. Feel free to write about your own experiences in looking for homestead land and homesteading today. However, please do not advertise your land here. We have other pages for this, and any pages that are used for self-promotion will be deleted.
Leave a Comment
Do you have anything that you would like to add after reading this page? We would love to hear your thoughts. If you can add additional information to what has been written here you will be adding value to the website! No need to have any special skills - just type and submit. We will do the rest!
Other Comments
Click below to see comments from other visitors to this page...

Don't miss out on our latest news and articles. Sign up for our free monthly e-zine!