A Homemade Mincemeat Recipe for Christmas Pies and Mincemeat Logs
Mincemeat should be made at least a fortnight before you make your Christmas pies and logs, as the minced fruit needs time to mellow and improve the flavor.
This mincemeat recipes will make about 2 pounds. Make sure that you have enough sterilized jars ready after you have cooked up all the ingredients.
Why don't you have a look at our recipe page for Christmas Mincemeat Logs, as well as other pages for some easy
Christmas recipes
for you to try.
Homemade Mincemeat Recipe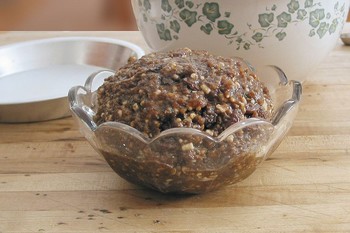 4 oz currants
4 oz sultanas
4 oz raisins
4 oz nuts, chopped
4 oz mixed peel, chopped
4 oz dates (or extra currants if you prefer)
4 oz shredded suet
4 oz soft, brown sugar
1 large cooking apple
2 oz almonds
finely grated juice and rind of 1 lemon
pinch of ground cinnamon
1/8 pint brandy or rum
Peel, core and grate the apple, then mix it with the chopped mixed peel, currants, sultanas and dates. Stone and chop the raisins if they are the large ones and mix them with the rest of the fruit.
Add the suet, sugar and ground ginger and cinnamon. Chop the almonds finely and stir them into the mixture with the grated lemon rind.
Add the lemon juice and brandy or rum, then stir the mixture really well.
Finally pack it into clean, dry jars, cover the tops and store the mincemeat in a cool dry place until needed.
---
Add your Own Mincemeat Recipes here!
We have lots of pages where you can contribute to throughout this homesteading website. We love hearing from our readers, and hope you will be one of those we hear from too. Look around our homesteading website. If you have a favorite mincemeat recipe of your own, please add them by using this submission page below. We would love to have your contributions!
Leave a Comment
Do you have anything that you would like to add after reading this page? We would love to hear your thoughts. If you can add additional information to what has been written here you will be adding value to the website! No need to have any special skills - just type and submit. We will do the rest!
Don't miss out on our latest news and articles. Sign up for our free monthly e-zine!