Planting Window Boxes: Flowers, Tips some Great Ideas!

Planting window boxes is the perfect solution for those living in apartments, flats or even houses where they wish to brighten up the facades with a little color. They are a joy to both the owner and the visitor as they bloom from spring through to late summer. It is certainly not too late to plant out a window box for those of you already hurtling into summer.
Window boxes give your house character, make them look great and break up a boring symmetrical front, softening the view from outside.
However, window boxes are not just for decoration, they can also be very functional. Planting window boxes with certain herbs will deter flies and mosquitoes from coming into your house.
Window boxes will also allow those that live in flats and townhouses the opportunity to grow and harvest herbs for their kitchens. Parsley, thyme, chives, oregano, rosemary, basil and sage can all be grown in window boxes.
Planting your window boxes with certain plants can also be used to attract bees, bumble bees and many other beneficial insects. The yellow and white "poached egg flower" for example will attract hoverflies and lacewings which eat aphids.
Why do Most People Fail at Window Box Gardening?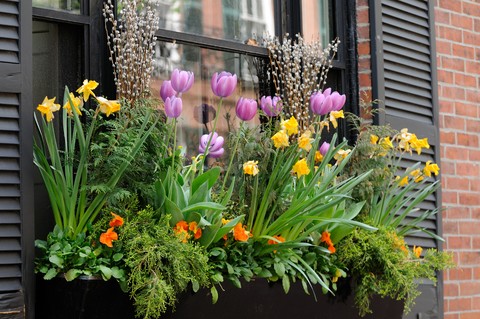 A well-planted widow box

Many people planting window boxes in the past have failed to succeed with the end results seldom looking as to what they originally had in mind. "It
looks
easy," said someone the other day, "when you see somebody else's window box just running over with vines, but when you come to try it yourself you wake up to the fact that there's a knack to it that most of us fail to discover.
I've tried my best, for the last three years, to have such window boxes as my neighbor has, and I haven't found out what's wrong yet. I invest in the plants that are supposed to be best for window-box culture. I plant them, and then I coax them and coddle them.
I fertilize them and I shower them, but they stubbornly refuse to do well. They
start off
all right, but by the time they ought to be doing great things they begin to look rusty, and it isn't long before they look so sickly and forlorn that I feel like putting them out of their misery by dumping them in the ash-heap."
Perhaps many of you have already tried your hand at planting window boxes and even porch boxes and had the same dismal results. The problem is that 99 times out of 100 failure with window-boxes is due to just one thing:
People let their window box plants die simply because they do not give them enough water
. Because the plants are in a container they dry out far quicker than if the plants were in the ground.
It is not enough to just wet the surface of the soil, thinking that there is enough moisture below. What is happening is that only the first inch or two is wet, and the roots system below is in fact very dry with no water at all.
This explains why the plants start off well because while the window box plants are young and small their roots are close to the surface, and as long as they remain in that condition they grow well enough, but as soon as they attempt to send their roots down, as all plants do, after the earlier stages of growth—they find no moisture, and in a short time they die.
There is
no danger of over-watering
, for all surplus water will run off through the holes in the box, provided for drainage. Therefore when planting window boxes make sure that you water them very well and give them a thorough soaking everyday. If you do, you will find that you will have the success you have been looking for. 
Planting Window Boxes: What are the Best Type of Window Boxes?
It isn't the box that your plants grow in that counts for much. It's the care you give while they are in the box. Of course the soil ought to be fairly rich with some good compost, and a small amount of blood and bone. Also make sure that you feed your plants with a plant feed from time to time. However, don't overfeed, as you don't want to force your plants to grow too quickly.
Planting Window Boxes: What are the Best Window Box Flowers?
You can use almost any kind of plant when planting window boxes. Drooping plants are nice to have as they trail over the sides of the box, and add that touch of grace which is characteristic of all vines. 
Plants that bloom freely throughout the season should be chosen in preference to shy and short-season bloomers. Geraniums, Petunias, Verbenas, Fuchsias, Salvias, Heliotropes, Paris Daisies — all these are excellent.
When planting widow boxes you can also use vines. Vines that will grow well are Glechoma, green, with yellow variegation—Vinca Harrisonii, also green and yellow, Moneywort, German Ivy, Tradescantia, Thunbergia, and Othonna. 
A combination of plants with richly-colored foliage is especially nice for boxes on the porch or veranda, where showiness is what you want. In these boxes larger plants can be used than one would plant at the window. Here is where Cannas and Caladiums will be found very effective.
Ferns, like the Boston and Pierson varieties, are excellent for planting window boxes that don't get a lot of sun because of their graceful drooping and spreading habit. They combine well with pink-and-white Fuchsias, rose-colored Ivy Geraniums, and the white Paris Daisy. Petunias—the single sorts only—are also good, because they bloom freely and constantly, and have enough of the droop in them to make them as useful in covering the sides of the box as they are in spreading over its surface.
Planting Window Boxes: How big should Window Boxes be?
A foot in width, a foot in depth, and the length of the window frame to which it is to be attached is a good size for the average window box. Great care must be taken to see that it is securely fastened to the frame, and that it is given a strong support, for the amount of earth it will contain will be of considerable weight when well saturated with water.
Veranda or Porch boxes, in which larger plants are to be used, should be considerably deeper and wider than the ordinary window box. Any size that you want to have should be large enough to hold a sufficient amount of soil to grow whatever plants you want to use. If your plants grow as they ought to no one can tell, by midsummer, whether your box cost ten dollars or ten cents. If it is of wood, give it a coat of some neutral-colored paint before you fill it.
Planting Window Boxes and Ideas
Ideally your window box will be right outside your kitchen window and easily accessible to you when you want a snip of herbs for your meal.  And if it isn't, what does it matter? As long as you can get to care, water and harvest your herbs when you need them, they can be placed outside any window of your apartment.

Buy Window Boxes from Amazon.Com
Click on each of the pictures for prices and details.


---
You can Add your Own Comments and Pages on Window Boxes Here!
We have lots of pages where you can contribute to throughout this website. We love hearing from our readers, and hope you will be one of those we hear from too. Look around our homesteading website. If you have any comments, tips or advice on planting window boxes, please add them by using this submission page below. We would love to have your contributions!
Leave a Comment
Do you have anything that you would like to add after reading this page? We would love to hear your thoughts. If you can add additional information to what has been written here you will be adding value to the website! No need to have any special skills - just type and submit. We will do the rest!
Other Comments
Click below to see comments from other visitors to this page...

Late Summer - Winter Window Boxes; What to Plant? 

I enjoy your website - my first visit. I live in NYS and would like to plant something in the window boxes of the house I just moved into, preferably something …
Recommended Books on Planting Window Boxes
Don't miss out on our latest news and articles. Sign up for our free monthly e-zine!