How to make the Perfect Turkey Gravy 
Homemade turkey gravy can either be absolutely delicious or a lumpy disaster. With some tips to making the perfect gravy and with an easy turkey gravy recipe or two, your Thanksgiving or Christmas dinner should be a great success! 
There really isn't a lot of skill in it, but there are a couple of things that you need to be mindful of. So, what are they?
How to Make the Perfect Homemade Turkey Gravy:
1) Make sure that you
get rid of most of the oil or fat
in the roasting pan. You don't want the oil to float on the top of your gravy. Any fat that is left behind should be soaked up with the addition of flour, to start the gravy making process.
2) When adding liquid to your gravy,
use the water that you have boiled your vegetables in
. You can use any vegetables for this, and it gives added depth to your gravy. I usually use potato water to make gravy as the starch also helps with the thickening.
3)
Always take the saucepan or roasting pan off the heat when adding the flour
. When adding the liquid, make sure that it is either cold or only lukewarm. If you add hot liquid, this is when you will end up with lumpy gravy.
4)
If you end up with lumpy gravy, don't panic
. Just take an egg whisk to it, or throw it in a bowl and put a cake mixer through it, before putting it back on the heat to cook and thicken.
Turkey Gravy Recipe Collection 
An Easy Turkey Gravy Recipe
There are a number of ways to make turkey gravy, or any gravy for that matter. The easiest way, I think anyway, is the way I do it. I allow the roast turkey to cook in a baking dish, and after it has cooked through I remove the bird and allow it to rest.

I then remove as much as the fat as possible by skimming it off. What is left is the goodness that makes excellent gravy. I then add some flour and a teaspoon or two of gravy powder to the juices and stir this through making sure that there are no lumps. All the time I am doing this, the baking dish is off the heat.

Now, I add any juices back to the pan from the turkey that has been resting. I also make up the gravy with any vegetable water that has been strained off. You can use any vegetables for this. Whisk this through, place the baking tray back on to the heat and stir constantly making sure that your gravy is lump free.

Adjust the thickness by adding more vegetable water to the gravy if it gets too thick. Or, by the time you have carved some of the turkey, you will have more juices that you can add back to the turkey gravy. Add salt and pepper to taste, but check first to see if you need any more, as you would have salt added to your vegetables any way. Enjoy!

A Turkey Gravy Recipe with Giblets
This recipe is very similar to mine, but where I have given you a rough guide on how to make it, this recipe gives you exact quantities and uses the giblets.

Pour drippings (fat and juices) from roasting pan. Let fat rise, skim it off.

For each cup of gravy use 1 tablespoon of the fat, 1 1/2 or 2 tablespoons flour, 1 cup liquid (juices from pan, broth, water), and 2 tablespoons chopped, cooked giblets.

Put measured fat back into pan, blend in flour, and add liquid. Cook gently until thickened. Season to taste and add cooked giblets.

I roast mine in the pan with the turkey. Don't leave them in the pan for too long, however, as they will cook way before the turkey is done.
An Easy Turkey Giblet Gravy Recipe
Again, this recipe uses giblets, but these are boiled with the gravy.
Strain off all the juices from the turkey, leaving behind 4 1/2 tablespoons of liquid. Add to this 3 tablespoons of flour. Stir well until smooth. Add to this 3/4 pint of cold to warm giblet stock.  Place back on heat to thicken. Season with salt and pepper to taste.
A More Sophisticated Turkey Gravy Recipe
This recipe makes a delicious turkey gravy, but it does involve more work. You can, however, make it the day before, which will save you time on the day. What you will be making is a gravy base, that you will then add to the turkey juices on the day.

Turkey Gravy Base
1 tablespoon butter
1 pound turkey neck and giblets
1 cup chopped onions
1/2 cup carrots, diced
1/2 cup celery, chopped
3 cups chicken stock
Melt the butter in a heavy-based frying pan or skillet until it goes lightly brown. Add the turkey neck and giblets. Cook for about 10 minutes. Add the vegetables and cook for another 10 minutes. Add the stock and cook over a low heat and simmer for about 45 minutes. Strain the gravy base. You should have 4 cups.
When you have your turkey gravy base you will need to add this to the cooking juices from your roast turkey. However, with this turkey gravy recipe, you need to cook your turkey a little differently.
For every 45 minutes of cooking you need to add 1 tablespoon of butter and pour 1 cup of hot chicken broth over the roast to baste it. Do this for a maximum of 4 times, during the cooking process.
Remove your roast and add the turkey gravy base to the pan juices that contained the chicken broth.
Now take 1/4 cup flour and add it to 2 tablespoons butter that has been melted in a large saucepan. Whisk  thoroughly until smooth. Remove from heat and add the turkey gravy mix to the flour and butter roux. Mix thoroughly. Put back onto a medium heat to thicken. Keep stirring. Now reduce heat and simmer to reduce the gravy slightly so that it is nice and thick. Add salt and pepper to taste. Serve.
A Mushroom Turkey Gravy Recipe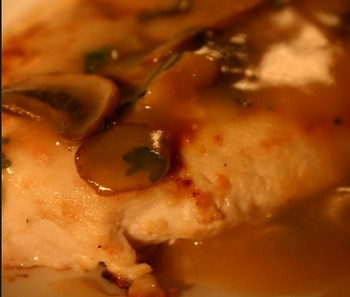 3 cups button mushrooms sliced, white or brown
1 brown onion, finely diced
3 tablespoons plain, all-purpose flour
6 cups chicken stock
Remove the turkey from the baking tray, and remove as much fat as possible. Add the mushrooms and the onions and cook these in the baking tray on top of the stove.
Once cooked, remove from the heat and add the flour. Whisk in making sure that there are no lumps. Place back on the heat for about 3 minutes, scraping all the good bits from the bottom of the pan, into the flour.
Add the warm stock, not hot, and whisk through again. Place back on the heat, and simmer for 20 minutes or so until thickened.
A Fat-Free Rich Turkey Gravy Recipe
This is the perfect gravy recipe for those weight-watching and looking for a low-fat gravy recipe and one that doesn't use flour.
1 3/4 pints chicken stock
1/4 pint white wine
few sprigs of thyme
2 bay leaves, fresh
1 desertspoon cornflour
Put the stock, wine and herbs in a saucepan and simmer over a low heat until the liquid has been reduced by half. Remove the herbs, and mixing the cornflour with a small amount of water, add this back to the stock to thicken.
Stir and season with salt and pepper if necessary. Add any juices from the carved turkey into the gravy and heat through again just before serving.
---
Don't miss out on our latest news and articles. Sign up for our free monthly e-zine!