Spring Bulbs: Planting Bulbs To Get Blooms Year after Year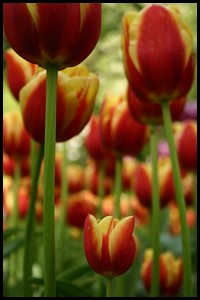 Spring can be a wonderful time after the cold depths of winter. It is the time for renewed hope, spring lambs and planting spring bulbs. Nowadays there are so many wonderful bulbs to choose from that making a choice can be really overwhelming. By planning your spring garden, you can make better choices and have a more successful display.
The first thing to do is to look at your garden and decide where it is you want to plant your bulbs. Identify which areas need a splash of colour and decide on some sort of colour scheme for these areas. Make sure that the colours of you new bulbs won't clash with your existing plants and colour schemes and what will be flowering at the same time as your new bulbs.
Spring bulbs are meant to be planted en-mass. Never plant individual bulbs as they will just look silly and out of place. In nature they bloom in vast swathes, and that is what you want to copy. You can never plant too many bulbs in an area, and they are also cheaper when buying in bulk.
Traditionally when we think of growing bulbs we think of daffodils, tulips, bluebells etc. for cold climates. However, for those of you who live in warmer climates you can also plant bulbs but just not the ones mentioned. You can plant bulbs such as babiana, sparaxis, freesias, ranunculus and Spanish bluebells which are native to warmer climates.
Storing Spring Bulbs before Planting Them
If you live in a cold climate but your winter hasn't been as cold as you thought it should have been you can store bulbs such as tulips, daffodils, jonquils, Dutch irises, hyacinths, grape hyacinths and bluebells and place them in an air-tight plastic container in your vegetable drawer for 6 weeks prior to planting.
Where to Plant Spring Bulbs:
Bulbs like a place where they will get full sun. Plant in free-draining soil as your bulbs will rot if they are constantly standing with their feet in water.
How to Plant Spring Bulbs:
As a rule of thumb you usually plant bulbs 3 times the depth of the bulb's width. Position the bulb with the point facing upwards, except ranunculus and anemones which should be planted with the pointy end down. They like soil that has lots of added compost.


Before you plant them it is a wise idea to lie them on top of the prepared soil first. This allows you to see the spacings of the bulbs and the desired shape in which they will grow. This is especially important where you want to create an effect of 2 or more bands of colours flowing into one another.
Spring Bulbs & Growing Conditions:
Water your bulbs wisely. If the rains are falling then you don't need to water your bulbs. However, if there is a dry spot you will need to water them once in a while, until the bulbs start to shoot. After that, water only 2-3 times a week to make sure that the bulbs are getting enough water to flower.
Apply liquid manure to your bulbs before and after flowering. This gives your bulbs the boost they need to flower well, and to also feed the bulbs and prepare them for the following season.
Spring Bulbs & What to Do with Bulbs After they Have Flowered:
After they have flowered and the season has ended let the bulbs die back naturally. This allows the bulbs to draw food from the leaves and the energy they will need to bloom for you next spring.
Many people like to dig the bulbs up after they have flowered and store them in a cool, dark airy place until they need them again. Others, like myself, like to leave them in the ground so that they are left to their own devices, multiply and produce a more spectacular show each subsequent year. However, you can only do this in areas where you won't need to dig during other times of the year.
---
Go from Spring Bulbs back to Country Living

Go to Cottage Gardens

Return to Countryfarm Lifestyles Home Page