Budget Country Home Decorating Ideas
Home decorating ideas on a budget? Easy country decorating ideas and projects for cottage style decorating that won't break the bank for easy-sew cushions, do-it-yourself distressing and other quick and easy ideas for your homestead, farm or home. We also have some advice on country kitchens and decorating in the country style.
Home decorating ideas do not have be costly or complicated. In fact the decorating projects that you will find here for your country homes will be very quick and easy, and won't break the bank as they really are decorating on a budget. So those of you who enjoy such projects may also be interested in other ways of saving a penny or two in Saving Money Ideas
Country Home Decorating Ideas for Easy-Sew Cushions
How many times have you seen lovely napkins and serviettes at your home decorating stores? Have you ever thought that you could use them for something other than what they were made for? Have you thought about using them to make some cushions? This is an inexpensive way of making a variety of cushions for your home and because they are already pre-sewn the job is dead easy.
Buy cotton napkins in the colors of your choice. You may choose to have a plain napkin in a matching color for the back or 2 napkins the same for both back and front. Buy the cushion inserts 2 inches smaller than the 

napkins themselves to allow for sewing the sides. Common sizes for cushion inserts are 12 inches and 18 inches square.
If you need to put in a zip for washing purposes, stitch a zip to one side of each napkin. Place napkins with the wrong sides together and stitch the other 3 sides allowing for about a 1/2 inch seam. For those of you who don't want to use a zip. Stitch the cushions in the same way with the wrong sides together and by sewing 3 sides only. Turn cushion cover inside out and place cushion insert into cover. Hand sew or machine sew the remaining fourth side.
Country Home Decorating Ideas for Do-it-yourself Paint Distressing
Country homes often have that worn and lived in look. If you have a new home, you can create the same effect just by distressing furniture. If you have a piece of painted furniture that you would like to distress then follow these easy examples. By doing it yourself you will have the exact color and feel that you want. You will, however, need two different paint colors; one for the base coat which will come through after the distressing, and another color paint which will be for your top coat.
Step 1
Choose a piece of furniture that lends itself to the distressed look. Basically you are looking for anything that looks 'cottagey' and old fashioned. Something simple works well; Shaker or Mission furniture is perfect. It should be solid wood, either painted or unpainted. If you have chosen something that is unpainted it will need to be wiped clean with a damp cloth, given a light sanding with some glass paper or fine sandpaper, primed with an undercoat and then painted with your base color. If the piece of furniture is painted, then you can either follow the above directions or just paint it with the base coat without using an undercoat.
Let it dry. Once dry rub wax over the base coat, rubbing with the grain. If you want a really authentic aged effect then the waxing should be more concentrated around the edges of the furniture and other areas that would indicate natural wear and heavy use.
Step 2
Paint the top coat, and let it dry. If you are placing your furniture where it will be placed outdoors and will come into contact with direct sunlight, then it will have to have an additional layer of exterior latex paint to ensure that it doesn't fade. If your furniture will be used indoors then an interior latex paint will be fine.
Step 3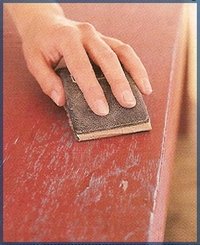 Now make a final sanding to create your distressed look by using a medium grade sandpaper. To get better surface contact between the wood and sandpaper on flat edges, wrap your sandpaper around a block of wood. Sand the piece down until you have the desired look. Once you are happy, wipe down your bench again with a damp cloth. When it is completely dry seal with two coats of polyurethane.
Country Home Decorating Ideas for Jazzing-up those Towels:
The last of our quick and easy home decorating ideas. If you have some towels that are really quite plain you can decorate them very simply by using some ribbon, and creating some simple cottage style towels. Cut your ribbon of choice 2 cm longer than the towel itself. Tuck the ends of the ribbon under itself to get a good edge and tack or pin in place either end of your towels. Then machine sew the ribbons where you have placed them.
Well, hopefully you have been inspired by these quick and easy decorating ideas. With a little bit of imagination one can always do home decorating on a budget. Please check back often as we add to this page from time to time. And if you want to keep up to breast with other sections of our website RSS us or sign up for our free monthly e-zine.
We are very excited to offer our readers country decor online shopping through our Country Kitchen and Country Decor Accessories Shop. Take a peek, and see what you can buy online to brighten up your home and give it that country feel. We have some lovely things. My personal favorite are the country swags and door wreaths.
Did you find this page helpful?
Sharing is a way of saying, "Thanks!"
Follow Us and Keep Up to Date
---
BEST SELLING BOOKS ON HOME DECORATING IDEAS
You can Add your Own Comments and Pages on Home Decorating Ideas!
We have lots of pages where you can contribute to throughout this homesteading website. We love hearing from our readers, and hope you will be one of those we hear from too. Feel free to join in and tell us about your own country home decorating ideas that you have used successfully in the past. You can do this by using the form below.
Leave a Comment
Do you have anything that you would like to add after reading this page? We would love to hear your thoughts. If you can add additional information to what has been written here you will be adding value to the website! No need to have any special skills - just type and submit. We will do the rest!
Don't miss out on our latest news and articles. Sign up for our free monthly e-zine!