A large country living kitchen reflects the more relaxed atmosphere of country. It's also a hard-working area. Floors have to cope with the punishment of muddy and dusty boots. Hearty meals and numerous snacks are consumed around the kitchen table and cooked in
woodstoves
or farmhouse ranges.
Country Kitchens; Ideas:
Have a built-in wood box beside the woodstove which can be filled from the outside through a trap-door. This will save the unavoidable dropping of wood debris being dragged through the kitchen
Rugged floor finish and a strong table and comfortable chairs would be a boon in this type of kitchen. Nowadays, the season's excess of fruit and vegetables can be either bottled and stored in a generous pantry, or deep frozen. But when you have a farmhouse kitchen you can display these on your dresser in decorative canning jars.
When dealing with food in quantity, more work and storage space is needed than the average city kitchen can afford. But there's no earthly reason why a kitchen shouldn't be glossy and stylish or a city kitchen matter of personal preference. The only hard and fast rule is that your kitchen should serve you well and be in harmony with your lifestyle.
Country Kitchen Ideas for Creating that Look
A picture of a Traditional French Country Kitchen Decor
Have a look at the picture above of typical
French country kitchen decor
for this part of the house. You only have to look at the wooden cupboards; warm tones, bordering on the slightly rustic, and yet, not really. They still maintain a quiet air of sophistication, although rustic cupboards would not be out of place here either.
Look at the gleaming
copperware
, an essential element of any country style kitchen, and having them hanging from the wrought iron frame adds character to the scene. The copper theme is echoed throughout, bringing different elements together and therefore cohesion.
We see this with the antique bronze taps, the cupboard handles and the bronze
Belfast sink
. These are all different country kitchen elements that have been "knitted together" using bronze, copper and wrought iron as metal materials, and therefore resulting in a very fluid
country living kitchen
.
Imagine how dreadful it would have looked had the designer used stainless steel taps? The whole picture would have been ruined. Paying attention to detail when drawing up your
country kitchen designs
and choosing your
country kitchen decor
is what will make your kitchen authentic looking in its style.
And what about the beautifully carved stone range hood? This
essential element of a country living kitchen
truly is a work of art, and adds elegance to the kitchen. It also evokes feelings of a bygone age and becomes a focal point. See how the granite tops carry the same cream as the stone hood. These country kitchen decor ideas are really a lovely example of what a country kitchen should be.
Traditional Country Kitchens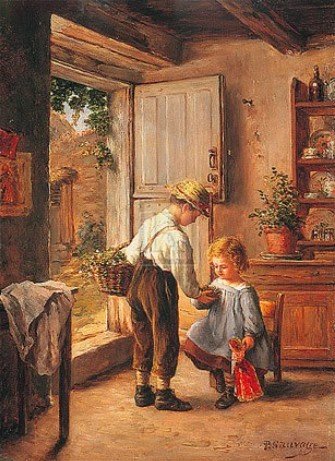 Traditional country kitchens from the past comprised of assorted cupboards and shelves with large, unfitted stone sinks and a free-standing cooker.
The floor was stone, compacted earth or tile and the work surface, which was provided by a wooden table, was left untreated for daily scrubbing.
There was always a dresser, and this, like the cupboards, was either painted or unpainted pine, except in the grander houses, where it might be made of hardwood, in which case it was also usually left unpainted.
Modern Country Kitchens
Modern country kitchens try to take something from both worlds to produce a kitchen that is functional, has all the user-friendly benefits of a modern kitchen with some of the character of the country kitchen.
Modern country kitchens are not authentic, but since they use natural materials like wood and terracotta they do capture the feel of the countryside.
However, the country style is not difficult to replicate and with carefully choosing of floor coverings, window treatments, kitchen cupboards, work surfaces and even a dresser to display china, spice jars and preserves you will soon have that country look you are after.
For those modern country kitchens that have the painted kitchen cupboards, moldings and cornices, are more likely aiming for the French country kitchen look as seen below.
A modern French country kitchen - clean lines and no clutter
Decorating Country Kitchens on a Budget
The genuine country kitchen is quite a low cost project For those looking to decorating on a budget, a country kitchen is the answer.
A pine kitchen table instead of an island unit, open shelves instead of closed wall units and a rail to hang utensils from come relatively cheap.
These can be combined with a few built-in cupboards containing a Belfast sink and woodstove to provide the convenience of a smooth work surface and a place to store foodstuffs.
The whole lot could either be painted, or painted and destressed to look old, or even left plain and unpainted.
Your country living kitchens should also have cupboards that have a simple style with wooden, painted, brass or wrought iron handles.
Your kitchen cupboards could also have solid doors or glass fronts if you don't like the idea of dusting those open shelves.
For a top-end, expensive country style kitchen you could go for natural oak cupboards, or hand-painted panels with fancy cornices and decorated tiles. You could also have made to order pot drawers, spice drawers, moldings and have your woodstove slotting into a panelled out alcove.
The bare essentials of a traditional kitchen country style

Traditional Design for Country Kitchens
A quick list of what you should have to create a farmhouse or country kitchen:
A genuine country style kitchen has a free standing woodstove or range and a few basic free-standing kitchen units to provide storage space.
Open shelves instead of closed kitchen cupboards
Open fireplace in the kitchen
Kitchen dresser
Kitchen table
Baskets for storing vegetables
A butcher's block
Natural materials for cupboards, floors and work surfaces
Decor for Country Kitchens:
If you like the warmth and charm of a country kitchen but can't cope with the clutter, you can still create a relaxed warm atmosphere by still using natural materials such as timber, slate, stone and cork but adding visual interest with patterns such as small print wallpaper, handpainted tiles or gingham curtains and a tablecloth.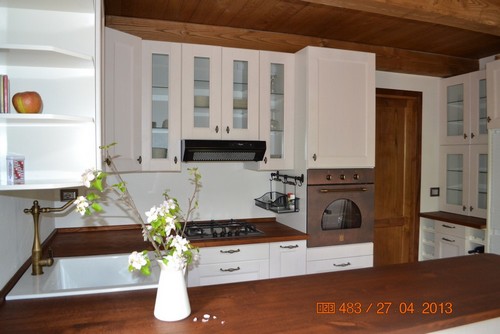 This is my recently finished modern country kitchen in the apartment of my farmhouse in Italy.
Decorating Ideas from Country Kitchens around the World

Dutch Country Kitchens:
The decor of a Dutch country kitchen usually gleams with well-polished copper. Long handled warming pans that used to be filled with hot coals from the kitchen to warm winter beds, copper coffee urns to brew a dark rich roast and a tiled hearth all go to make up the Dutch country kitchen.
English Country Kitchens:
The decor of an English country kitchen has wooden beamed ceilings and walls lined with a Welsh dresser to display the pretty white and pink floral china and summer preserves. Brass candlesticks stand on top of great wooden beam above the fireplace. The floor is made of ancient flagstones chipped and uneven from age.
Spanish Country Kitchens:
A Spanish country kitchen is brightly colored in rich designs. Its plastered walls are often orange-pink and its floors in a rich terracotta red.
Majolica plates, jars of olives and preserves are placed on wooden shelves in a recess and the warm and bold colors of Spanish living is very apparent.
French Country Kitchens:
A French country kitchen is simply furnished with dark floors, either wooden or tiled, and a beamed ceiling.
Color is added to the kitchen with the addition of colored pottery in warm yellows and browns.
A red and white gingham table cloth matches the valance above the kitchen hooded fireplace.
A bunch of glossy bayleaves is tucked in the dish rack over the stove.
American Colonial Country Kitchens:
An American Colonial kitchen is furnished with mellow pine and maple of New England and copper kettles and pots for cooking.
The kitchen is the heart of the home. Here the weaving loom or the spinning wheel sits and family treasures line the mantlepiece. A flintlock musket is always close at hand to prepare of the event of dangers that lurk in the nearby forest and beyond.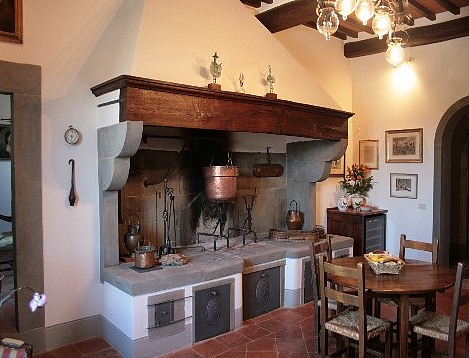 A traditional Italian kitchen I want to put into the main section of my house in the future. I just love this type of kitchen! Note the copperware, cotta floors and the use of wood.
If you are looking for that some wonderful country style kitchen accessories for your house, home or even for the garden, visit our
Country Corner Store
for country decor, furniture and kitchen accessories.
---
Country Kitchen Design Ideas - Examples to Consider

By Olinda Rola
A country style kitchen design means having a relaxed and friendly kitchen space with some antique or reproduction furniture where everyone can gather to enjoy wonderful meals and good conversation that reflects country living. Not just a place to prepare meals, the kitchen can be the most popular room in your home.
Materials for the cabinets would include wood materials with a natural, rough or distressed finish to wood to add to the country style. Cabinets built of painted, distressed or naturally-finished wood can be beautiful when used in country kitchen design.
Floor and counter-top materials used are important elements to maintain the rustic country look. Use ceramic tiles, hand-painted tiles, slate, stone or marble for the counter-top. Popular flooring material choices could be terracotta tiles, brick, stone and wood.
A kitchen island is an essential part of a desirable kitchen according to most home buyers. Having a kitchen island in your country kitchen design adds value to your home. The kitchen island reminds us of long ago when the kitchen island in farmhouses was where the food prep work was done. With limited space, choose a rolling butcher block that is movable and can be wheeled around as needed.
Use some antiques or reproductions if you have the space in your kitchen. Do not be concerned if the antiques have chips and scratches. Imperfections will add to the charm and rustic look in the country kitchen design.
Before actually starting to do the work, keep your country kitchen ideas and pictures you like in a notebook. The planning stage is important and have fun going through books and magazines and searching online for country kitchen examples and ideas that you like. Well-designed unique country kitchens will make the home more valuable. Even if you will not be selling your home, a country kitchen design that reflects your personal style will provide you a very special place to be enjoyed for many years to come.