Rustic and Country decorating ideas
for your homes and gardens. See simple and
easy country style
decorating ideas for
country kitchens
, living rooms, bathrooms and outside areas.
Country style decorating means a lot of things to a lot of people. You hear people talking about French country decor or Tuscan elements that give your house that farmhouse appeal. And not only are there different layers to country decor, but you can also find parts of the house and garden being segmented.
People talk about English country gardens or wanting a
Cottage Garden.
So what can you do to your house to give it that country feel and how far do you want to go in your decor to achieve that? And when you ask these sorts of questions you realize that there are different layers to decorating your homestead or house in this fashion from the rustic to the chic and everything in between.
We will examine the different types of country styles and illustrate with some pictures, where possible, to give you some great country style decorating ideas so you can decorate your own home.
But before we do that, one thing is certain and that is that there are common elements to country style decorating that run throughout the different types of country themes. And we need to look at these first in order to achieve this particular style. Country style decorating means using materials for furniture, flooring, curtaining and accessories that are natural. So we are talking about using wooden flooring and furniture, cotton or linen curtains, rush mats, or woolen mats and metals such as copper and brass and country pottery for accent pieces.
COUNTRY STYLE DECORATING IDEAS FOR RUSTIC COUNTRY STYLE

COUNTRY DECORATING IDEAS - Rustic Furniture
This section is for rustic decorating ideas. Rustic country style is where the furniture and accessories that you use throughout your house have been made with logs and twigs, roughly cut and sawn. Bedsteads would
rough and the wooden furniture used throughout would have very simple, straight or curved lines and definitely no ornate carvings or patterns.
Having a kitchen big enough to take a wooden table and chairs would add to the feel of your country style decor and the seats of the chairs could be rush such as found in Provencale style chairs.
Or if you want to go totally rustic, then your chairs would look very homemade with the edges of the wood roughly sawn, log made and the nails very much evident. Pine is often used as a material, and includes wooden paneling for walls.
COUNTRY DECORATING IDEAS for Floor Treatments
This style will also incorporate stone as a material. You can use this effectively by having stone flagged floors and a stone fireplace. Flooring could also include painted floorboards and rag or rush mats.
COUNTRY DECORATING IDEAS for Fabrics
Whatever fabrics you use for dressing windows, covering seats and cushions these should have a rough and open weave, and be a natural material such as cotton or calico.
You could never put chintz or satin a room of this style. The rustic style for it to be successful has to be echoed throughout all the treatment areas, walls, floors, windows, furniture and accessories.
For windows, another alternative to using rough-weaved fabrics is to go with woven wood shades. They look good in a rustic style home and not only do they look good, but they are longer lasting than fabric curtains and are great for conserving energy as being of wood, it is a great insulator.
COUNTRY DECORATING IDEAS for Country Accessories
Finish your rooms with hand-thrown pottery, driftwood, cones and other earthy accessories from nature. Use open, wooden frames and hang them off the wall. Inside these display your knick-knacks. You can do the same with shelving and have a simple plank for books or knick-knacks.
COUNTRY DECORATING IDEAS FOR THE MODERN COUNTRY STYLE
The modern country look is a slimmer version of the cottage country look, except we have dispensed with the frills, but kept the essential elements that make up this modern country style.
There are several key ingredients to this look
MODERN COUNTRY DECORATING IDEAS  for Furniture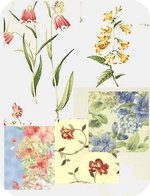 We are used to the country look having its well-worn furniture, and over-stuffed sofas, and the delicate floral prints add to the emotive look the country style creates.
MODERN COUNTRY DECORATING IDEAS for Fabrics and Wallpaper
For the modern country style, we should use the floral fabrics and papers sparingly, and all flounces and frills should be banished, in search of a sleeker, cleaner look. 
The floral prints should blend together, and color palettes should be restricted to a few colors, and the patterns should be kept small.
And don't forget that there are some lovely wallpaper prints too that can compliment your floral fabrics, but make sure that what you choose is understated and not too 'busy'.
MODERN COUNTRY DECORATING IDEAS Using Flowers
For some more country style decorating ideas, those wanting the cottage country look, dried flowers are still acceptable. 
However, if you are trying to go for a modern country look, then the flowers should be fresh, and ideally non-exotic blooms would be your choice; old-fashioned climbing or dog roses, delphiniums and wallflowers, daisies and cosmos in the summer months, hawthorn berries, olive cuttings and the like in the winter and primroses, fruit blossoms, poppies    and bulbs in the spring. 

See how cleverly the flowers here have been specifically chosen to echo the pattern on the jug, and as a result, looks very effective.
MODERN COUNTRY DECORATING IDEAS for Furniture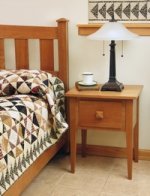 The ideal type of furniture for your modern country style has clean lines, but still has that country feel. The plain Shaker furniture is ideal for this. 
The bed and bedside table in the picture here, is an example of Shaker furniture. It is widely admired for its simplicity, old-fashioned dove-tailed joinery, quality, and functionality without being stark. Instead, the bare wood, or painted finishes give a homely, farmhouse feel, and the warmth of the timber is highlighted by the patchwork quilt. 
The quilt is another accessory for a convincing, country feel. A sure-fire recipe for country-themed bedrooms is to paint the walls one solid color first, and then introduce a floral look in the bed-linen and soft-furnishings.
MODERN COUNTRY DECORATING IDEAS for Accessories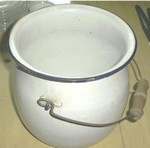 Enamelware is still in vogue and another essential corner of your modern country style decorating ideas.
There are many other kitchen accessories that one can find in enamel, besides the pot opposite, such as bread bins, colanders, pots, jugs and canisters.
Like the Shaker furniture in the bedroom, this can be carried very effectively through to the kitchen, to again emphasize simplicity and clean lines. 
Open-shelved dressers, wooden draining racks for plates above a Belfast sink, and the quintessential wooden table for practicality and to sit around and chat during cold winter nights, and gatherings of friends.
Finally, this is a picture of my own modern country style kitchen.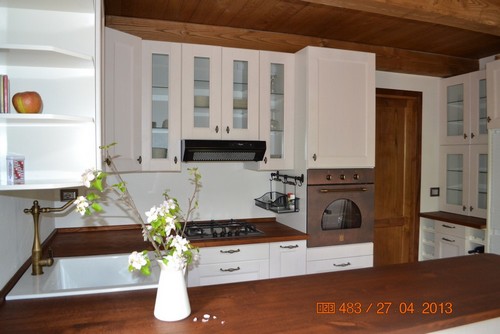 Did you find this page helpful?
Sharing is a way of saying, "Thanks!"
Follow Us and Keep Up to Date