Growing herbs can be done for a number of purposes; for cooking in culinary herbs, medicinal herbs,
herbal tea recipes
or for putting into
making soaps
or
homemade cosmetics
. One can also
grow herbs indoors
as well as in containers and
window boxes
.
Don't forget your
companion planting herbs
when growing vegetables and soft fruits. Planting and harvesting herbs should be done by taking the lunar phases into consideration for the best results. For more information on this see our pages on
planting by the moon
.
Here are some of my favorite herbs and their uses, but remember to plant your herbs in full sun. They should receive at least 5-6 hours of sun a day, and all those herbs mentioned below love well-drained soil. If they have wet feet for a prolonged time, they will die.
Growing Herbs - Borage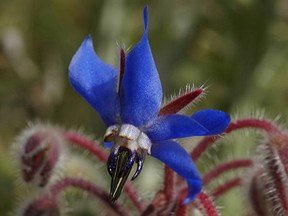 Borage
is a herb that grows like a weed if it is not contained. It is extremely prolific, readily self-seeds, is not fussy about the soil, and its pretty star-shaped blue flowers make a pretty show, almost all year round and the bees love them.
When the leaves are young, they are great to put into salads.
Borage tea
is also easily made by drying out the leaves and steeping them for a few minutes with some boiling water. Borage tea is a good source of calcium and phosphorous, and
a good tea for nursing mothers
. It has a number of other minerals that is a good drink to kick start a sluggish system.
When you planting out your strawberries, always
companion plant
borage close by as this herb not only nourishes the berries, but also encourages their fruiting.
Herbal Tea Recipes - Borage Flower Tea to Ward off Colds
1 t dried borage flowers
1 C water
honey to taste
Boil flowers in water for 1 minute. Strain and sweeten with honey.
Growing Herbs - Basil
Basil
is a very versatile culinary herb, and has long been used in Italian food. The leaves are good to use in salads, cooking or as a tea. If you want to dry the leaves for tea it is best to harvest these just as the plant begins to flower.
Basil is a great companion plant for tomatoes
. You can also grow basil close to lettuce, chives, cabbage, beets and asparagus.
Growing Herbs - Dill
Dill
is a large plant that is not suitable for small gardens, but if you have the space it is a very versatile herb being used as a food, spice and medicinally. Fish and dill go particularly well together, and you can also use it in salads or dried in cooking.
 Dill seeds should be collected when they are brown and can be used as a spice to flavor curries, soups and homemade pickles.
In the vegetable garden
dill is a good companion plant to broccoli, and cauliflower
. However, keep dill away from carrots and tomatoes as it will do them no favors.
Growing Herbs - Marjoram
Marjoram
is a well-known herb that when grown in the vegetable garden has a stimulating effect on the vegetables they are grown close to. The leaves and tops can be picked and used at any time. If you want to harvest the leaves for tea, make sure that they are picked before the plant flowers.
As a medicinal herb,
Marjoram tea is a good general tonic
and is especially beneficial when combined with chamomile.
Growing Herbs - Stinging Nettles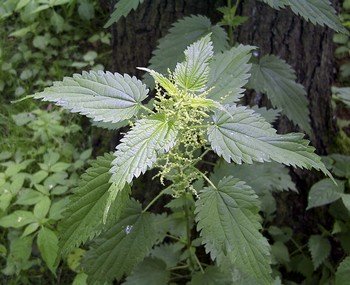 Many of us have experienced a painful encounter with
stinging nettles
, however, the young leaves in Italy are used in culinary dishes, and of course many of use are more familiar with nettle tea.
The nettle plant is the
only known plant that is a source of Vitamin D
.
Young leaves can be cooked like spinach, and many eat stinging nettles to clean the blood.      

When you plant nettles in the garden they can be used as a great
companion plant for tomatoes
, and seems to condition the soil of areas where they grow.
If you want to
restore your hair color, and put an end to dandruff
by boiling up some nettle leaves with vinegar.
Growing Herbs - Parsley
Many people use either the curly variety of parsley or the
Italian flat leaf parsley
. Rich in minerals, especially iron and calcium, it is also a good source for
Vitamin A
and
Vitamin C
that is very good for your internal organs.
If you are going to grow parsley in your garden
as a companion plant, plant parsley between corn or tomato plants for best results
.
Herbal Tea Recipes - Parsley Leaf Tea for Aiding Digestion, Circulation, Healthy Kidneys and Gall Bladder
Steep 1 heaped teaspoon parsley leaves and stalks in 1 cup boiling water for 30 minutes.
Growing Herbs - Rosemary
Rosemary
is one of the best medicinal herbs around, and used not only to improve ones memory, but also for a number of other ailments such as muscular pain, rheumatism, circulation problems, mental fatigue, nervous exhaustion,
cellulite
, arthritis, colds, bronchitis, fluid retention and sinusitis.
Rosemary
used as a companion planting herb is especially good for carrots
when planted nearby.
Try this Rosemary recipe for aching feet:
3 T Epsom salts
2 T bicarbonate of soda
3 drops of rosemary oil
3 T cooking salt
Mix all ingredients together into a bowl of hot water. Soak feet for 20 minutes.
Growing Herbs - Sage
Sage
has been used down the centuries as both a culinary herb and a medicinal herb.
Sage tea
with lemon and honey is an ideal drink for those with
colds and coughs
, and sage tea on its own is good for the
gums and teeth
. It is also beneficial for the nerves and can be taken during menopause. Taken as a herbal tea several times a day,
sage will also minimizing excessive sweating.
As a culinary herb sage is lovely either dried or fresh used with sausage meat for stuffings, and
makes a good companion herb for pork
in general.
As a
companion planting herb sage is beneficial when planted near broccoli and cauliflower
, and enhances the growth of other aromatic herbs such as thyme and rosemary. and keeps harmful insects at bay.
Try this Herbal Recipe for Sore Throats:
1 teaspoon honey
1 tablespoon finely chopped sage leaves
1/2 cup warm water
Mix ingredients together, gargle whenever necessary to soothe a sore throat.
Herbal Tea Recipes - Sage Tea for Stress, Shock and General Health Tonic
1 t dried sage leaves
OR 1 T fresh, chopped sage leaves
1 cup boiling water
Infuse for several minutes, strain and sweeten with honey to taste.
Growing Herbs - Thyme
Thyme
is a fine-leaved, strong scented herb which can be used as an antiseptic and anti-fungal and helpful for those suffering from indigestion. Thyme is also used in traditional medicine to stimulate the resistance to infection.
Again, thyme is beneficial to plants that are grown close by. Thyme also repels insects and as a
companion plant should be planted close to Brussels sprouts, broccoli, or cabbage
.
Herbal Tea Recipes - Thyme Tea for headaches, depression, cramps and insomnia
A bunch of fresh thyme
600 ml water
In a covered saucepan, simmer for 20 minutes. Strain and sweeten with honey.
Making Herbal Teas
Pour boiling water over the dried or fresh herbs, cover well with a well-fitted lid and allow to steep for 5-10 minutes. Strain through sieve and muslin cloth. Use about 4 tablespoons of herbs to 300 ml of water.
Growing Herbs as Insect Repellents

| | |
| --- | --- |
| Basil | Keeps diseases and pests from tomatoes, flies and mosquitoes from outdoor eating areas. A potted plant or dried leaves in a room drives out pests. |
| Catmint | Disliked by rats and rodents. Plant near chicken coops and places where grain is kept. Can be used as a screen for crops or near beans. Loved by cats. |
| Chamomile | Beneficial to other plants. If you have a sick plant place next to plant in the soil and you will have a 90% chance of the plant recovering. Repels insects and makes a good herb lawn. |
| Chives and Garlic | Beneficial throughout the garden, especially with roses and apple orchards. Keep away from peas and beans. |
| Elder Tree | Bruised leaves will repel most insects. A decoction of young leaves and used as a spray will kill aphids and small caterpillars. |
| Fennel | Repeals fleas so grow near kennels and stables. Powdered fennel leaves or seeds sprinkled about will also get rid of flies. |
| Horehound | Kills flies when mixed with milk and used as a homemade fly spray. |
| Lad's Love | Repels most insects. Protects cabbages from the white cabbage moth, and fruit trees from pests. |
| French Marigolds | Plant among vegetables and flowers to repel beetles and discourage eelworms. |
| Mints | Spearmints and Peppermint repel rodents and flies.  |
| Onion | All species of the onion plant are repellent to aphids. Plant in rose gardens as a border or ground cover. |
| Oregano | Plant near cucumbers to keep beetles away. |
| Pennyroyal | Repels most insects, including fleas. |
| Rue | The leaves will repel flies, ants and fleas. |
| Tansy | Will discourage beetles, ants, aphids and flies. Plant throughout the garden and near the house. Dried leaves act as a natural insecticide in the house. If mixed with dried Elder leaves the efficacy is increased. |
Other Links to Herbs and Resources:
If you don't have the space at home to grow herbs outside, why don't you think of growing herbs indoors? There are several ways of
growing herbs indoors
, but one of the most successful is by using air hydroponics with an indoor herb garden kit.
Buy Herb Seeds and Herb Accessories Here
Click on each picture for details and prices.
Write and tell us about your own herbal teas and herbal secrets. Or feel free just to ask a question on herbs.
Finally, if you are looking for APPS for herbs, herbal medicine, medicinal herbs, herbal tea recipes etc, have a look at the wealth of information on the