All About Making Homemade Cheese and Cheese Making Recipes

Most people would like to make their own homemade cheese but few know how. Back in our great grandparent's day every family knew how to make cheese, just as they knew how to make soap and treat their illnesses with poultices and herbs from the fields.
This week I was sent
"Homemade Cheese - Recipes for 50 Cheeses from Artisan Cheesemakers" by Janet Hurst, by the publishers, Voyageur Press.
What I like about this book is that the author, and many like her featured in this book, are very successful artisan cheesemakers, with flourishing businesses, but who didn't know anything about cheese making before they started down the track of making cheese.
Janet Hurst, shares her story of how she got her first goat, a billy goat that was very lonely and so she took pity on him and bought her first female goat that she named 'Dolly Parton' for obvious reasons.
But she soon realized that Dolly wasn't the goat she had hoped for. She gave horrible milk. And horrible milk makes horrible cheese. Through trial and error Janet became a good cheese maker and continues to make artisan cheese from her farmhouse kitchen.
In her delightful little book on homemade cheese Janet gets others to share their stories of how they started. Read about small dairy and creamery owners who followed their dreams in wanting to make cheese. Read about Paula Lambert who was eating mozzarella at her friend's house in Italy when she was inspired to make mozzarella in Dallas. After learning the craft from an Italian cheese maker she returned to Dallas, employed an Italian cheese professor to give her further guidance and her dream The Mozzarella Company was born. From a dream to reality and a cheese-production company that has won over 100 medals for its excellent cheese.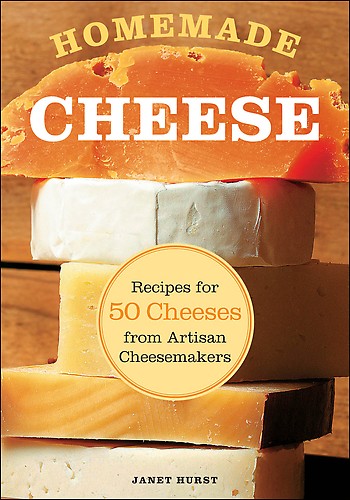 And then there is Mary Keehne who lived next door to a cow dairy who used brush goats for brush control. Mary wanted goat's milk for her daughter and was told that not only could she have the milk but she could also have a goat of her own if she could catch one. The rest is history. From her humble beginnings, she is now recognized as being one of the premier breeders of Alpine goats in the United States.
There are 16 other success stories of ordinary men and women who either by design or default became goat, sheep and cow owners inspired by cheese and the process of making cheeses that despite the same base ingredients take on flavors that are unique.
For those of you who are just thinking about making homemade cheese, or are already accomplished artisan cheesemakers looking for new cheese making recipes, this is definitely the book for you. Interspersed between the stories are instructions on how to make cheese, with step-by-step pictures of the cheese making process there are also recipes for 50 different types of cheeses from soft cheeses, to hard cheeses as well as well-known cheeses from the Middle East, Europe and the United States. Homemade cheese is not that difficult to make once you know how.

**********
I thought I would leave you with this excerpt about a lovely traditional mozzarella cheese making recipe from page 93 of the book. Most people like mozzarella and many would like to know how to make it. I love it. But then I love everything Italian. If you haven't eaten mozzarella from buffalo's milk in the shadow of Pompeii and Mount Vesuvius you haven't lived.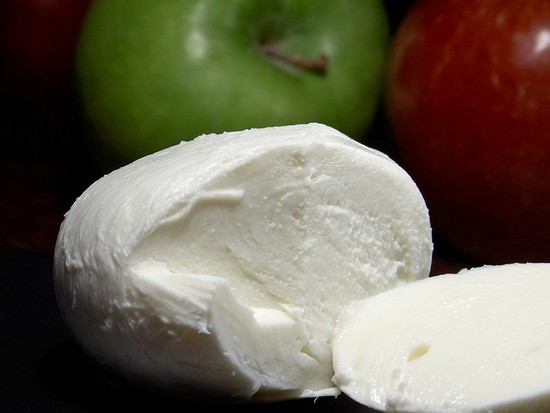 How to Make Mozzarella

The original Italian mozzarella di bufala, or mozzarella made from water buffalo milk, is a sublime soft, white cheese. Today, it is made from cow's milk around the globe, and while the cow's milk version is not as phenomenal as the original, it is still a wonder.
Mozzarella is one of the most fun cheeses to make at home. This recipe is for a traditional mozzarella, which takes a bit of time, but it is worth it.
While I was in Israel, I saw this cheese being made commercially. In that setting, stretching machines were used, and the cheese resembles taffy being pulled. The cheesemakers take the cheese off the machine and throw it up into the air, and it wraps it around itself on the way down. Poetry in motion!
Cultured buttermilk introduces culture into cheese. Make sure the label says that the buttermilk contains live, active cultures. Or make your own buttermilk, as described in Chapter 1.
Note that this cheese requires an overnight ripening time.
INGREDIENTS
1 gallon fresh cow milk
1/4 cup cultured buttermilk
1/2 tablet rennet dissolved in 1/4 cup non-chlorinated water
(You may substitute 1/4 teaspoon liquid rennet dissolved in 1/2 cup non-chlorinated water)
non-iodized salt
In a large cooking pot, warm the milk to 95º F (35º C); warm slowly so it does not burn on the bottom. Blend in the buttermilk thoroughly with a whisk. Let sit 15 minutes to allow the bacteria to wake up.
Stir in the rennet solution into the milk, whisking to mix thoroughly. Cover and place in a warm spot. Let sit undisturbed in warm place for approximately 2-3 hours until a clean break is achieved. If you disturb the milk during this time, you will have problems getting a clean break.
After 2 hours, test for a clean break. If the curd is not ready to cut, then wait until a clean break is achieved. Cut the curds into 1/2 inch (13 mm) cubes.
Gently stir up the cut curds with a clean hand. Let sit for 15 minutes, stirring occasionally. Pour off any whey that has come to the surface; there will likely be about a quart.
Warm the curds to 97º F (36º C), stirring gently. Make sure the curds at the bottom of the pan do not get too hot.
Remove the curds from heat and cover. Let the warm curds and remaining whey sit in a warm place overnight, or at least 8 hours. You may choose to place the pot with the curds on top of a slightly warm wood stove, buffering the temperature with a larger pot of water, double-boiler style. Or you may place the curds in front of a refrigerator that blows warm air, but be sure the pot is securely covered.
The next morning, test for a proper spin of the acidified curd by dropping a few pieces of curd into 185º F (85º C) water and stirring it with a fork to see if it 'spins' and pulls like taffy. If it breaks apart when you pull it, let the curds sit an additional hour or more until it does spin.
Once the curd spins, warm a 1/2 gallon fresh water to 185º F (85º C). Pour off all the remaining whey from the curds. (Save a pint of the whey for acidified brine.) Break the curd mass into small pieces with your hands, using a colander to assist you. Place the broken-up curds in a large cooking pot and pour the hot water over them. The temperature will drop to about 135º F to 140º F (54.4-60º C ). Stir with a slotted spoon until the curds and water come together to form a gummy mass, pressing and folding with the spoon.
Pinch off fist-sized pieces of the hot, dough-like cheese. Fold the pieces over and over on themselves to form smooth soft balls. Briefly replace each ball in the hot water to soften, mold and even out the smoothness of the ball.
Drop the smoothed ball into ice-cold water to firm up the ball. Repeat the shaping of the balls for the rest of the curd. You should get about four or five 1-ounce (28.3g) balls from a gallon of milk.
Prepare the brine: in a 1/2 gallon jar, dissolve 1/4 cup salt in 1 pint fresh, cool water and add the pint of whey saved from the curds.
Drop all the cooled mozzarella balls in the brine, cover, and refrigerate.
After 12 to 24 hours, remove the balls from the brine. If you leave the cheese too long in the brine, the surface will soften. Place the ball in sealable bags. Use within several days or a week of preparation. Fresher is better.
Mozzarella Uses and Pairings
Of course, mozzarella is the perfect pizza cheese. The melting qualities are unsurpassed. And of course, mozzarella is an essential ingredient in insalata caprese, layered with garden-fresh tomatoes and basil, drizzled with olive oil, and topped with a dash of salt.
There is another recipe for Mozzarella Cheese which is a recipe that shows you how to make this cheese in 30 minutes. However, if you want to know more about this recipe, or homemade cheese you will have to buy the book.

Leave a Comment
Do you have anything that you would like to add after reading this page? We would love to hear your thoughts. If you can add additional information to what has been written here you will be adding value to the website! No need to have any special skills - just type and submit. We will do the rest!
Don't miss out on our latest news and articles. Sign up for our free monthly e-zine!

Go from Homemade Cheese, back to Bestselling Books
Go to How to Make Cheese

Go to Cheese Making Recipes
Go to Self Sufficient Living
Go to Countryfarm Lifestyles and Homesteading