Sedgefield Saturday Markets
by Sylvia Ferguson
(Sedgefield, South Africa)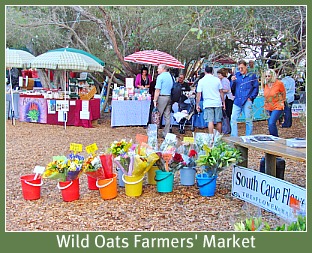 Sedgefield is Africa's first Slow Town affiliated to Cittaslow in Italy. Among the attributes that recommended Sedgefield for the title are our wonderful Saturday Markets.

Under shady Myrtle trees on the banks of the Swartvlei Lagoon is the Wild Oats Farmers' Market. From fresh fruits and vegetables and all kinds of fish and meat, smoked, dried, pickled, raw or cooked, to delicious healthy/decadent cooked meals, cakes and desserts, there's something for everyone's tastebuds.

Holiday makers can buy food to keep them fed for a week with a different menu everyday!

People come from far and wide to visit this popular market, open from 7:30am to 11:30am, it is always busy. Locals know to get there early.

A stone's throw away is Scarab Village - the equally sought after arts and crafts market, from beadwork to bags, glassware to giraffes (wire crafted ones), all kinds of hand-made clothing, woodwork and mosaicked specialities, its a treat to leisurely walk around the stalls enjoying the wonderful outdoors and the colourful market ambience. When you get weary there are several snackbars and restaurants offering light meals and lunches.

Between these two markets is the Island Flea market - not quite fitting into either category of the previous two, but finding its own niche and supplying the opportunity for many local small-time entrepreneurs to make a living. It should not be overlooked for its perfectly possible to make a special find or see just the nicknack you've been looking for, for ages. These two markets get up and running around 9am and wind down between 2-3pm, depending on the crowds.


It's a fun way for families to spend their Saturday mornings. Friends meet for breakfast and amble around chatting and buying in a relaxed environment where the store-owners take time to explain their wares and are eager to assist with any queries. I live in Sedgefield and I never tire of attending our fabulous outdoor markets!